By: Keyur Seta
The following post is a Review of Van Heusen's clothing under its new MY FIT innovation.
When it comes to clothes, I strictly prefer casuals. I wear formals only and only on important functions like weddings and other such functions and that too without my will. Thankfully, the field I am in never requires anyone to wear formals. In fact, some bosses themselves come to work wearing three-fourths and T-shirts.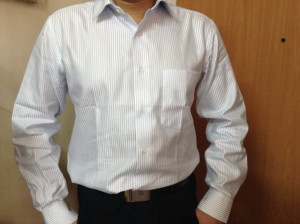 There are a couple of reasons for my disinclination towards formals. Firstly, I can't move around freely. I don't prefer clothes that restrict my movements (not that I am an obsessive dancer). This affects the most while traveling in local trains and buses of Mumbai.
Secondly, it is the pain when it comes to buying formal shirts and trousers. This is the main or major reason for me avoiding formals. It takes long to find that right fit for, which is a turn off because I don't like spending much time in buying clothes. On top of that, most of the times I have to compromise on my comfort level as there is no perfect match.
Some time back, I got a mail from IndiOne (an arm of IndiBlogger), informing about a blogging activity with Van Heusen for their new 'My Fit' innovation, which tries helping customers zero in to their desired size of clothes. Despite my bad experiences while buying formals, especially shirts, I participated in the activity as I felt like trusting this new size innovation.
The bigger challenge, however, was to write a blog post on it since I have never even read any write-ups or articles on clothing ever, leave alone writing one.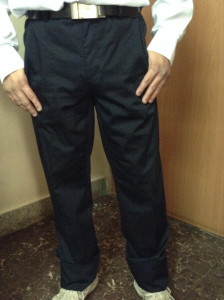 As per the activity, I visited a nearby Van Heusen store to determine my size under the My Fit innovation. I thought this will be boring considering how time-consuming my size determination sessions have been till now. However, I was pleasantly surprised that it all got over in a jiffy. It just took less than 10 minutes! And the size I chose fitted me perfectly.
I then proceeded to buy a shirt and trouser online (as per the requirement) as per my My Fit size. This too didn't take long as I found both type of clothes of my liking in just few minutes. This might also be because it is always 'love at first sight' for me when it comes to buying clothes. However, there were a wide range of colors and types to choose from. But what impressed me the most was the availability of different types of sizes for people with different bodies.
I received the order within seven days, smartly packed and in very good condition. It always feels good to receive a high quality merchandise (especially when you haven't paid for it).
I tried it and was again pleasantly surprised by the comfort level. Although I wasn't as free as I am usually with casuals, I have never been so comfortable with formals before. Such ease to move your hands and legs is something I never associate this genre of clothing with. You can validate my claim with the pictures.
To know more about MY FIT, see this link – http://vanheusenindia.com/my-fit