The story of a fallen hero who fights back can be predictable. This is more applicable in the case of Ali Abbas Zafar's Sultan since the makers revealed almost everything in the trailer. However, this doesn't turn out to be a hindrance since the predictability is enjoyable and moving due to various factors.
Sultan revolves around Sultan (Salman Khan), who lives a happy-go-lucky life in Rewari, Haryana while working as a dish TV operator. His eyes fall on Arfa (Anushka Sharma), a wrestler, and he instantly falls for her. In order to win her love, he learns wrestling and goes onto become an Olympic Gold Medalist for India. But one incident ensures he loses everything. How will Sultan fight back?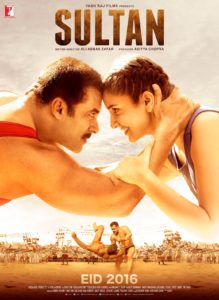 There is no doubt that Sultan is about wrestling. But it's more about various internal battles the protagonist is fighting against himself. And the film rises to a high level because this aspect is taken care of very smartly. Hence, you start rooting for Sultan, even if you are not a Salman fan. These factors ensure you don't mind the predictability, even in the climax, which produces a deep impact.
But Sultan satisfies more in the second half. This doesn't mean that the first half is bad. It's just that the important turns in the tale aren't justified completely. For example, Sultan's love track is hugely important but the manner in which he falls in love is quite immature. The typical 90s method of the hero stalking and troubling the girl is passed off as romance. A couple of other important incidents too are not fully convincing. Thankfully, the various plus points of the second half won't let you think much of these points.
Music wise (Vishal-Shekhar), Sultan is a rare case of all songs being impressive. As they are placed as per the situation, none of them appear forced. The title song and 'Jag ghoomeya' are the best of the lot. Sultan also impresses in the technical department (camerawork, background score and editing). The stunt director deserves high praise for the high number of wrestling scenes.
Lastly, it is Salman Khan's dedicated performance that plays a large role in creating the heartwarming effect. This character would have been challenging for any actor, both in terms of acting skills and the physical exertion. The hard-work he put in is clearly visible. Although not his best but clearly one of his best acts.
To highly impress in a film that celebrates Salman is a big feat and this is exactly what Anushka Sharma achieves with a powerful act. Although she doesn't quite appear like a wrestler, she doesn't let it show. As Salman's best friend Govind, Anant Sharma is highly impressive. He is sure to become famous in the coming days. Amit Sadh too is likeable as the owner of Pro Wrestling Federation. Kumud Mishra, as Sultan's coach, delivers yet another skilful act. The various other supporting actors, including Randeep Hooda, too play their part well.
Overall: Sultan is a powerfully moving saga. It is sure to earn huge collections at the box-office. On the first day itself the film has earned around Rs 38 crore, despite the day not turning out to be Eid.
Rating: * * * 1/2
Director: Ali Abbas Zafar
Producers: Yash Raj Films
Writer: Ali Abbas Zafar
Cast: Salman Khan, Anushka Sharma, Anant Sharma, Amit Sadh, Kumud Mishra, Randeep Hooda
Music: Vishal Shekhar
Genre: Drama
Runtime/ Length: 170 minutes