Documentaries are considered boring by the masses, at least in India. But Brahmanand S Siingh's Pancham Unmixed, a documentary on the legendary music composer R D Burman, proved that even documentaries can be entertaining. Sachin – A Billion Dreams is the latest film in the genre to make us think this way.
Directed by James Erskine, the film tells the journey of India's legendary cricketer, Sachin Tendulkar. Not many would know that he was a mischievous kid. But there was this purity and passion in him that stood out. Sachin was 10 years old when India won the 1983 World Cup. This was the incident that made him realize his dream of winning the World Cup for India.
Sachin took cricket seriously at the age of 11 when he started learning under coach Ramakant Acharekar. It was his elder brother Ajit who saw the potential in him and took him to Acharekar. His international career starts off as a 16-year-old youngster in November 1989 and ends 24 years later in November 2013. He retires with the satisfaction of having won the World Cup for India in 2011.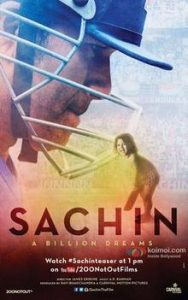 It is refreshing to see a documentary giving high importance to storytelling. The writers (Erskine and Sivakumar Ananth) have followed a feature film-like technique when it comes to adding drama and emotions. Some important events from Sachin's life have stood out well. The incidents like his debut match, father's demise, 2011 World Cup victory and the retirement speech deserve special mention. These moments don't make us feel as if we are watching a documentary.
However, having witnessed Sachin's career from close quarters, it is puzzling why these important milestones were kept away:
– The first test century holds a high place for any batsman. But Sachin's first test hundred against England at Manchester in 1990 (also the first of his life) is not celebrated in the film like his other achievements. It was a heroic effort by the then 17-year-old to save the match for his team and remain unbeaten at 119.
– His first one-day international century (110 against Australia at Colombo, Sri Lanka in 1994) also finds no place. Sachin is known the most for his centuries in ODIs. So, what was the reason for not including his first hundred in this format?
– One of the most celebrated moments in Sachin's career was when he won the match against South Africa in the Hero Cup as a bowler. The opposition team needed just six runs from the last over. Sachin surprised everyone by volunteering to bowl and saw India home in one of the most incredible victories at the Eden Gardens.
But the biggest downfall of Sachin – A Billion Dreams is that it hardly shows things that are not known to his fans. Those who have been following him since his early days would already know almost everything that the film features. And in today's digital age, you can find hundreds of his interviews on the internet where he has spoken about his life.
I also wonder why Sachin and it makers have refrained from mentioning that the film is a documentary in the various promotional events. They have always maintained that it's either a film or movie.
Overall: Sachin – A Billion Dreams is an entertaining celebration of the Master Blaster. However, it is meant only for his die-hard fans.
Rating: 3/5
Review by: Keyur Seta
Director: James Erskine
Producers: 200 Not Out Productions and Carnival Motion Pictures
Writers: James Erskine and Sivakumar Ananth