By: Keyur Seta
The biggest box-office clash of 2016 is here – Rustom vs Mohenjo Daro. The big question on people's minds is as to which film will outsmart the other at the box office. The prediction, going by the buzz created by the trailers, is that Akshay Kumar's Rustom will emerge victorious.
The reasons for this are follows:-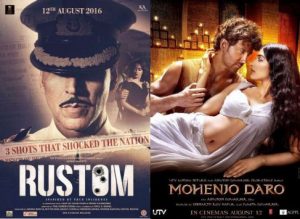 — Over the last few years, Akshay Kumar has gained a lot of respect from the lovers of sensible cinema as well after doing films like Special 26, Holiday – A Soldier Is Never Off Duty, Baby, Gabbar Is Back and Airlift.
— There has been keen anticipation for Rustom as this is yet another tie-up between Akshay and Neeraj Pandey after Special 26 and Baby (although Pandey is only the producer here).
— The eagerness, due to the above mentioned points, has gone many notches higher after the trailer of Rustom released. It has instantly received thumbs-up from the audience. Hence, half the battle is won.
— On the other hand, there was keen anticipation for Mohenjo Daro due to the re-teaming of Ashutosh Gowariker, Hrithik Roshan and A R Rahman. But the first trailer of the film has given rise to negative buzz (although personally I have liked it). The subsequent songs, which aren't bad, haven't helped the cause.
— The film is already being panned for getting its facts and costumes wrong.
Due to all these factors, it would have been wise for the makers of Mohejo Daro to postpone the film. Now, the only hope for it to emerge victorious at the box-office is to super impress with its content and receive positive word-of-mouth. Else the film is doomed.
Going by few scenes in the trailers, there seems to be a punar janam (reincarnation) angle in the film. Such surprise elements can be the trump card.
Although Rustom is expected to earn very well if it gets a positive response, don't even think of comparing its collections with Sultan, the year's biggest box-office hit so far. The only film that can prove to be a threat for the Salman Khan starrer is Aamir Khan's Dangal.