Direction: Tigmanshu Dhulia
Production: UTV Motion Pictures
Cast: Irrfan Khan, Vipin Sharma, Khan Jehangir Khan, Mahie Gill, Rajendra Gupta, Nawazuddin Siddiqui
Music: Abhishek Ray
Rating: * * * *
Plot: The movie is a biopic on the life of the great Indian athlete Paan Singh Tomar who was later forced to become a dacoit. After enrolling in the Indian army, Tomar gets himself transferred to the sports department. Having the ability to run like a hare, Tomar soon becomes a National Champion in the sport and later leaves his mark at the international level as well.
But the big turning point in his life arrives when he gets into a dispute regarding his farm with his nephew Bhanwar Singh (Khan Jehangir Khan). Singh uses force to snatch away Tomar's farm. Tomar runs from pillar to post to get justice but in vain. This forces the sportsman to become a dacoit and fight for his rights.
Review: Director Tigmanshu Dhulia has always narrated hard hitting dramas with maturity, right from his debut Haasil (2003) to his last flick Saheb Biwi Aur Gangster (2011). With Paan Singh Tomar, the filmmaker tries to tackle his most difficult subject ever. It is believed that big challenges bring out the best in you. This phrase proves to be true for Dhulia as he comes up with his best effort ever in PST. In fact, personally speaking, it's one of the most well made films to have come from Bollywood in recent years!
It's a proven fact that the root of all great films is a powerful or a watertight script. Such is the case with the screenplay of the Irrfan Khan starrer courtesy Dhulia and Sanjay Chauhan. It was a very intelligent idea to have Tomar narrating his life to a journalist.
The unfolding of events as Tomar's life progresses from being an army officer to a champion runner (in the first half) makes sure there isn't a dull moment ever. It's an amalgamation of well written and well directed scenes with terrific performances and dialogues.
The same continues in the post-interval section when the athlete starts a new chapter in his life as a dacoit. The way Tomar and his group take revenge and fight for their lives stays etched in your memory.
(Review continued after picture.)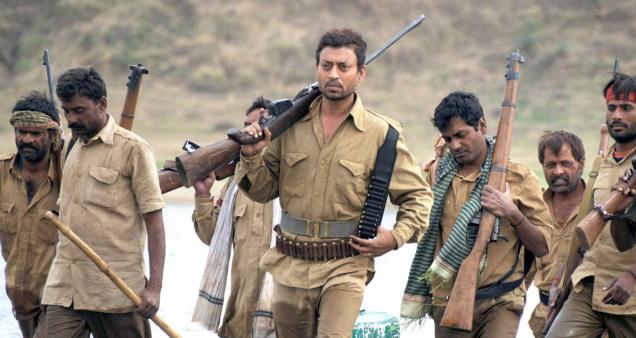 In the end, your heart just goes out for Tomar and numerous other sportsmen (non-cricketers) who are just thrown away by the government and sports authorities as unwanted individuals after they brought glory to the nation. It really paints the sports authorities and system with shame to see such brilliant sportsmen been denied a meaningful life and even simple justice.
There isn't any flipside as such. The only thing which can be mentioned under this is that the film might not appeal to those who are looking for feel-good or masala entertainers.
There is top quality work seen even in the technical departments like cinematography (Aseem Mishra) and background score (Sandeep Chowta). Those are vital areas in a film like this. The songs, which are only used in the background, suit the subject.
Over the years, Irrfan Khan has proved that he is one of the best actors India has ever produced. He proves this fact yet again in his act as Paan Singh Tomar, which can be rated as one of his finest ever! He skillfully gets into the skin of the character and portrays every emotion with ease!
Vipin Sharma, Khan Jehangir Khan, Mahie Gill, Rajendra Gupta, Nawazuddin Siddiqui and the rest of the supporting cast also delivers quality performances.
Overall, Paan Singh Tomar is a film which can take Indian cinema to greater levels. Sadly, it hasn't had a good opening at the box-office due to the lack of proper publicity. However, the collections might just increase in the coming days if it receives positive word-of-mouth, which it strongly deserves!