As expected, the forthcoming Pakistan tour of India (in 2012) has received flak from a large number of Indians due the Pakistan's hand in the 26/11 Mumbai attacks and their non-cooperation in solving terror issues. The opposition to the series might appear logical to many but not at all to me. I fail to understand why do we always target cricket when it comes to an association between the two nations?
A good number of Pakistani nationals like Atif Aslam, Adnan Sami, Ali Zafar, Shafqat Amanat Ali, Veena Malik, etc are working full time in Bollywood. Some of them have also settled in Mumbai. Why not a single opposition to them? We are perfectly fine with their artists settling in our country but we can't tolerate their cricket team visiting for few days!
In 2010, Shiv Sena was up in arms against Shah Rukh Khan just because he wanted Pakistan players in his IPL team Kolkata Knight Riders. But not many people know when they were busy protesting against SRK, Amitabh Bachchan was performing poetry with Pakistani poets and that too in Mumbai. It is absolutely fine if you can perform with their artists but if you just express the wish of having their players in your team, you are painted a villain! Another incident where only cricket was targeted!
Last year, few social workers from Pakistan visited anti-corruption crusader Anna Hazare at Ralegan Siddhi to get some guidance on fighting corruption in their country. Although I welcomed Anna's gesture and hospitality, I wondered where those people were who are ready to oppose every Pakistani?
(Article continued after picture.)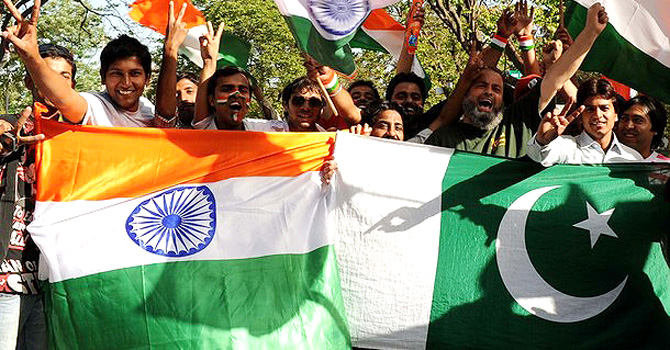 Personally, I find it illogical to oppose everyone from Pakistan. I and some of my friends have internet friends in Pakistan and we have always received high respect from them. One college friend of mine had been to Pakistan for a cultural program and is still cherishing the memories of her visit due to the warmth she received there. My ex-professor had been to Pakistan and he too had a similar experience.
One of my friend's friend had been there too in 2003 when India toured Pakistan. He witnessed two one-day internationals at Lahore and was highly surprised to see not a single Pakistani supporter mouthing anti-India slogans or making fun of team India. In fact, during the same series, a number of shop owners in Pakistan gave discounts to Indians. Likewise, there are numerous examples of the common public of Pakistan having high regard for Indians.
I have tremendous hatred for the chaps coming from there and attacking my country. I am also against their government for taking poor measures to combat terrorism (which I expressed here). However, that doesn't mean I hate each and every one from across the border! Those doing this have had no experience with Pakistanis.
But even if you hate everyone from Pakistan, where does your hatred disappear when you hear an Atif Aslam song or watch an Ali Zafar movie? Why it is that only the game of cricket triggers your hatred towards Pakistanis and reminds of you of 26/11?
Let's treat cricket as a game… just like we have been treating movies and music. Excitedly awaiting Pakistan's tour of India. May the better team win!