As part of my profession, before the release of Hindi Medium, I had spoken to Irrfan Khan in a group interview (read it here). While answering a question, he had said that the film can be adapted in any language. Today, after watching it, I can vouch that he hadn't said it just to promote the film.
Hindi Medium basically takes a satirical dig at the idea of looking down upon your own language (be it any) while succumbing to the pressure of English. And this is very much relevant today when the knowledge of English is equated with intelligence.
The story takes place in Chandni Chowk, Delhi. Raj Batra (Irrfan Khan) is a successful garment businessman living a comfortable lifestyle with his wife (Saba Qamar) and little daughter (Dishita Sehgal). Raj doesn't know English and he has no problems with it. His wife, however, is his opposite.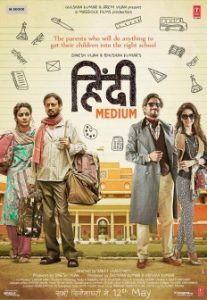 She doesn't like his desi manners and is eager to see her family move to the elite class. She feels it is necessary for their daughter to get admitted in a school where children from the wealthy class study. The conflict between Raj and his wife increase when Raj's lack of education and English knowledge becomes a hindrance for their daughter's admission in a high quality school.
Hindi Medium is a thoroughly entertaining fare with sensible and realistic humour. Due to a fast screenplay and witty dialogues, you don't realize when the 133 minutes pass off. The film, however, isn't limited to this. It has quite a few layers.
Hindi Medium basically stands out for the following messages it smartly weaves in an entertaining manner (without being preachy):
– The use of English is important in today's times to succeed but not at the cost of your own language. Moreover, you shouldn't be ashamed speaking in your language just to prove your 'high status.'
– Although the film doesn't say it directly, it shows the mirror to these so-called international schools that charge a bomb in order to develop your kid in a special way. In other words, education has been transformed into a shoddy business.
– We tend to look at the poor class of people as potential criminals. The film tries to bridge the class gap without any melodrama.
– The movie isn't flawless though. There are flaws in the form of quite a few cinematic liberties, more so in the climax (describing them would lead to spoilers).
The high quality content wouldn't have become so appealing without the presence of Irrfan Khan. He gives us another proof as to why he is not only one of the finest artists but also someone who can easily make you laugh. Hindi Medium is another feather in his cap.
Saba Qamar matches up to him and this only means that she knows the art of acting. Let's hope we get to see more of her. Deepak Dobriyal is present only in one half but he puts behind a resounding impact. He is indeed a brilliant actor. As the school Principal, Amrita Singh is powerful too. Dishita Sehgal is cute and talented but doesn't get to speak much.
Overall: Hindi Medium puts forward an important message in a hilarious way. The film hasn't opened very well at the box office. But it surely stands a chance due to positive word-of-mouth.
Rating: 3.5/5
Review by: Keyur Seta
Director: Saket Chaudhary
Writers: Zeenat Lakhani and Saket Chaudhary
Producers: T-Series and Maddock Films
Cast: Irrfan Khan, Saba Qamar, Dishita Sehgal, Deepak Dobriyal, Amrita Singh
Music: Sachin-Jigar
Runtime: 133 minutes