Over the last few years, it is noticeable how education has become a shoddy business in India. With these coaching classes and the so-called international schools charging a bomb, it has become clear that the primary motto of these institutes is only money! This is proved further when one notices the business-like manner in which they function as well as behave.
Naturally, to make huge bucks, these institutes do everything to attract consumers by making huge claims in their advertisements. But one coaching class ad which I came across today jerked me out of my chair. In the ad, (on the front page of a leading daily) the institute has actually made fun of itself by a claim which cannot be described in words. What else would you say when they claim to have '4500 years of teaching experience'?
Yes, you read it right (see picture below). In the rat race to acquire maximum number of students, are they trying to prove that they are running these classes ever since humans came into existence?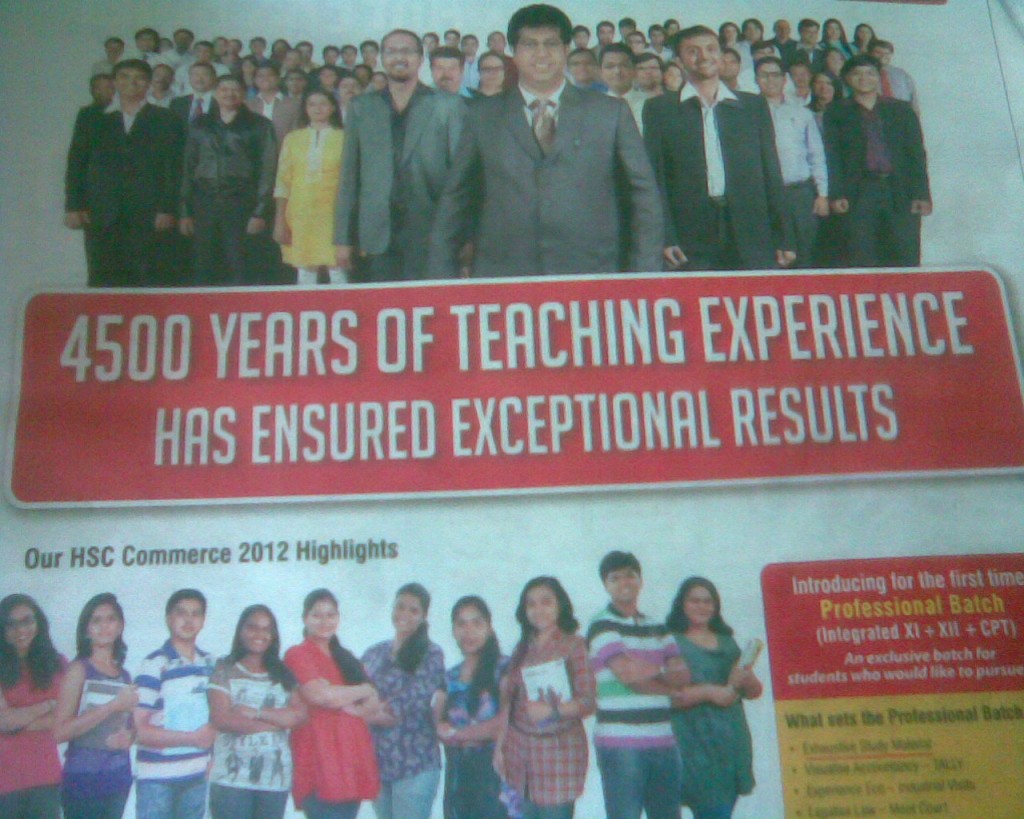 As I have never seen such a thing before, I decided to call them up. Here's the audio recording of my chat with them: –
And this is the transcription of my chat:-
Me: Today I saw your ad in a newspaper where you have claimed to have more than 4500 years of teaching experience. How is this possible?
Executive: This is possible because there are more than 200 teachers in our institute for the commerce stream. If we total up their teaching experience, it goes up to 45000 (!!!).
(The executive went far ahead than the ad by mistakenly mentioning 45000 instead of 4500.)
Me: But if you mention in this way without any explanation, one might feel your institute is running since the era of Mahabharata.
Executive: Do you have any other query?
Me: No. My query was only about your ad as it has becoming a laughing stock.
Executive: We are just paid for our work. (Said something that sounded like this.)
While all this sounds very funny, it's sad to see the difference between education institutes and publicity-hungry film stars reducing.
Listen to the conversation here: