Director: Nitin Kakkar
Producers: Satellite Pictures, UTV Motion Pictures and Shringar Films
Writers: Nitin Kakkar and Sharib Hashmi
Cast: Sharib Hashmi, Inaamulhaq, Kumud Mishra, Gopal Datt
Music: Arijit Dutta
Genre: Drama/ Comedy
Rating: * * * *
By: Keyur Seta
Story Outline: Sunny Arora (Sharib Hashmi) is a crazy Hindi film buff who lives life filmi style 24/7. He is aspiring to become an actor but isn't getting an opportunity. So for the time being, he decides to become an assistant director for a documentary to be shot in Rajasthan by a group of Americans. During the shoot schedule, Sunny is abducted by a group of terrorists across the border in Pakistan. Will he ever return to the other side of the border?
Review: A border separates one country from another but human emotions remain the same all over the world, including the patch of land across the Line Of Control (LOC) called Pakistan. And when people from both sides of the border share a common crazy interest for Hindi films, the border becomes mentally invisible.
This theory of bonding is beautifully presented by director Nitin Kakkar in his debut flick Filmistaan through a smart mixture of rib-tickling and moving moments. What makes it even more special is that he has given a fitting tribute to Filmi Keedas like us to derive at the point.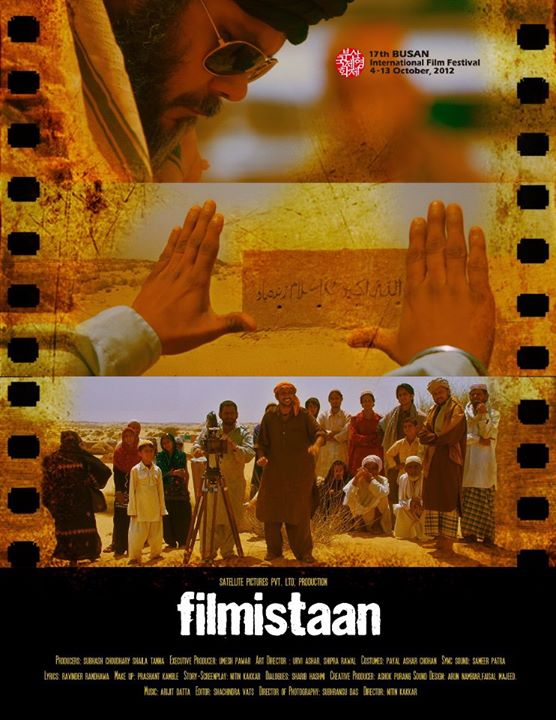 Like all content-driven films, Filmistaan rides high largely due to the writing. An interesting story, watertight screenplay and creative dialogues give rise to these winning points:-
Sunny's lovable character that recites famous Hindi film dialogues throughout the film, even in tense situations.
His close bond with Aftab through the medium of films.
The message of friendship given in a completely non-preachy manner.
A number of memorable scenes including, Maine Pyar Kiya sequence, filming of the hostage, Sunny's encounter with a Hakeem (easily the most touching scene in recent times), Sunny and Aftab's antics in the pre-climax, etc.
There isn't an absence of flawlessness though due to some errors. It is also surprising to see no footage given to the consequences of the kidnapping in India. But thankfully, these points don't affect you due to the overall content.
There is some smart display of camerawork by Subhansu Das. The background score too excels in creating the right emotions. Arijit Dutta has composed some soulful tracks that suit various situations perfectly.
The performances are of top draw. Sharib Hashmi (Shah Rukh Khan's Pakistani friend in Jab Tak Hai Jaan) is outstanding! It looks like it was a cakewalk for him to get into the skin of the character of Sunny Arora. It is his act that takes the film to a higher level. Needless to say, he deserves to be seen more.
But despite such a strong performance from the main lead, Inaamulhaq succeeds in impressing with a brilliant portrayal of Aftab. The chemistry between the two actors is incredible. Kumud Mishra is perfect as the head of the terrorist group; he succeeds in speaking mostly through expressions. Some good supporting acts are seen from Waseem Khan, Sanjay Mehta and Tushar Jha. Habib Azmi deserves special mention for his wonderful cameo as the Hakeem.
Overall: Filmistaan highly succeeds in giving a positive message while paying a tribute to Hindi cinema and its fans. The film needs word-of-mouth to make an impact at the ticket window.