Direction: Umesh Vinayak Kulkarni
Production: Devisha Films
Cast: Girish Kulkarni, Nana Patekar, Dilip Prabhavalkar, Sonali Kulkarni, Mohan Agashe, Usha Nadkarni, Kishor Kadam, Jyoti Subhash, Atisha Naik, Naseeruddin Shah (special appearance)
Music: Mangesh Dhakade
Rating: * * * ½
Plot: In the rural areas of Maharashtra lies a peaceful village called Mangrul. One day Keshav (Girish Kulkarni), a village youth, sees lord Dattatrey (Datta) in his dreams while taking a nap under a tree. He makes a hue and cry in the village saying God made an appearance for him. Anna (Dilip Prabhavalkar), most respected figure of Mangrul, advises him against announcing such personal matter as it's a question of faith.
However, it is too late as a journalist (Kishor Kadam) sensationalizes the news about Lord Dattatrey making an appearance in Mangrul. Hence, there is a demand for a Dattatrey temple. Bhau (Nana Patekar), a political activist, doesn't approve it as he wants the funds to be used for better purposes but he seems helpless. The temple is built and the village becomes a holy place. Mangrul goes through a 360 degree change due to commercialization but nobody is complaining except Anna. Soon, due to the blindness of commercial progress, God is forgotten.  
Every village has a right to progress commercially but how ethical it is to use a temple and its God to achieve it? The question is raised in director Umesh Vinayak Kulkarni's latest offering Deool. While it does this, the audience is treated to some quality cinematic experience that deserves applause.
Your heart is won right at the very start due to the brilliantly conceived artistic opening credits. For the first time I witnessed applause for opening credits. Girish Kulkarni's screenplay is deliberately not pacy because it was necessary to set the mood for a soothing rural flick. It largely succeeds in keeping the audience interested due to the unfolding of interesting events and realistic humour, which regularly gets you in splits.
Having said that, several serious moments, after the story is developed, are well appealing and moving. Special care is also taken to give good amount of screen time to the mammoth star cast. Girish also excels as a dialogue writer. All in all, intelligent writing is the backbone of Deool.
After Valu and Vihir, Umesh Vinayak Kulkarni once again proves his mettle as a talented filmmaker. He deserves strong applause as directing a tale with a number of sub-plots and characters can be chaotic.
(Review continued after picture.)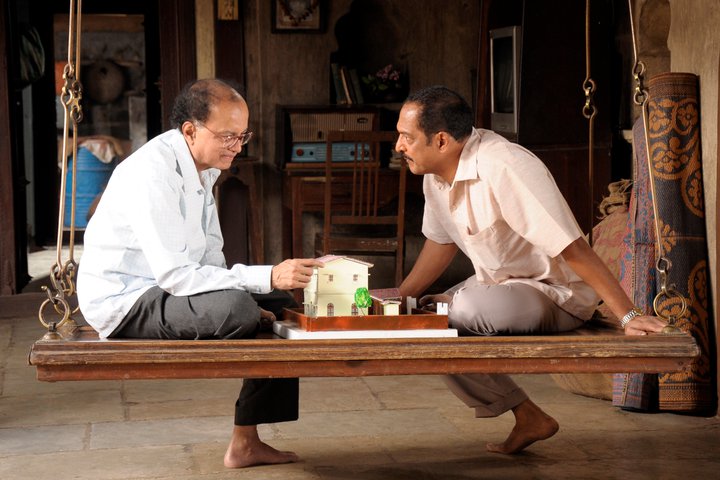 What surprisingly amazes you is the splendid cinematography. The village landscapes are an absolute delight to watch. It won't be an understatement to say the camerawork over here is of international standards. The background score too doesn't lag far behind.
The only flipside is the slow pace after the start of the second half and few other portions. There are chances that the climax might not be appreciated by the commercial cinema admirers for being open-ended.
Music composer Mangesh Dhakade has complimented the film smartly. Songs 'Deva Tula Shodhu Kutha', 'Datta Datta' and 'Welcome' are hummable and emerge at the right situations.
In a performance oriented film it is vital that all actors are at their best and that's exactly the case with Deool. Girish Kulkarni stuns with a brilliant act while showcasing amazement, anger and misery with utmost perfection. His act is worthy of all awards. Returning to Marathi films after long, Nana Patekar is lovable. His sense of humour is up to the mark.
Dilip Prabhavalkar once again shows why he is one of the most respected names in the industry. His act is moving as well as enlightening, although his character is similar to the one he played in Morya. Sonali Kulkarni displays another praiseworthy act and so does Mohan Agashe.
The film is well supported by the rest of the cast including Kishor Kadam, Usha Nadkarni, Jyoti Subhash, Atisha Naik, Hrishikesh Joshi and others. Naseeruddin Shah (making his Marathi film debut) leaves an impact in a cameo.
Overall, Deool proves to be a well-crafted piece of art which is enlightening. It is sure to enjoy good collections at the box-office. However, the collections might be affected from second week onwards once Swarajya and Dubhang release on November 11.