Direction: Sriram Raghavan
Production: Saif Ali Khan and Dinesh Vijan for Illuminati Films
Cast: Saif Ali Khan, Kareena Kapoor, Adil Hussain, Dhritiman Chatterjee, Shahbaaz Khan, Prem Chopra, Gulshan Grover, Maryam Zakaria, Ravi Kissen, Ram Kapoor
Music: Pritam
Rating: * * ½
Plot: While on a mission in Afghanistan, Raw Agent Vinod (Saif Ali Khan) gets caught. Somehow he manages to free himself. After his job forces him to travel all over the world, he gets to know about something called 242. What is 242? In his quest he comes across unusual characters. He also meets Dr Iram (Kareena Kapoor). But can he trust her?
Review: After debuting with the impressive Ek Haseena Thi (2003), Sriram Raghavan came up with Johnny Gaddar (2007), which according to me is one of the best thrillers ever in Bollywood.
The promos of his third flick Agent Vinod promised a roller-coaster experience. But all promises aren't fulfilled. Despite having international standard resources and a super-creative director at its disposal, the Saif Ali Khan starrer is let down as the script, which is the most important element, isn't up-to-the-mark although interesting. Therefore, the product turns out to be a one-time watch and that too only for hardcore action thriller lovers.
Your expectations are raised in the initial minutes when the credits roll while the first fight scene is carried on. The super-stylish way of presenting the opening credits produces a seeti-bajao effect. As the tale unfolds, your interest continues to be stable until Kareena's character arrives which brings some complications in the narrative.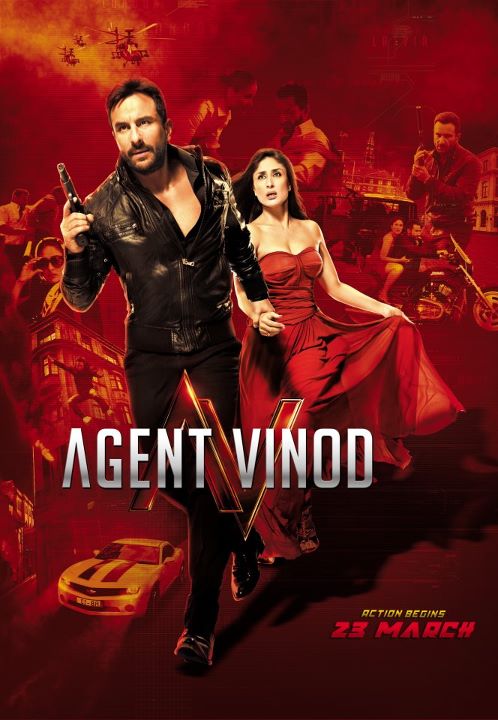 Although there are a good number of twists in the second half and the film continues to move at a brisk pace, the complications seem to increase. There will be a good part of the audience that will find the proceedings a lot confusing. Thankfully, some thrilling, nail-biting moments in the climax provide some satisfaction although the film shouldn't have been dragged after that.
Sadly, the flipsides don't end here. There a good number of logical errors which can not only be pointed out easily but are also pure laughable. And then there is the usual Hindi fillum formula of not a single bullet hitting our hero even when thousands are showered on him. One surely expected more intelligence from someone who has Johnny Gaddar under his belt.
But what makes the film a one-time watch is some Hollywood-like action and stunts, clever editing, brilliant cinematography, smart dialogues and some creatively directed scenes. The scores for these areas are definitely high. A gun-fight scene with a romantic song in the background deserves special mention.
The same can be said for Pritam's music. Songs like 'I'll Do The Talking Tonight', 'Dil Mera Muft Ka', 'Govind Bolo' and the theme song suit the content perfectly. Although 'Pyar Ki Pungi' is an enjoyable number, it just doesn't suit the nature of the flick. Its placement is also faulty.
This is not one of the best acts by Saif Ali Khan but it's surely one that deserves appreciation. He manages to play a difficult character with maturity. Kareena Kapoor does well portraying a mysterious character. A very smart and impressive performance is given by Adil Hussain. Shahbaaz Khan and Prem Chopra fit their character well.
The rest of the cast including Gulshan Grover, Maryam Zakaria, Ravi Kissen, Ram Kapoor are good too, especially the last one is terrific and hilarious!
Overall, Agent Vinod is yet another Bollywood action thriller which is let down due to the writing department although it is very well directed. Due to this, the film won't gain very good collections at the box-office.