Dramatic thrillers are found in rarity in Hindi cinema. The last time such genre was explored successfully was back in 2012 in Sujoy Ghosh's Vidya Balan starrer Kahaani. Debutant Arjun Mukherjee's 3 Storeys succeeds in filling this void through a thriller that also manages to move you.
There is a pun in the title. 3 Storeys has three main stories, along with few other sub-plots, taking place at a chawl in Mahim in Mumbai. Flory Mendonca (Renuka Shahane) lives alone but receives high amount of respect from her neighbours. She has a dark past. She wants to sell her house and migrate to Goa. Vilas Naik (Pulkit Samrat), a businessman, arrives to buy her place.
Varsha (Masumeh Makhija) struggles to live with a drunkard and abusive husband. She was once in love with Shankar (Sharman Joshi) but couldn't marry him. Eighteen-year-old Malini (Aisha Ahmed) is in love with Suhail (Ankit Rathi), who runs a general store nearby. The attractive Leela (Richa Chadha) leads a mysterious life.
The first and the foremost ingredient for such genre of films is the writing and that department is taken care of exceedingly well. The screenplay is not just water-tight but it skillfully travels from one story to another while keeping the background of the chawl intact.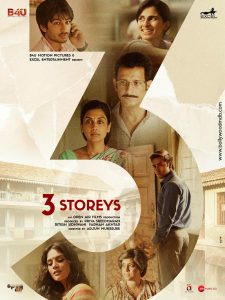 All the three stories, and the other sub-plots, are interesting and intriguing. They have subtle drama and can boast of being realistic. After last year's Tu Hai Mera Sunday, here's another Hindi film that shows a different side of Mumbai. The prologue at the start about life in Mumbai is what every middle-class Mumbaikar can connect with.
The epilogue, by the same character, brilliantly sums up the psyche of story writers. The content and the style of the narration makes you feel as if you read a book. This is felt further due to the prologue and epilogue.
The regular thriller element is what takes 3 Storeys several notches higher. The film is peppered with moments that either thrill or provide a subtle jolt; most of the times when you are least expecting it in between a simple scene. The one at the end takes you completely by surprise.
In between such positives, 3 Storeys also suffers from a couple of minuses. One important moment each in the stories of Flory and Shankar is difficult to believe.
London based cinematographer Will Humphris' fine work is at display regularly. The shot where the camera zooms out of the room and continues till way outside the building of the chawl deserves mention. Hindi films are guilty of adding forceful sounds to add thrill. This is nowhere seen in this film, thankfully.
3 Storeys is laced with high quality performances. Renuka Shahane makes a memorable comeback to Hindi films with a thoroughly dedicated act of an old Christian lady. Masumeh Makhija also displays fine acting skills and speaks through her expressions. The acts of these two actresses make you feel bad for them not doing Hindi films for so long.
Sharman Joshi is believable as the simple common man. Aisa Ahmed, Ankit Rathi, Pulkit Samrat and few other supporting actors play their respective parts well. The actor playing Masumeh's husband overdoes on few occasions. Richa Chadha makes good use of the opportunity she gets, especially in the end.
Overall: 3 Storeys is a well-made dramatic thriller that stays with you for long.
Rating: 3.5/5
Review by: Keyur Seta
Director: Arjun Mukherjee
Producers: B4U Movies and Excel Entertainment (Farhan Akhtar and Ritesh Sidhwani)
Writers: Althea Kaushal and Anvita Dutt
Cast: Renuka Shahane, Masumeh Makhija, Sharman Joshi, Pulkit Samrat, Richa Chadha, Aisha Ahmed, Ankit Rathi
Genre: Dramatic thriller
Runtime: 100 minutes