Sachin Tendulkar's 200 not out against South Africa at Gwalior in 2010 remains one of the biggest highlights of his illustrious career. It was the first time that any batsmen reached a double hundred in one-day internationals (ODIs). On Tendulkar's 47th birthday, here's revisiting the match, which India won by a massive margin of 153 runs, but in a different way.
Today, after 10 years of the knock, I feel it was one of those things that were destined to happen only to him. That fate always wanted Tendulkar to be the first double centurion in ODIs. It appears more so if you look at it like a movie script.
Every story has a protagonist. Here it's Tendulkar. Every story has an aim. In this one, it is to ensure that he becomes the first batman in the world to score 200 in ODIs. Few conflict elements or obstacles in the path are a must for every story to become interesting.
The first obstacle came back in 1997 when Pakistan's Saeed Anwar was all set to become the first batsman in the world to achieve the feat in the match against India during India's Independence Cup. However, he fell short of just six runs when he was dismissed on 194. The man who got his wicket was Tendulkar. The little master would never let anyone else reach the milestone.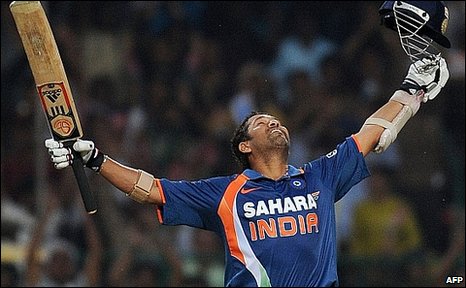 Two years later, the protagonist got a chance to reach the aimed number against New Zealand but there weren't enough overs left. He remained not out on 186.
Also see: Sachin Tendulkar's 8 best bowling performances
The next conflict came three years later when it looked like Sanath Jayasuriya will easily achieve the feat when he was batting on 189 against India at Sharjah. Sometimes the hero requires timely help from hero ka dost and this time it was Sourav Ganguly who kept the chances of the hero being the first to reach that score high. He got Jayasuriya out stumped.
The protagonist had to wait for nine long years to get another opportunity to reach that score against New Zealand at Christchurch. He surpassed 160 well before 50 overs. It seemed as if it was just a matter of time before Tendulkar would reach 200. Everything was going well and he didn't look like getting out that day.
But then came a sorrowful plot twist in the form of a stomach muscle injury in the 45th over. The protagonist had to go back retired hurt and would have to start all over again some day!
Also see: Only time Tendulkar was NOT selected in team India, neither injured nor rested
The drama and uncertainty continued almost a year later when the little big man was nearing 200 again; this time against South Africa at Gwalior. Will he finally? That was a question on people's minds when it seemed like Mahendra Singh Dhoni wasn't in the mood to give Tendulkar the strike.
But Tendulkar finally got a chance to face the bowling when he was on 199. As Dale Steyn was running into bowl, one could imagine the flashing images from the past whenever the Little Master couldn't reach that number due to various reasons. The fateful delivery is finally bowled and the hero quietly takes a single.
That was it! Rejoice!
(If I was well-versed with video editing, I would have made a video out of this. If someone is still willing to do that, please get in touch.)