Director: Prakash Jha
Producers: Prakash Jha Productions and UTV Motion Pictures
Writers: Prakash Jha and Anjum Rajabali
Cast: Amitabh Bachchan, Ajay Devgn, Kareena Kapoor, Manoj Bajpayee, Arjun Rampal, Amrita Rao
Music: Salim-Sulaiman, Aadesh Shrivastav, Meet Bros and Indian Ocean
Genre: Drama
By: Keyur Seta
Rating: * *
Story Outline: Retired school principal Daduji (Amitabh Bachchan) is a man of Gandhian principles, who believes in fighting injustice. His son Akhilesh (Indraneil Sengupta), an engineer, follows his father's footsteps in being an idealist. One day, Akhilesh's businessman friend Manav (Ajay Devgn) comes to stay with them. Daduji has a clash of words with Manav due to the differences in ideologies. Soon, a part of a flyover, created by Akhilesh, is destroyed, which leads to his accidental death. This starts Daduji's struggle against the system on various issues.
Review: Over the years Prakash Jha has acquired an identity of a filmmaker specializing in the hard hitting socio political genre. But since Raajneeti (2010) onwards, he has been showing an inclination towards commercialism while presenting social issues. Although he has succeeded in producing engaging films while doing this, the content hasn't been up to the mark. He does it again with Satyagraha. This time, however, his effort stoops lower than 'not up to the mark' for he makes a mockery of a social movement by making it unconvincingly filmi.
Despite Jha's stern denial, even a primary school kid would understand that the film and its characters are fully based on the Anna Hazare movement (Bachchan: Anna Hazare, Devgn: Arvind Kejriwal and Kapoor: Shazia Ilmi).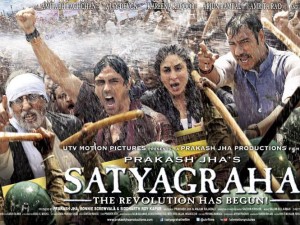 But his celluloid version of the movement just fails to create any impact whatsoever due to high degrees of Bollywood-isms thrown in which just makes it look fake! From these points, the romantic angle between Devgn and Kapoor deserves special mention for being the most forced and unconvincing love story in a long, long time. Although there are inspiring moments but they appear tiny in front of the fallacies.
What also kills the interest is the fact that the writers try to bring in too many issues which ensures a faulty narration. For example, at one point we see these characters trying to uncover the mystery of Akhilesh's death but in the very next scene, they attack the collector's office and start preaching anti-corruption. Likewise, the film keeps changing issues and leads up to a climax that can be best described as unintentionally hilarious.
From the various flaws, Kapoor's character sketch takes the cake. In fact, it won't be an overstatement to describe this as one of the stupidest portrayals of a journalist ever in Bollywood. So we have this ever-glamorous reporter who joins Daduji's movement while on duty and even starts residing in his bungalow. Later on, her image is also included in the posters of the Jan Satyagrahi's team! This is more than idiotic as no reporter would dare take a side in such a manner and if he or she ever does it, the person is fired the very moment. Well, did I see Anjum Rajabali's name in the writers' credits or did I misread it?
Perhaps the song 'Raghupati Raghav' is the best moment of the film. The rest of the songs weren't required at all. The camerawork and background score are decent while the editing is passable.
Talking about the performances, Amitabh Bachchan does succeed in being an aged social activist who is never short of inner strength. But it hurts to see his super acting talent being wasted in such a film. It hurts even more when he is forced to ham in the climax. His character is also the same as in Aarakshan. Ajay Devgn is just average this time, which is a surprise. Most of the times, it looked as if he is trying too hard. Kareena Kapoor doesn't impress due to the characterization as mentioned above.
Manoj Bajpayee turns out the best of all, although even his character is carried forward his character from Aarakshan. From the rating, there is half a star extra for Big B and Bajpayee's performances. Arjun Rampal is likable as an aggressive political leader. He should have been given more screen space. Amrita Rao has hardly anything to do. She is strictly okay. The rest of the supporting actors just fit the bill.
Overall, Satyagraha suffers due to various flaws. The film will struggle at the box office after the first weekend.