The veteran actor revealed the news while having a down-to-earth interaction with the audience during the event Ek Kalakar, Ek Sandhyakal.
By: Keyur Seta
(News taken from the website HALTI CHITRE.)
Over the years, Sachin Khedekar has acquired a cult following among the Marathi cinema audience. It is his ability to play a wide range of characters with ease that has helped him reached this level. However, few people might have noticed that he has never played a double role ever in his career. Well, the wait is over. Khedekar is finally playing a double role in the movie Pitruroon.
"I am currently shooting for a film called Pitruroon. It is directed by Nitish Bharadwaj. This time, you will see me in a double role," said Khedekar. Although Pitruroon is Bharadwaj's directorial debut, he is still known for his portrayal of Lord Krishna in the famous Mahabharat series by B R Chopra. Apart from acting in few Marathi films and directing serials like Gita Rahasya and Apradhi, Bharadwaj has also been into politics.
Khedekar revealed the news while interacting with the audience in Mumbai during the event Ek Kalakar, Ek Sandhyakal by Chaturanga. The actor had a candid discussion with the audience as he happily answered a number of their questions (some unusual ones too). "Sometimes we complain that people don't come to the theatres when we do something good. Sometimes when we do some good work, we are not there to talk about it with the audience. So I have come here precisely for that," he said.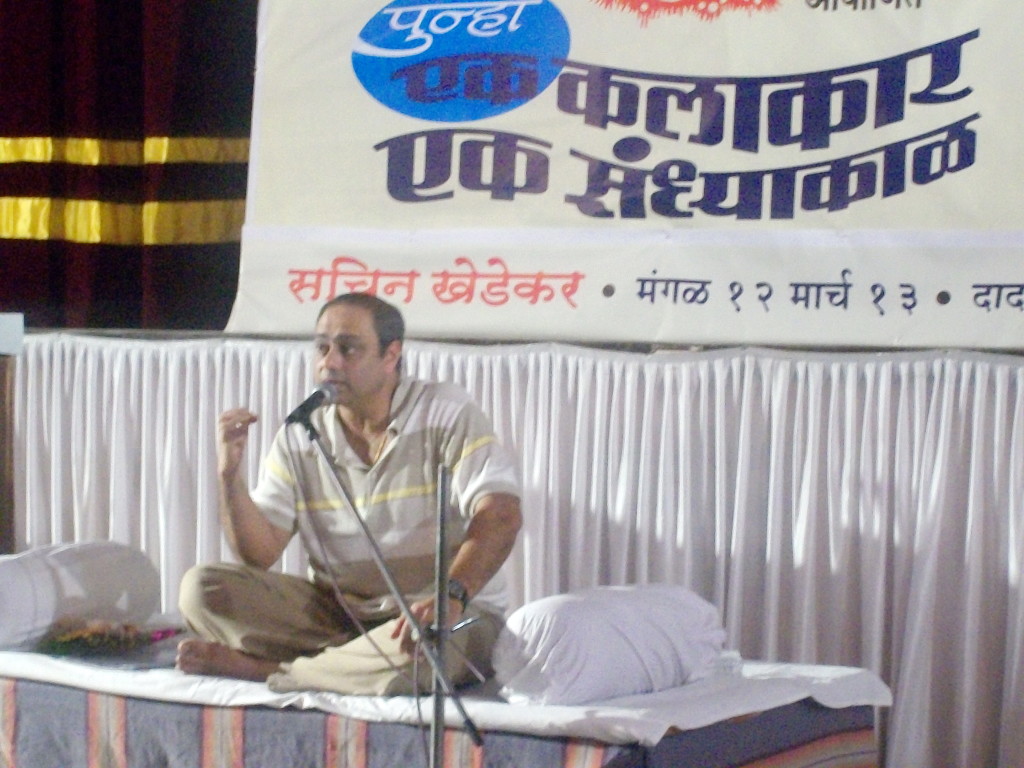 The discussion started in a humorous manner when an admirer pointed out to Khedekar that after he played a young lad in the serial Chaal years back, he has always played aged characters. The actor took it sportingly and said, "I played young characters even after that serial but I wasn't famous then. And by the time I became a known actor, my age had increased (laughs). This happens with many of us. But I take your point as a compliment. I firmly believe there should be hard work. If you get something soon, it will also vanish soon."
While answering a question, Khedekar also recalled the experience of shooting his most challenging role of Subhash Chandra Bose for Shyam Benegal's Bose – The Forgotten Hero. Although the makers had worked hard for his look, he gained tremendous confidence only after someone from Bose's family felt he resembled the revolutionary. Considering the hard work they had put in, Khedekar said he wasn't pleased with the film's fate. "Still I am glad with the response it gets when it is shown on TV during Independence and Republic Days. This means, the film is reaching the right people."
Apart from Bose – The Forgotten Hero, it seems the actor isn't too upbeat about his filmography in Bollywood. He was honest enough to say, "I have played unimpressive characters like the one I played in Singham. It is a requirement of my profession. I did Hindi films only because I wasn't getting opportunities in Marathi. Else, I would have never done."
Apart from speaking about his upcoming movie Aajcha Diwas Majha, his growing up days in Mumbai's Vile Parle suburb and his career as a theatre and TV artist, the actor requested everyone to watch Marathi films in theatre. "These days, I can see such bad films becoming highly successful which makes me feel bad."
All in all, the joy of getting to interact with their respected star in an informal manner was visible from the audience's faces. Khedekar's humbleness was seen from the fact that he respectfully answered even a couple of strange questions from the audience.
(The remaining part of this interesting interaction will be published soon. Ek Kalakar, Ek Sandhyakal will take place every month in Mumbai with prominent people from the Marathi film industry. Stay tuned to our FACEBOOK PAGE for information regarding the next installment of the event.)