'Real India lies in villages' is something we have heard numerous times. It is quite incredible to see the huge difference in lifestyle between a metropolitan city and a small village. At numerous places, these villages are based just 100 kilomers away from a big city but appear like a different country altogether.
Deepak Kumar Mishra's web-series Panchayat, which is streaming on Amazon Prime Video, tries building a connect between urban and rural India through the character of Abhishek Tripathi (Jitendra Kumar). After not scoring well in his exams, he is forced to take up the government job of a secretary in the village Phulera in Uttar Pradesh. He hates taking up this job but is encouraged by his best friend Prateek (Biswapati Sarkar).
Abhishek gets a culture shock once he lands in the village. The small accommodation, open toilets to nagging co-workers and villagers are enough for him to abhor this place as soon as he lands there. On top of that, he has to deal with the not-so-interesting work of a secretary. How long will Abhishek hang in there?
There's a certain degree of likeability in Jitendra Kumar when he feels frustrated and helpless because of any reason. As the series progresses, we get to see different shades and emotions of the character. Much before the series ends you get convinced that he is a perfect fit for this role.
Panchayat is filled with a number of other prominent characters as well. Manju Devi (Neena Gupta) is the actual Pradhan [village head] of Phulera. As there was reservation for female candidates during the last elections, her husband Brij Bhushan Dubey (Raghuvir Yadav) makes her fight for the election. Although she wins, the task of the Pradhan is carried out by Dubey.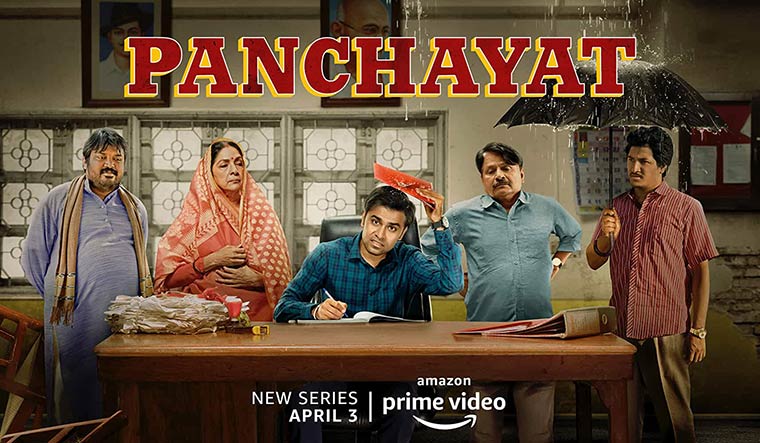 Yadav once again gives a reminder that he should get a place in the list of the best character artistes from India. As per his habit, he gives another example of how should one live and breathe a character. But as he is always seen in the village office, you wonder why they signed someone like Neena Gupta for such a small role. However, she gets her moments in the last episode where she outperforms others.
Panchayat looks at different incidents in the tenure of Abhishek Tripathi through a wide range of conflicts with each being explored in every episode. The incidents are a perfect mix of being interesting, moving and, of course, humorous. The series is a result of a fine piece of writing, which is clearly its biggest plus point. We have seen how a village setting offers plenty of scope for humour because of the lifestyle over there and the characters. The makers have made full use of it.
Also read: The Family Man Review
As the episodes go by one after the other, Abhishek slowly starts developing an unusual bond with the villagers and the village itself. Though he might not show it, it's pretty evident. A moment which stands out is the one where Dubey and others decide to hold a simple party for Abhishek after they realize how lonely he is feeling in the village. Thankfully, a forceful love story isn't used as a troupe here.
Surprisingly, there's no negative point here. There are a couple of incidents which might not appear as appealing as many others. But they certainly don't fall in the minuses zone whatsoever.
Along with the content and the characters, the other major reason why one falls in love with Panchayat is because of the location of Abhishek's home-cum-office and its surroundings, including the high water tank. There's something about it which makes you eager to visit it.
We had felt the same after watching Ashutosh Gowariker's Shah Rukh Khan-starrer Swades (2004), which is considered a classic by many. Panchayat is a perfect ode to the film. Going by how the makers have included a couple of references of Swades, it seems that giving tribute to the film might be their intention too.
Rating: 4.5 out of 5
Director: Deepak Kumar Mishra
Producers: TVF (The Viral Factory)
Cast: Jitendra Kumar, Raghuvir Yadav, Neena Gupta, Chandan Roy, Faisal Malik, Biswapati Sarkar
Writers: Chandan Kumar