Direction: Ang Lee
Production: Ang Lee, Gil Netter and David Womark
Writers: Yann Martel (novel), David Magee
Cast: Suraj Sharma, Irrfan Khan, Rafe Spall, Adil Hussain, Tabu
Music: Mychael Danna
Genre: Adventure
Rating: * ½
Plot: Based on the novel by Yann Martel, the film tells the story of Pi Patel (Gautam Belur, Ayush Tondon, Suraj Sharma and Irrfan Khan), son of the zookeeper Santosh Patel (Adil Hussain). Due to some problem, Pi's family is forced to shift their house and zoo from India (Pondicherry) to Canada. Since it also includes the stressful task of shifting all types of animals thousands of miles away, Santosh arranges for a special cruise as a mode of travel.
During their journey, a disastrous storm takes place which separates Pi from his family. Worse, he lands on a lifeboat with a zebra, hyena, an orangutan and the Royal Bengal Tiger. Later on, only Pi and the tiger are left on the boat. Will Pi be able to survive with a wild beast on a journey that looks like never ending?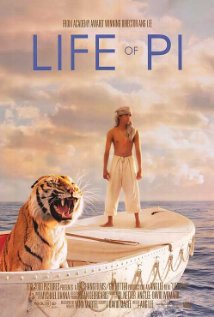 Review: Life Of Pi achieves the incredible by shooting some unthinkable scenes with some jaw-dropping visual effects. However, such mind-blowing thrills and visuals do little to amuse you when the overall experience is a deadly mixture of boredom, disturbance, irritation and depression!
Before Pi's family commence their voyage, the film appears quite interesting, especially during Pi's interaction with his parents and his take religion. Things are quite okay even during the voyage and the storm incident, which is captured brilliantly. However, some time after Pi lands on the lifeboat (second half), the proceedings go on to disturbing levels.
By this time, we start doubting that the film just has no story to tell. That indeed turns out to be the case as you are just subjected to Pi's miserable experience on the lifeboat which not only becomes a difficult test of your patience but also makes you cringe with some disturbing and depressing incidents. No doubt, the camerawork and the way of filming deserve salute but why should one invest money and time to watch such a story? Such a tale suits only for a novel.
The background score is commendable while the editing should have been tighter. The 3D effects in some scenes are of top draw but there should have been some more out-of-the-screen moments.
Some performances leave you spellbound. Suraj Sharma's debut act is one such performance that deserves tons of praise, especially since he is someone who is never been into acting or performing arts. Irrfan Khan once again shows why he is one of the finest actors to have emerged from India. Adil Hussain and Tabu provide mature acts. Rafe Spall fits the bill perfectly. All the animals too deserve applause for being able to do what they were asked to.
Overall, one and a half stars for Life Of Pi for the breathtaking visuals and performances.