This review is a part of the biggest Book Review Program for Indian Bloggers. Participate now to get free books!
Author: Ravi Subramanian
Review By: Keyur Seta
Having liked Ravi Subramanian's If God Was A Banker and The Bankster, it was obvious for me to have good amounts of expectations from his latest novel, God Is A Gamer. Apart from my previous experience with the author, the reason for this was the fact that it is India's first bitcoin thriller. So does the author manage to score a hattrick as far as my experience is concerned? We will find that out soon. But before that, let's have a look at its basic story outline (without spoilers).
The tale commences in 2011 in Washington DC when a Senator is killed ruthlessly with meticulous planning just when he is about to confess something to the President of the United States. Back in India, after being a successful BPO owner, Aditya Rao has added another feather in his cap by making a mark in the gaming world. He is an ex-banker who had left New York International Bank (NYIB) few years ago, at a terrific high, to start his own business.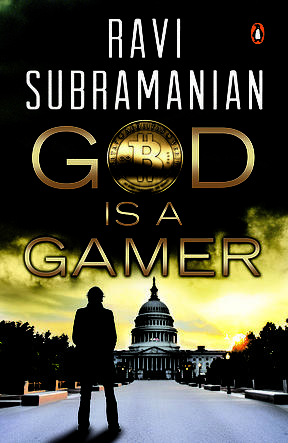 Aditya was more than a mentor to Sandeep and Swami at NYIB. Sundeep works with Aditya's firm after he had to move out of NYIB following few scandals. He has changed now and has a big share in Aditya's success. Swami still works with NYIB. These three characters are carried on from the author's novel, If God Was A Banker. So in a way, God Is A Gamer is a sequel to that book. Under unexpected circumstances, Aditya is reunited with his son Varun. The youngster is in a relationship with Tanya, whom he had met in Rio De Janeiro.
On one fateful night during a party, a tragic incident leaves everyone hell shocked! Its consequences and few other incidents around the world force India's Central Bureau of Investigation (CBI) and America's Federal Bureau of Investigation (FBI) to work in tandem.
Although the book is a continuation of If God Was A Banker, its storyline and style of narration are very much on the lines of The Bankster. Few subplots are narrated simultaneously in different parts of the world. Intentionally, they are kept unrelated until the pre-climax.
Like The Bankster, the strategy works here too as it keeps the reader not only engrossed but on the edge mostly. The manner in which the author has ended various chapters with a cliffhanger adds to the thrill. Hence, the book turns out to be a 'page turner' for a large majority of the time. However, it does appear to be a drag roughly after it completes half its journey.
Needless to say, the overall opinion of the reader in such whodunits relies heavily on the climax. Fortunately, Subramanian doesn't disappoint in this vital area. To avoid spoilers, I won't reveal whether the obvious guess about the culprit turns out to be right. But the author's style of revealing will surely take you by surprise.
Apart from a point above, God Is A Gamer has few more questionable aspects too that stop it from being a high quality thriller. They are as follows:-
The plan hatched by the mastermind is way too complicated and it leaves few questions unanswered. This, obviously, makes it less convincing. This point is saved a bit by the surprise element.
You don't feel much for one important victim due to its lack of emotional connect with the readers. Although the plight of another victim breaks your heart, the incident is hardly given any importance despite the character being one of the key ones.
There are instances where a lot of tech-related details are thrown in that might leave the reader confused if he or she is a layman like me when it comes to technology.
There was no need to keep many chapters so short in length. In fact, few chapters are less than a page long! This affects the reader's concentration as s/he has to shift focus regularly, sometimes in a span of few seconds.
Thankfully though, these points don't garner much disappointment as the plusses manage to overtake the minuses.
Overall: Despite some issues, God Is A Gamer is yet another bank thriller by Ravi Subramanian that is worth savoring for thriller lovers.
Rating: * * *
Publisher: Penguin
Genre: Thriller
Pages: 310