Synopsis: After successfully serving his nation in a daring mission in Tiger Zinda Hai (2017), Avinash Singh Rathore aka Tiger (Salman) is living a simple life with his wife and ISI agent Zoya (Katrina Kaif) and son Junior (Sartaaj Kakkar). But as he is a RAW agent, he can't enjoy peace for a long time. He is sent on a mission to rescue his fellow agent Gopi (Ranvir Shorey) from a foreign land. Although he rescues Gopi, the latter dies due to severe injuries. Just before dying, Gopi reveals that Pakistan is planning a deadly mission against India and Zoya is hand-in-gloves with them.
The mission is being planned by the ruthless Aatish (Emraan Hashmi). Tiger, who is already disturbed and confused about Zoya's possible involvement in the evil mission, gets another jolt when Aatish kidnaps Junior and forces Tiger to do what he wants him to.
Review: After watching some high-octane action sequences from a series of films in the Yash Raj Spy Universe, one would keep the same expectations from Tiger 3 on this front. The film passes this test. In fact, the action in some places, mostly in Salman's entry sequence, is even better and it makes for a thrilling experience, especially when seen in Imax (where this reviewer saw).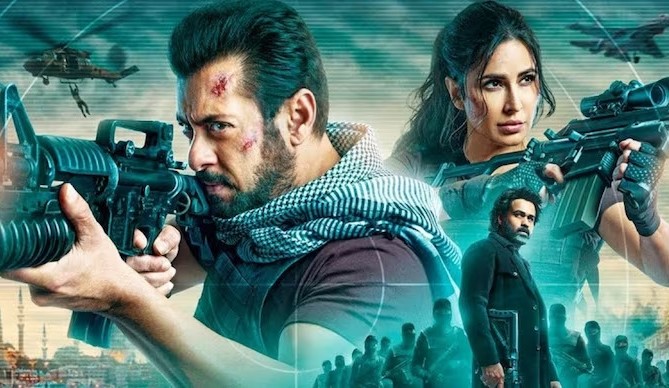 Tiger 3 thoroughly rides on such impressive action throughout its duration of 130 minutes. Of course, like the previous films in this universe, one needs to keep logic and reasoning away to enjoy these moments, especially the old troupe of the good guys not stopping a bullet even when hundreds are showered on them through some deadly machine guns.
Apart from action, the film also shines in other technical areas like cinematography and background score. To see various foreign countries and their portrayal is another plus here.
While Tiger 3 is high on technical aspects, the same can't be said about its content. The film has a complicated storyline (not all is covered in the aforementioned synopsis) which is narrated in a rather confusing way. On top of that, the stakes here aren't as high as the previous films in this universe. In other words, the mission is such that one doesn't feel the tension and worry that one did, especially in a film like Pathaan. This ensures that there are a lot of been-there-done-that moments. The film also leaves a major question unanswered related to the mission (which can't be revealed to avoid spoilers).
Tiger 3 also lags behind when it comes to the villain. While Emraan Hashmi acts well, he is surely not menacing enough to create a fear in you. The same can be said about the other bad guys.
From Race 3 onwards, Salman Khan hasn't been in good form. He has had issues with his performances and energy levels in his films of last few years. He is much better in this film, also because the role of Tiger suits him. His screen presence works wonders. One wouldn't expect much from Katrina Kaif after seeing her, over the years. She scores high only on action sequences. Simran, the actress who played Pakistan's Prime Minister, provides a mature act. Revathy is also likeable as the RAW chief.
Tiger 3 reaches its highest point during the cameos of Shah Rukh Khan as Pathaan and Hrithik Roshan as Kabir. The former has a longer screen time and his chemistry with Salman is once again exciting. The rest of the film, unfortunately, doesn't reach this level.
Overall: Tiger 3 turns out to be a one-time watch action extravaganza. At the box office, it has enough masala to be a hit. But it needs to be seen if it turns out to be a blockbuster.
Rating: 2.5 out of 5
Director: Maneesh Sharma
Producers: Aditya Chopra for Yash Raj Films
Writers: Aditya Chopra (story), Shridhar Raghavan (screenplay) and Anckur Chaudhry (dialogues)
Cast: Salman Khan, Katrina Kaif, Emraan Hashmi, Revathy