Direction: Sandesh Kulkarni
Production: Umesh Kulkarni and Girish Kulkarni for Aarbhat Nirmiti, Pravin Masale
Story: Girish Kulkarni
Screenplay: Girish Kulkarni
Cast: Girish Kulkarni, Amruta Subhash, Mohan Agashe, Hrishikesh Joshi, Sneha Majgaonkar, Dilip Prabhavalkar
Music: Anand Modak
Rating: * * * ½
Plot: Revan (Girish Kulkarni) tries out a number of businesses but fails to find success in any. Due to this, he is forced to live a nomadic life in order to escape his creditors. Being an obedient wife, Sarika (Amruta Subhash) agrees with whatever her husband decides. Circumstances land the couple in Solapur, which is the hometown of Sarika's cousin Kalyan (Hrishikesh Joshi).
Revan and Kalyan decide to join hands and start a business of selling groundnuts. Will Revan finally achieve success?
Review: Starting a business and running it successfully are two different things altogether. But if you keep your passion alive and learn from your mistakes, even fate will be forced to come by your side. This phenomenon is presented in Sandesh Kulkarni's Masala in a light hearted manner that produces plenty of smiles.
As a writer, Girish Kulkarni continues from where he left in Deool (2011). He presents another subtle rural script that doesn't go overboard and involves the audience right from the onset. Although there is not much romance shown between the lead couple, the interactions and actions between them clearly indicate the deep love they share hence making the audience feel for them.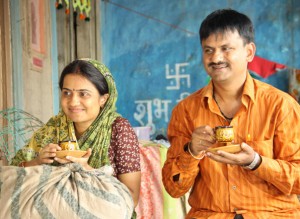 Apart from this what keeps you entertained and provides humour is the inclusion of some interesting characters and incidents. The writer and director's (Sandesh Kulkarni) efforts are seen in the realism that is oozed from the proceedings in terms of the conversations and truly realistic performances. Things do become a bit slow in the latter part of the second half. However, the climax makes up for it as the conclusion of the tale will move as well as delight you.
Top-notch effort is shown by M H Ramachandran as a cinematographer. A single take scene where Revan and Kalyan ride a bicycle together deserves special mention. Narendra Bhide's background score is apt. Although there is not much scope for music, songs 'Yan Madti' and the title track go well with the film.
Girish Kulkarni gets into the skin of his character wonderfully. His portrayal of Revan is sure to fetch him lots of appreciation. Amruta Subhash deserves similar applause for playing Revan's wife with realism. Mohan Agashe (as businessman Mehta) and Dilip Prabhavalkar (as a scientist) once again prove why they are respected names in Marathi cinema.
Hrishikesh Joshi and Sneha Majgaonkar play their part well while Dr Shreeram Lagoo excels in a cameo. Jyoti Subhash offers good support.
In a nutshell, Masala acts as a breath of fresh air that will be appreciated by the lovers of meaningful cinema. The movie has a chance of clicking at the box-office.