Filmmaker Raaj Shaandilyaa's Dream Girl 2 is the sequel to his 2019 hit and hilarious comedy Dream Girl. But this isn't an exact sequel of the 2019 movie. It revolves around the same protagonist and the people around him in the same city of Mathura but follows a completely different story. The other common factor between both the films is that the protagonist is forced to impersonate a woman.
Dream Girl 2 is based in Mathura of today's times. Karamveer aka Karam (Ayushmann Khurrana) is an unemployed young man who just loiters around with his best friend Smiley (Manjot Singh). His father Jagjit (Annu Kapoor) isn't bothered about his son though. Karam is in love with the rich Pari (Ananya Panday). But her father (Manoj Joshi) is shocked to know the poor condition of Karam and his father.
Worse, Karam also loses his ancestral home because of debts and loans. He is desperate to get out of the financial mess and marry Pari. He comes across an opportunity of impersonating a woman in a dance bar run by Sona Bhai (Vijay Raaz) in order to earn quick bucks. After some hesitation he agrees and starts earning well by impersonating a woman named Pooja.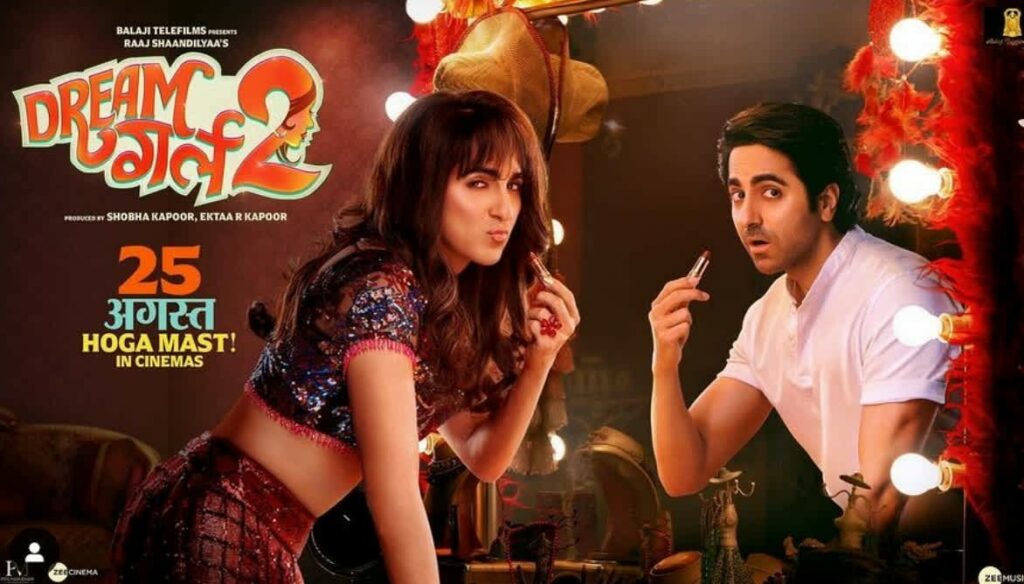 But his happiness doesn't last long after he decides to help Smiley get married to his girlfriend Sakina, daughter of the rich Abu Saleem (Paresh Rawal). This creates massive confusion due to which Karan is forced to tell one lie after another. Characters like Abu's son Shahrukh (Abhishek Banerjee) and Smiley's aunt Jumani (Seema Pahwa) create more trouble for Karam.
The biggest strong point of Dream Girl 2 is Raaj Shaandilyaa's dialogue writing. Like the first film, the sequel too is full of witty one liners at regular intervals. The best jokes are the ones based on the contemporary happenings both in Bollywood and the nation. The best one is the idea of a girl named Sakina falling for a Sardar, which is an indirect hint at the Gadar franchise. In fact, there's another joke on the same film and the song 'Main Nikla Gaddi Leke' also makes its presence in one scene.
But when dialogue is the biggest strong point, it isn't good news for the film and that's exactly the case with Dream Girl 2. The film starts off well but the plot becomes way too complicated and convoluted. The writing goes overboard when it comes to creating confusion and used too many characters. This becomes a forceful antic in inducing humor. On the other hand, the first Dream Girl, although also a crazy comedy, had a much simpler plot and it used simple situations to create humor.
Dream Girl 2 is also guilty of making fun of the serious issue of depression and its treatment. In one scene a character also says that only rich people suffer from depression.
After the dialogues, the next positive point here are the performances. Ayushmann Khurrana once again shows the right comic timing and energy needed for such a Govinda-like character. He is also impressive as Pooja. The same goodness is carried forward by Annu Kapoor. Paresh Rawal, the new addition in the cast, is thoroughly fine. Abhishek Banerjee plays a character he hasn't played before with perfection.
Also read: Gadar 2 review – A treat only for Sunny Deol fans
Manjot Singh, Vijay Raaz, Seema Pahwa, Rajpal Yadav, Manoj Joshi and Ranjan Raj (as Tiger Pandey) too chip in with the right support. Ananya Panday fares better than expected but her character doesn't have much to do. Veteran actor Asrani only has a cameo.
Overall: Dream Girl 2 is only about the dialogues and performances. The film falls shorter than its predecessor.
Rating: 2.5 out of 5
Director: Raaj Shaandilyaa
Producers: Balaji Motion Pictures
Writers: Raaj Shaandilyaa and Naresh Kathooria
Cast: Ayushmann Khurrana, Ananya Panday, Annu Kapoor, Manjot Singh, Paresh Rawal, Vijay Raaz, Seema Pahwa, Rajpal Yadav, Manoj Joshi, Asrani, Ranjan Raj