Direction: Rajesh Pinjani
Production: Neeta Jadhav, Rajesh Pinjani
Cast: Mitalee Jagtap Varadkar, Vivek Chabukswar, Milind Shinde
Music: Rohit Nagbhide
Rating: * * *
Plot: Jaggu (Milind Shinde) is a member of a local band in a remote village in Maharashtra. He wants his son Baboo aka Babya (Vivek Chabukswar) to join the same profession. However, Baboo's mother and Jaggu's wife Shirmi (Mitali Jagtap Vardkar) is determined to educate her child so that he can enter a more respectable profession. Will Shirmi succeed in her noble task or will Baboo too end up being a band baja wala?
Review: Not-so-long-ago, Amit Abhyankar's Jana Gana Mana (2012) gave an important message that every child has a right to education irrespective of his social class. The same message is put forth in Rajesh Pinjani's debut flick Baboo Band Baja, although in a different way. Like Abhyankar, Pinjani too succeeds in spreading the message with honesty. But one has to add that the product is more feasible for the classes, especially due of the climax.
The story hardly moves forward in the first half but the interesting sequences, conversations and confrontations and most importantly, the direction makes sure your interest is very much alive. In fact, it works well here as you become absorbed in the rural mood of the flick and even start feeling for the characters. The same absorption is continued even in the post-interval sequences, although things continue to go at the same pace.
(Review continued after picture.)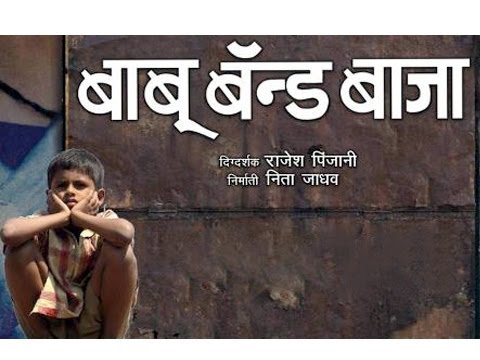 Some appealing events nicely lead up to the pre-climax portion. However, it would have been much better and pleasant if the pre-climax had been the climax. A twist after the pre-climax which is followed by a startling incident could have been avoided. This would have also made sure the film gets mass acceptance. But having said this, the makers surely deserve applause for the message given.
Rohit Nagbhide's songs are apt for the subject and so is the background score. The cinematography is applause-worthy as it beautifully captures the remote village. The editing should have been tighter, especially in the funeral scenes.
Mitalee Jagtap Varadkar gets into the skin of her character with such mastery that it is difficult to believe that she is putting on an act for a movie. It isn't surprising that she won a National Award for the performance. Milind Shinde moulds himself perfectly to play Jaggu. He gives a terrific act too.
A difficult character is played by ease by child actor Vivek Chabukswar. The actor deserves a lot of applause as it could have been a daunting task for any kid. He too rightfully deserves a National Award for the act. The surprise package is the actress who played the mad woman. She is outstanding!
Overall, Baboo Band Baja will please those who prefer off-beat cinema. The film is in desperate need of positive word-of-mouth. The fact that it is released with four other Marathi movies will surely affect its chances at the box-office.