The OTT (over the top) medium has proved to be a boon for crime thrillers. We see plenty of them in various languages over the world. Unlike cinema, the writers here get proper time to establish the storyline and slowly build up the excitement for the finale.
Disney + Hotstar's Aarya is also a series under the same genre. The story takes place in a town in Rajasthan and it revolves around Tej Sareen (Chandrachur Singh) and his wife Aarya Sareen (Sushmita Sen). Tej runs a business of illegal medicines along with friend Jawahar (Namit Das) and brother-in-law Sangram (Ankur Bhatia).
The lust for more money compels Sangram and Jawahar to steal a large consignment of cocaine from the dreaded gangster Shekhawat (Manish Chaudhary) in order to sell it. But Tej is completely against this move. This develops a conflict between him and his two partners. Tej wants to leave the whole business; something he promised Aarya long back.
However, Tej's plan receives a jolt after he is shot at by an unknown person. With her husband in critical condition, Aarya is forced to clear the mess in order to protect herself and her three children. Along with the bad guys, she is also pitted against ACP (Assistant Commissioner of Police) Khan (Vikas Kumar).
Although Aarya also falls in the genre of crime thriller, it would be unfair to say that it is just another series in the genre. This is not your usual crime saga where there's high-octane action, too many killings and chase sequences. Aarya is a nuanced and layered drama where, along with crime, emotions also play a major part through various parallel tracks, with each being interesting.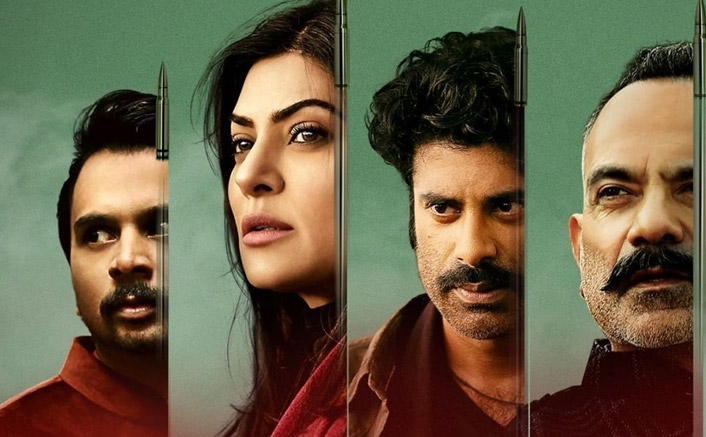 So, while Aarya is caught in a cat-and-mouse game with both the villains and police, her journey is more emotional due to her love for her children and dead husband. There are other interesting tracks about Aarya's sister Soundarya (Priyasha Bhardwaj) and her to-be husband Bob Wilson (Alexx O'Nell). The troubled married life of Jawahar and his wife Maya (Maya Sarao), who is Aarya's close friend.
Aarya also makes a statement of how even among the wealthy households, patriarchy rules even in 2020. The narrative does so in a subtle way through the sub-plot of Aarya's father Zorawar (Jayant Kripalani) and his young mistress Radhika aka Rads (Flora Saini).
Despite the presence of a number of characters, the writers have kept the character of Aarya in the center. She is a complex woman who shows different versions of herself in front of different people. She can feel emotionally numb but at another instance shows her powerful and fearless side.
In other words, the character had to go through various emotions in her journey. Sushmita Sen has added life in each emotion effortlessly thereby packing a puck in her comeback. Her act makes it clear that there is so much left in her, which mainstream Hindi cinema should take note of.
Aarya is filled with a long list of impressive performances from the likes of Chandrachur Singh, Namit Das, Ankur Bhatia, Manish Chaudhary, Priyasha Bhardwaj, Sikander Kher, Virti Vaghani (as Sen's daughter), Jayant Kriplani, Vikas Kumar, Maya Sarao, Vishwajeet Pradhan, Sohaila Kapoor, Alexx O'Nell and others.
There are times when it seems that the nine-episodic Aarya should have been pacier. Few sub-plots could have been given less importance. The series also takes creative liberties here and there, which is generally a case in thrillers.
Also read: Panchayat Review – A perfect ode to Swades
But Aarya ends on an impressive note which provides a kick and gains your interest for its second season. The Bhagavad Gita sequence in the end gives a perfect ode to Sen's character. It is also refreshing to see a woman given a place of Arjuna.
Rating: 4 out of 5
Directors: Ram Madhvani, Sandeep Modi and Vinod Rawat
Writers: Ram Madhvani, Sandeep Shrivastava and Anupkaran Singh
Cast: Sushmita Sen, Chandrachur Singh, Namit Das, Ankur Bhatia, Manish Chaudhary, Priyasha Bhardwaj, Sikander Kher, Virti Vaghani, Jayant Kriplani, Vikas Kumar, Maya Sarao, Vishwajeet Pradhan, Sohaila Kapoor, Alexx O'Nell
Platform: Disney + Hotstar
Number of episodes: 9