Director: Kabir Khan
Producer: Yash Raj Films
Writers: Aditya Chopra (Story), Neelesh Misra and Kabir Khan (Screenplay and Dialogues)
Cast: Salman Khan, Katrina Kaif, Ranvir Shorey, Girish Karnad
Music: Sohail Sen and Sajid-Wajid
Rating: *
Plot: RAW agent Tiger (Salman Khan) is sent on mission to Dublin to just observe a scientist (Roshan Sheth) as the agency has doubts over his activities. Over there, Tiger meets Zoya (Katrina Kaif) and falls for her. But the mission goes haywire due to some unexpected events.
Review: First things first – Kabir Khan's Ek Tha Tiger is a replica of Sriram Raghavan's Agent Vinod minus few twists in the second half. But the final product suggests that an exact copy of Agent Vinod would have been a better decision since the Yash Raj version makes the not-so-impressive Saif Ali Khan starrer appear like a classic! The Salman Khan starrer not only makes fun of the secret intelligence agencies but also takes the audience on a ride that makes them tear their hair off in despair after reaching the final destination.
The film, however, starts on a promising note although it follows the age old formula of Bollywood and Hollywood action flicks – the hero making a dhamakedar entry in an action scene followed by his next mission where he meets his lady love. This won't bother you since the fast-paced writing, impressive action and some good quality humour provide satisfying entertainment. But the next turn in the story poses a question mark when the scientist is just thrown out of the plot. Not just that; the interval point is the same as Mohit Suri's Awarapan, with the audience already knowing the filmy outcome.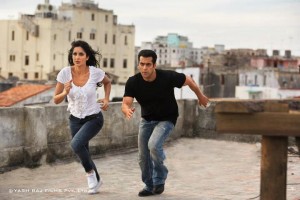 But since the second half is still to be seen, you try to ignore these points. That doesn't help as the script goes further downhill with those clichéd romantic moments. Then the story takes the biggest turn which defies logic and doesn't go with the nature of the secret intelligence officers. You still hope for something better but what you get is a series of idiotic twists and some dumb action scenes where, on few occasions, the lead pair tries to imitate Spider-man and even succeeds in it!
Although there is no hope left by this time, you still expect to get some satisfaction from the climax. Then suddenly, Ranvir Shorey's voiceover indirectly tells us that the film is over. The abrupt ending coupled with the final outcome crosses all levels of idiocy! The message of peace between India and Pakistan is given in a laughable manner!
Kabir Khan's talent is seen in some of his fearless documentaries and two feature films Kabul Express and New York. Due to this, it is not possible to believe that a passionately talented filmmaker came up with something like this!
Talking about the technical aspects, Aseem Mishra (cinematography) does a brilliant job during those difficult action scenes and while artistically capturing different cities of the world. Background music (Julius Packiam) and editing (Rameshwar S Bhagat) are the other plus points. Sajid-Wajid and Sohail Sen have produced songs that, although not brilliant, are likable.
Salman Khan appears more like Salman Khan and less like a RAW agent. Even his performance falls in the not bad category. But since most of his fans will be queuing up just to see his looks, songs and fights, they won't have a problem. Like most of her films, Katrina Kaif struggles with her dialogue delivery due to her accent. Although she enacts the right emotions on most of the occasions, it is difficult to believe a hardcore Pakistani girl with such poor pronunciation and diction. Ranvir Shorey and Girish Karnad provide good support although the latter appears awkward on few occasions. Roshan Sheth excels in a cameo. The actor playing Katrina's aide is adequate.
Overall, Ek Tha Tiger is yet another poorly made Salman film that will break box-office records as the masses will watch the film at least once. The crazy opening will ensure it crosses Rs 150 or maybe even 200 crore, if money can be considered a yardstick for measuring success of a film.