Rating: * * ½
By: Keyur Seta
Director Ravi Jadhav's Marathi movie TimePass 2 treads on the same path as TimePass. The film is high on humor but not so high on content. In taking forward the love story of Dagadu and Prajakta, the makers have resorted to not only age-old clichés but also unconvincing factors. But there is enough entertainment for the target audience to savor this dish once.
The story of Dagadu and Praju takes a leap. Dagadu is now 30 years old and unmarried. He still dreams of Prajakta (or Parajakta), although it has been a long time since she left him. She has settled in Konkan with her father aka Shakaal (Bhalchandra Kadam) after leaving Mumbai. Prajakta's father is eager to marry her off with a well-cultured guy.
Meanwhile, Dagadu's crazy friends encourage him to meet Prajakta, express his love for her and get married to her. Hence, he along with his friends goes on a mission to Konkan. But does Prajakta still love him? What about Shakaal who hates Dagadu to the core?
The USP of TimePass 2 is its humor. But while the comic moments in the first film were born out of Dagadu's adolescent antics and cute obsession, here the onus is on crazy, whacky and slapstick situational comedy in plenty of doses, which keeps you entertained throughout. Although at times it appears forceful and silly, it goes with the genre.
But the problem areas are big, which cannot be ignored. The basic plot itself is questionable. Why did Dagadu wait till the age of 30 to search for Prajakta? Why didn't the couple be in touch all these years through various technological means? Also, the twist about the secret profession of a character is completely unconvincing. The film also derails from the main aim post interval and ends on a clichéd, tried and tested manner.
From Chinar and Mahesh' music, the song 'Praju' stands out. The rest of the songs fall in the 'not bad' or 'decent' category. 'Madan Pichkari' doesn't go well with the family movie genre. Vasudeo Rane's camerawork captures the beautiful Konkan in a simple and subtle manner. The background score is as per the need. The jingle 'Insaniyat Ke Dushman' should have been used more though.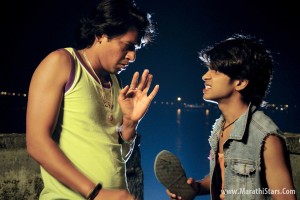 Priyadarshan Jadhav carries the difficult task of playing the grown up Dagadu with confidence, although he overdoes on a few occasions. Priya Bapat once again provides a convincing and likeable performance. Vaibhav Mangle was remarkable in the first film. He goes few notches higher here by being convincing during both comical and emotional moments.
It is heartwarming to see Prathamesh Parab entering the scene every now and then, displaying his typical crowd-pleasing behavior. The same can be said about Ketaki Mategaonkar although she doesn't get to speak much. Sandip Pathak and two other actors playing Dagadu's friends are decent while Bhalchandra Kadam, as Dagadu's father, is effective once again.
Overall: TimePass 2 is a one-time watch entertainer. The brand value and some tremendous hype will make sure that the film will break box office records.
Director: Ravi Jadhav
Producers: Nitin Keni, Nikhil Sane and Meghana Jadhav
Writers: Ravi Jadhav, Kshitij Patwardhan and Priyadarshan Jadhav
Cast: Priyadarshan Jadhav, Priya Bapat, Prathamesh Parab, Ketaki Mategaonkar, Vaibhav Mangle
Music: Chinar-Mahesh
Genre: Romance/ Comedy