Director Aanand L Rai is known for making light-hearted entertainers based in small north Indian towns. His latest and much talked about Zero is also an entertainer revolving around a character based in a small town up north.
But the difference this time around is that his protagonist is a star like Shah Rukh Khan. With the presence of a well-known actor, the film is also much larger-than-life than what Rai's films have been so far. Unfortunately, the film's scale is inversely proportional to what it offers.
Zero is the story of 38-year-old Bauua Singh (Shah Rukh Khan). He forms a large group of commoners of Meerut but his life is far from regular. As he is a dwarf, he is unable to get married. On top of that, he is a careless individual who loiters around with his best friend (Mohammed Zeeshan Ayub). This is enough for Bauua's father (Tigmanshu Dhulia) to hate him.
His life takes a turn when he meets Aafia (Anushka Sharma). She is a brilliant mind but is wheelchair bound since she is suffering from cerebral palsy. But later on, the superstar actress Babita (Katrina Kaif) also enters the life of Bauua. Where is his life heading?
Zero starts on a fairly positive note. The introduction of Bauua Singh and his world gives rise to some hilarious situations and conversations. It is SRK's presence and charm that wins you over not only during these moments but the entire film. His act is a mixture of absolute dedication and hard-work, be it during some street smart funny moments or scenes where he gets depressed.
Rai has also extracted quality performances from Anushka Sharma, Mohammed Zeeshan Ayub and Tigmanshu Dhulia. Sharma overcomes the challenges of playing a specially challenged character, although a lot of creative liberty has been taken.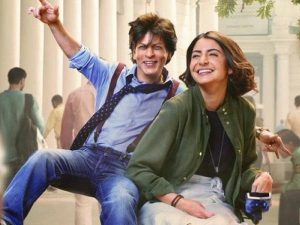 Ayub has played the protagonist's friend in quite a few films in recent years, but he brings in something different every time. He has achieved the same here. Katrina Kaif isn't as bad as a lot of her past films. But her character lacks the right amount of depth and conviction.
The music of Zero rides on the moving romantic number 'Mere Naam Tu' and the enjoyable 'Ishqbaazi' (which features Salman Khan). The rest of the songs too are decent.
However, the performances and songs are no way enough for the large number of negatives. It would be apt to say that Zero has 0 logic. If Bauua wasn't so much in love with Aafia, why did he spend more than a bomb on her to impress her? By the way, Bauua belongs to a strictly middle class family but spends money like water. How? Nobody knows.
Despite such flaws, the first half is still decent. But Zero suffers a bigger blow when Babita's character enters the scene. Whatever happens from here on can is too dumb and mindless [not revealing further to avoid spoilers] even by the standards of typical masala entertainers. The ending moments do offer some thrill but the damage has been already done.
It is very important in films with such storylines to generate at least some empathy for the protagonist. But over here you feel for Bauua only because of Khan's performance. The VFX team has done a decent job with respect to making SRK look like a dwarf, barring few moments here and there.
Overall: Zero makes you wonder as to how SRK agreed to be a part of the project as an actor as well as a producer when he badly needs a successful film riding on impressive content. This film might get a good opening in the first weekend but will struggle after that at the box office.
Rating: 2/5
Review by: Keyur Seta
Director: Aanand L Rai
Producers: Red Chillies Entertainment and Colour Yellow Productions
Writers: Himanshu Sharma
Cast: Shah Rukh Khan, Anushka Sharma, Katrina Kaif, Mohammed Zeeshan Ayub, Tigmanshu Dhulia
Music: Ajay-Atul
Genre: Drama
Runtime: 159 minutes