Direction: Shoojit Sircar
Production: Rampage Motion Pictures Ltd, Rising Sun Films Pvt Ltd, JA Entertainment Pvt Ltd, Eros Entertainment
Cast: Ayushman Khurana, Annu Kapoor, Yami Gautam
Writer: Juhi Chaturvedi (Story, Screenplay and Dialogues)
Music: Akshay-Ajay
Rating: * * * ½
Plot: Vicky (Ayushman Khurana) is an unemployed youth who is under pressure to start earning. On the other hand, Dr Chaddha (Anu Kapoor), a fertility expert, is having a terrible time as none of his patients are able to conceive. One fine day, Chaddha's eyes fall on Vicky. He gets a feeling that Vicky is the right person to become a sperm donor in his clinic. After strictly refusing Chaddha's offer a number of times, Vicky finally agrees.
Due to this, Chaddha's business suddenly zooms up while Vicky starts making a lot of money. In between, Vicky comes across a banker Ashima Roy (Yami Gautam) and falls for her. But will he ever be able to reveal his profession to her?
Review: What will be your reaction when a person reveals that he is a sperm donor? As the profession is hardly known in India, chances are you will consider him shameless or immoral. However, your opinion on sperm donors will change drastically and, in fact, you will also start respecting them after watching Soojit Sircar's Vicky Donor, a tale which, although not a classic, will surely touch your heart.
The promos of Vicky Donor suggested that the film is a humorous account on sperm donation. But, apart from that, it is a mature and realistic take on a person who becomes a sperm donor with an important element of a love story. Juhi Chaturvedi (story, screenplay and dialogues) deserves lots of applause for carrying out this task while giving humour a high place in the narration through some intelligently witty dialogues.
(Review continued after picture.)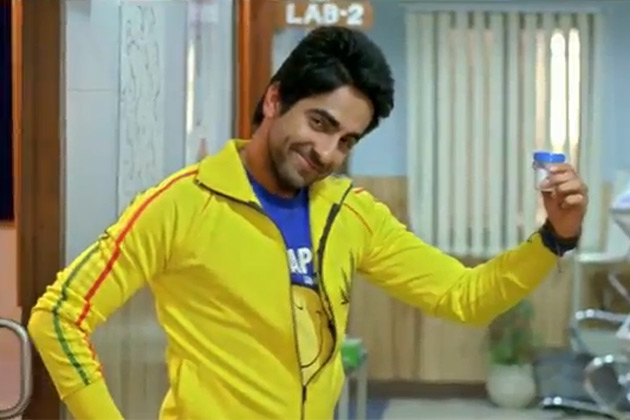 The kind of topic had lots of scope for the writer and director to go overboard especially in the choice of humour but fortunately that doesn't happen here. Even in the jokes related to sperms and sperm donors, every care is taken to keep any kind of cheapness and vulgarity away.
The flawlessness does take a backseat in some portions of the second half where the emotional part seems extended. However, then comes the superlative and moving climax that deserves plenty of applause. In fact, the message given in the end is path-breaking as far as India is concerned.
From Akshay-Ajay's compositions, 'Rum Whisky' and 'Paani Da Rang' manage to stay with you, although a couple of songs (although they are shortened) in the second half weren't needed. Kamaljeet Negi's cinematography suits the nature of the film and so does the background score.
Ayushman Khurana makes a superlative debut as he does the very difficult task of carrying the film on his shoulders in his very first film with ease. He shows his talent in both comic as well as serious scenes. A sure a lookout for the future. With another lovable act, Anu Kapoor once again proves why he is one of the best actors in India. His comic timing is terrific.
Yami Gautam, who also makes her debut, gives a confident performance too and looks gorgeous. Kamlesh Gill and Dolly Ahluwalia provide good humour in the role of nagging saas and bahu. In supporting roles, Jayant Das and Bhupesh Kumar do well.
Overall, Vicky Donor gives a daring message while providing good quality entertainment. The film will be the surprise of the season at the box-office.
Direction: Shoojit Sircar
Production: Rampage Motion Pictures Ltd, Rising Sun Films Pvt Ltd, JA Entertainment Pvt Ltd, Eros Entertainment
Cast: Ayushman Khurana, Annu Kapoor, Yami Gautam
Music: Akshay-Ajay
Release Date: April 20, 2012
Star Value: Two debutants – Ayushman Khurana and Yami Gautam – are been launched in Vicky Donor. Hence, there is no star value in the movie. Just like last week's Bittoo Boss, the film relies only on content.
Hype: A very bold issue of sperm donation has never been touched before in Bollywood. Due to this, the promos of Vicky Donor have made heads turn and have also managed to create some hype for the movie.
Music: Although songs 'Rum Whisky' and 'Pani Da Rang' are quite catchy, they haven't gained popularity. They might become popular if the film does very well.
Prediction: Vicky Donor does stand a chance in getting average opening first up. Since the film is purely based on content, it is absolutely necessary for it to impress at the onset. If it manages to do that, it will become a surprise hit of the year. If it doesn't, no need to mention about its fate. It has a chance only in urban multiplexes.