Despite starring in different genre of films in the last two decades, Akshay Kumar is known the most for his action roles. This is the first image he acquired among his fans and he remains to be a specialist in this form of cinema. Although he plays an archeologist in Ram Setu, he gets more than a chance to showcase his action skills yet again.
But overall, the film falls more in the adventure and mystery zone. Akshay's stunts are kept simple because of the profession of his character. Ram Setu is not one of his best acts. However, the actor has a knack of carrying a film on his shoulders even while giving decent performances. He has done the same in this film as well.
Ram Setu is a period film that takes place in 2007. Dr Aryan Kulshreshtha (Akshay) is a successful archeologist married to a professor (Nushrratt Bharucchha). He is an atheist who only believes in facts and science. He is sent on an expedition in Afghanistan to restore Buddhist statues that were destroyed by Taliban terrorists.
It is also the period where India's then government refuses to believe that the Ram Setu bridge between India and Sri Lanka wasn't made by Ram's vaanar sena [army of animals] and that it is formed naturally. A wily businessman (Nassar) also has his eyes set on the bridge in order to make a project over there that will benefit him immensely.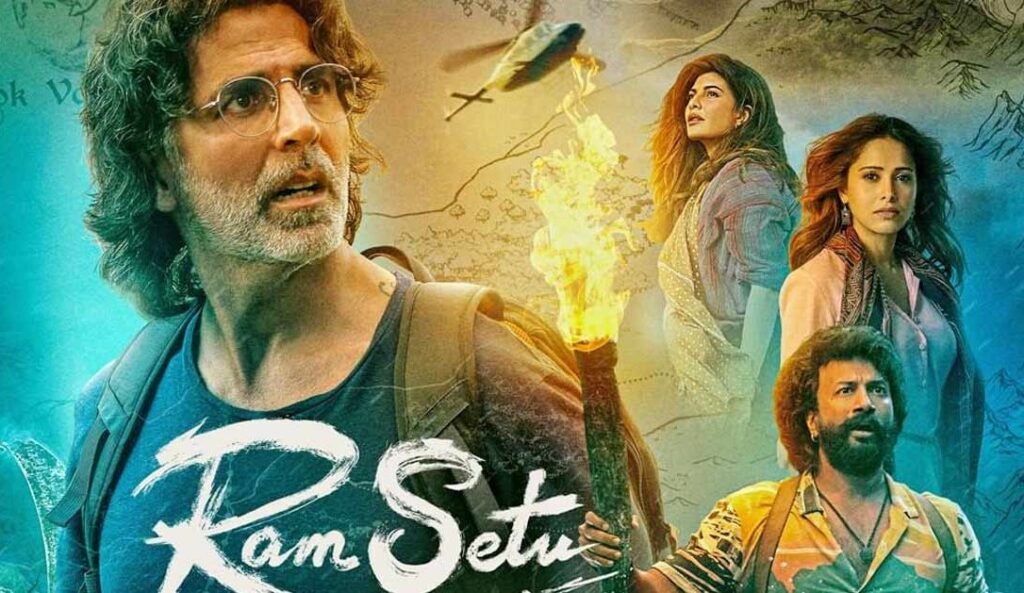 The Ram Setu matter goes onto the Supreme Court. Aryan's next assignment involves studying the bridge and filing a report on the findings to conclude whether Ram Setu is the same as mentioned in the Ramayana.
It was obvious from the trailer itself that Ram Setu is intended to please people from a particular political inclination. The whole film makes it even clearer by taking subtle jibes at the Indian Government of 2007 without taking the name of the party running it.
Talking about the content and the craft, Ram Setu regularly takes creative liberties and shows disregard for logic. You might lose count on things happening so conveniently for the protagonist and his team. This includes Aryan's escape from the clutches of Taliban, which is not even shown; we are only made to assume.
Despite this, Ram Setu does have a positive point in the form of its engaging and entertaining narrative. The events are lined up in such a way that there is just no scope for boredom.
But what saves Ram Setu the most from falling more is the twist in the very last scene of the climax related to one of the prominent characters. It comes as a surprise and is sure to please the worshippers of the heroes of the Ramayana like lord Ram and Hanuman.
After Akshay, south actor Satyadev Kancharana, who plays Anjaneya Putra aka AP, rules the film with his confident performance. Nassar's potential as a quality artiste isn't seen simply because his character is quite one-dimensional. Pravesh Rana, another negative character, fares better.
Also read: Adipurush teaser has triggered opposite political reactions
Nushrratt Bharuccha lends good support but her role doesn't offer much. Jeniffer Piccinato shows promise. Jacqueline Fernandez struggles but this is hardly surprising now.
Overall: Ram Setu is somewhat rescued by the twist in the climax and the fast-paced narrative. The film would have appeared little better if it had released before the Telugu movie Karthikeya 2, a similar spiritual adventure thriller and much better.
Rating: 2.5 out of 5
Director: Abhishek Sharma
Producers: Cape Of Good Films, Abundantia Entertainment, Lyca Productions and Prime Video
Writer: Abhishek Sharma
Cast: Akshay Kumar, Nushrratt Bharuccha, Satyadev Kancharana, Nassar, Jacqueline Fernandez, Pravesh Rana and Jeniffer Piccinato