Dr Chandraprakash Dwivedi's Samrat Prithviraj is supposed to be based on the life of the 12th century king and warrior Prithviraj III or Prithviraj Chauhan. The film focuses on his enmity with Muhammad Ghori of Ghazni in acquiring control over Delhi.
The film's artistic camerawork and vibrant costumes make it an eye-pleasing affair. Some stunts during the battle scenes also stand out. From the performances, Sonu Sood is the best of the lot with a mature act as Chand Bardai.
But these positives are too few in number when it comes to the minuses. The film has a haphazard narrative throughout. For example, it starts on a tense note but soon loses grip and this is maintained throughout the duration. The forceful inclusion of songs adds to the misery.
A major negative point here is the casting of Akshay Kumar as Prithviraj. The actor never appears in character and it seems he wasn't even interested in getting the body language right. Debutant and Miss World 2017 Manushi Chhillar has the looks but is pretty average when it comes to acting chops. And the less said about the awkward age gap between the two the better.
But these issues don't appear as problematic as the film's political propaganda. It is easy to forgive bad content, which is made aplenty in Hindi cinema, as it's not intentional. But it's difficult to overlook propaganda dished out to please the Right Wingers. This, surely, can't be unintentional.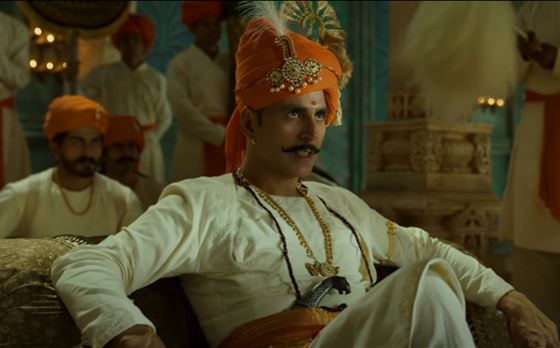 The film's makers, during various promotional events, stated that the film is based on actual facts and that Dwivedi carried out research for as many as 18 years. However, such gigantic effort is never seen in Samrat Prihviraj.
(SPOILERS ahead)
Historical accounts state that Prithviraj was killed by Ghori. Astonishingly, the film goes onto show that it was Prithviraj who killed Ghori whereas the latter lived more than the former. It is one thing to take creative liberty. It's altogether another thing to change an entire narrative of history just to suit your real target audience, which is ready to accept whatever is dished out to them if it suits their narrative.
If they are ready to believe textual 'information' in What's App forwards, they will obviously believe the same forwarded message portrayed on the screen in a grand scale. That's what this film is – a cinematic version of a What's App forward.
Amidst such problematic content, the film, out of nowhere, makes you laugh unintentionally when Sanyogita heroically sings 'Yoddha Ban Gayi Main' and, while the song is ending, commits jauhar [self-immolation].
Strangely, the promotions of Prithviraj Chauhan also saw Dwivedi claiming that the film is based on the text Prithviraj Raso, a poem written by Chand Bardai. Now this particular text is past-historical and part-fictional. So why also claim that the film is a historical account?
But the film doesn't do justice even with Prithviraj Raso. The text mentions that after marrying Sanyogita, Prithviraj spent too much time with her while ignoring the state affairs. Nothing of this is shown in the film.
Of course, this would have been too much to bear for their What's App audience. So the writer-director omits this part. This is exactly how one prepares a What's App forward.
But it's surprising that their real audience is fine with the film claiming Prithviraj to be the 'last Hindu king.' They don't remember various other Hindu kings born much later, including Shivaji Maharaj?
Irony just committed jauhar…
Also read:
Why are south films dominating? Is Bollywood on the decline?