Director: Sudesh Manjrekar
Producer: Great Maratha Entertainment
Writers: Mahesh Waman Manjrekar (Story and Screenplay) and Raveen Tarade (Dialogues)
Cast: Jitendra Joshi, Veena Janmkar, Gauri Ingawale, Mihir Soni, Siddharth Jadhav, Manasi Naik, Vaibhav Mangale, Bhalchandra Kadam
Music: Ajit-Sameer & Abhijeet Kawthalkar
Rating: * * ½
Plot: Even though they struggle to make ends meet, Namdeo (Jitendra Joshi) and Ganga (Veena Janmkar) live a peaceful life with their children Laxmi (Gauri Ingawale) and Subhan (Mihir Soni). Namdeo, who works as a gardener, will go any heights to fulfill the wants of his family. He even does some extra work and bears all pains with a smile. However, their simple life turns ugly when they are faced with a number of obstacles.
Namdeo receives unconditional family-like support from his friend Magic Mamu (Siddharth Jadhav) and his wife Saira (Manasi Naik).
(For more reviews and information on Marathi cinema, click here.)
Review: Parents are always expected to work hard to present a better or a comfortable life to their children. But how acceptable is when children take up the responsibility to better the lives of their parents? Such an unusual yet interesting question is explored in Sudesh Manjrekar's Kutumb. The characters and some of the events surely succeed in moving the audience but due to the writing and execution (in some parts), the film turns out to be just a one-time watch.
During the initial moments, the writers and the director use the visual medium very intelligently. The nature of the four characters, the love between them, their problems and their everyday life is described without much use of dialogues. And once Siddharth Jadhav's character is introduced, the proceedings get a booster. But there was no need to include two songs without any gap to prove the dancing skills of the two kids. Despite that, the first half manages to lay a decent foundation.
The events that follow are appealing alright. But now the film starts treading on predictable lines. An over-emotional scene (not possible to reveal more), involving one of the main characters, appears silly. But what hurts the most is how the audience is made to watch a dance reality show for a long duration later on. The pre-climax and the climax should have been framed in a way that it gets the audience rooting for the kids.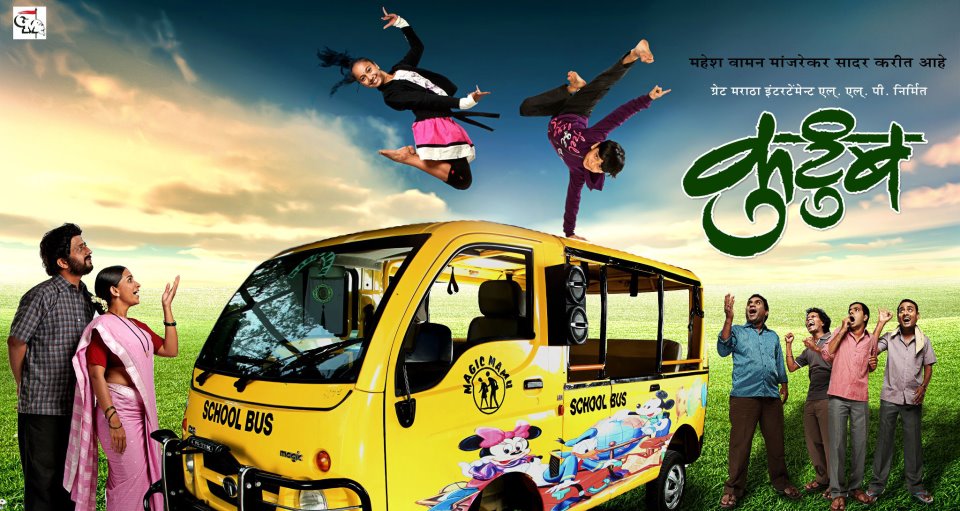 A very interesting fact is observed in a number of Mahesh Manjrekar's films including Kutumb. The main protagonist receives tremendous help from a supporting character who is Muslim by religion. Apart from Kutumb (where Jadhav plays Joshi's friend), this is seen in his earlier films Kurukshetra, Viruddh, Vaah! Life Ho To Aisi!, Mee Shivajiraje Bhosale Boltoy and Shikshanachya Aaicha Gho. Co-incidentally, in three of the six films mentioned, Jadhav has played the concerned character.
Technical aspects like cinematography (Ajith Reddy) and background score can be included in the plus points. The editing is fine but it should have been tighter during the dance reality show scenes. Ajit-Sameer and Abhijit Kawthalkar's music suits the film. Dialogues (Pravin Tarde) are effective and moving.
The performance area is the biggest plus point. Jitendra Joshi is brilliant as he pours his heart out while playing a caring father and husband. He is on a roll this year. Vena Janmkar too gets into the skin of her character with perfection and presents a realistic act. Gauri Ingawale and Mihir Soni deserve huge applause for not only giving mature performances but also showing some terrific dancing skills.
Siddharth Jadhav presents a lovable act. Manasi Naik is likable too. Vaibhav Mangale plays the bad guy well while Bhalchandra Kadam, his sidekick, is not bad either.
Overall, Kutumb can be seen once if you prefer emotional family dramas. The film will need positive word-of-mouth to succeed at the box-office. It will face opposition from next week's awaited No Entry Pudhe Dhoka Aahey.