By: Keyur Seta
Director: Rakeysh Omprakash Mehra
Producers: Viacom18 Motion Pictures and Rakeysh Omprakash Mehra Pictures
Writer: Prasoon Joshi
Cast: Farhan Akhtar, Yograj Singh, Divya Dutta, Pawan Malhotra, K K Raina, Dalip Tahil, Prakash Raj, Sonam Kapoor, Rebecca Breeds
Music: Shankar Ehsaan Loy
Genre: Drama
Rating: * * *
Story Outline: The film is based on the life of the great Indian athlete Milkha Singh being played by Farhan Akhtar. Apart from Singh's glorious and dramatic career, the film focuses on the effect of Indo-Pak partition on his mindset.
Review: The basic motto of a sports biopic is to narrate a fascinating tale that proves to be highly inspiring. Although that is the case with Rakeysh Omprakash Mehra's Bhaag Milkha Bhaag, the film surely falls short of being superlative due to an unjustifiable length of 187 minutes and the various Bollywood-isms thrown in while narrating a realistic tale.
You can't deny that Mehra has displayed cinematic brilliance while presenting a number of important (on and off the field) events from Milkha's life. The race scenes are not only magnificently shot but one can also notice the pains taken in creating such a mammoth stage. The significance of the title and the heartwarming climax also deserves mention. But above all, it is Farhan Akhtar's supreme performance that proves to be the biggest plus point.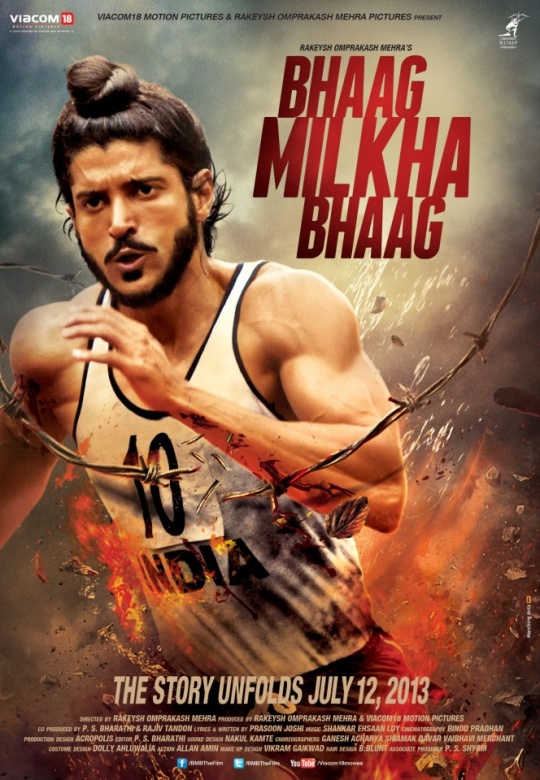 But, as mentioned earlier, the film could have been much, much more pleasurable but for some reasons. First and foremost, there can be no justification for such an enormous length for this story. You surely don't mind a three hour plus movie if it's fully engaging and amusing (like 3 Idiots) but here, you are forced to check your watch regularly, especially during the long wait for the interval. Surely, the love track and various other scenes, including the flashback ones, (not possible to reveal much) should have been shortened.
The film also hangs between being a realistic biopic and a filmi tale. Most of the times, we are shown a real story of an athlete but on various occasions, it is peppered by some Bollywood-isms. After the inclusion of some fictional elements, the most questionable aspect is using lip-sync songs; from which some are just unnecessary. Needless to say, they also add up to the length. From the tracks, 'Zinda' is the only impressive one. Unfortunately and strangely, it's hardly exploited.
Talking about the technical departments, it won't be an overstatement that cinematographer Binod Pradhan is one of the biggest heroes of the film. Capturing such races with perfection is extremely difficult but he rises to the occasion and how! Background score generates the desired effect but the editing should have been manifolds tighter.
Some performances bring a character alive in such a way that you completely forget the actor who is playing it. There can hardly be a bigger compliment than this for an actor. Farhan Akhtar deserves such and many more accolades for his portrayal of Milkha Singh. The word excellent doesn't do justice for the talent and painstaking hard work displayed by him. From the rating, an extra half a star is given just for his act.
The film is also blessed by some apt supporting acts from Divya, Dutta, Pawan Malhotra, K K Raina, Dalip Tahil, Prakash Raj and Rebecca Breeds. Yograj Singh (cricketer Yuvraj Singh's father) surprises with a dedicated performance, although he appears awkward few times which is understandable. Sonam Kapoor is getting painfully stereotyped. Her limited acting skills don't help either.
Overall, Bhaag Milkha Bhaag has its moments of glory but thanks to various factors, it falls in an above-average category. The tremendous hype and response will ensure the film becomes a blockbuster at the box office.