By: Keyur Seta
Director: Tigmanshu Dhulia
Producers: Brandsmith Motion Pictures, Viacom 18 Motion Pictures and Tigmanshu Dhulia Films
Writers: Tigmanshu Dhulia and Kamlesh Pandey
Cast: Jimmy Shergill, Irrfan Khan, Mahie Gill, Soha Ali Khan
Music: Sandeep Chowta
Genre: Thriller
Rating: * * *
Story Outline: Aditya Pratap Singh aka Saheb (Jimmy Shergill) and his loyal servant Kanhaiya (Deepraj Rana) somehow survive the bloodshed that took place at the end of the first installment Saheb Biwi Aur Gangster. But Aditya is now wheelchair bound although he might be back on his feet in a year's time. Therefore, Saheb's mother wants a successor to the family after Adityas is fit again.
Aditya's drunkard wife Madhavi (Mahie Gill), however, is in no state to conceive. So now, Aditya's mother wants his son to have another wife for that purpose. She tries to fix his second marriage with Ranjana (Soha Ali Khan), daughter of another royal family headed by Birendra Pratap (Raj Babbar). But Ranjana is in a relationship with his father's loyal servant Indrajeet Singh (Irrfan Khan). What follows is a complicated game of betrayal.
Review: Saheb Biwi Aur Gangster (2011) was a royally shot royal thriller about a royal prince. Saheb Biwi Aur Gangster Returns can also be called the same but the overall satisfaction derived from the sequel is slightly lesser than the first film due to the writing. But the film can surely be enjoyed once, especially if you liked the first part.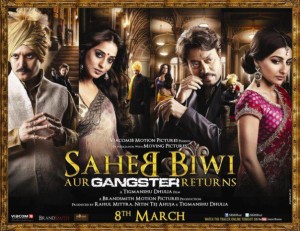 The writers get things right on the story part. The tale has an interesting mixture of betrayal, revenge, deceit and politics. After the introduction, they have smartly developed the story with the first plot point. But more than that, the writers should be highly applauded for some extraordinary and appealing dialogues. The witty lines keep flowing continuously! However, what slightly disappoints in the first half is its length of almost 90 minutes!
There are a good number of interesting twists in the second half but after a point of time, complication and confusion creep in, especially due to the political track. There also comes a period where there are too many events taking place which gives way to a lack of focus. But thankfully, an intelligently presented twisted climax makes sure you leave the cinema hall with a degree of satisfaction.
Dhulia gets perfect support from Yogesh Jani's intelligent camerawork and Sandeep Chowta's powerful background score. Chowta deserves praise as a music composer too. It is very rare these days for all songs ('Jugni', 'Chhal Kapat', 'Idhar Gire', 'Media Se' and 'Kona Kona') in an album turning out to be impressive. But the 'Idhar Gire' track strongly brings back memories of 'Kaise Paheli' from Parineeta, not only the music and lyrics but also the whole setting. This is not all though. 'Chhal Kapat' bears striking similarity to 'Aarambh Hai Prachand' from Gulaal.
The performances are the backbone of this performance oriented film. Jimmy Shergill is simply outstanding as Saheb. In fact, he has gone few notches higher than the first film making this as one of his finest acts. Irrfan Khan lives up to his image as one of the finest actors to have emerged from India. It's an absolute delight to see him perform. Mahie Gill plays her part well as she is completely believable as a frustrated drunkard.
Soha Ali Khan was required to underplay her character which she does well and also manages to speak through expressions. Deepraj Rana once again shows his acting prowess while Pravesh Rana makes a confident debut. Veteran actor Raj Babbar plays his part well but his performance has nothing new from what he has done in the last decade or so. The film is well-supported by Rajeev Gupta, Sitaram Panchal and Rajesh Khera.
Overall, Saheb Biwi Aur Gangster Returns won't disappoint you if you prefer watching unusually twisted thrillers. The film has a decent chance at the box office but only if it receives some rapid word of mouth.