Direction: Sujoy Ghosh
Production: Boundscript Motion Pictures Pvt. Ltd, Viacom 18 Motion Pictures, Pen India Pvt. Ltd
Cast: Vidya Balan, Parambrata Chattopadhyay, Nawazuddin Siddiqui, Indraneil Sengupta, Dhritiman Chatterjee, Darshan Jariwala, Saswata Chatterjee
Music: Vishal-Shekhar
Rating: * * * *
Plot: Arnab Bagchi arrives in Kolkata from London for a two-week work related visit. During his stay in the city, he is constantly in touch with his wife Vidya Bagchi (Vidya Balan). However, all of a sudden communication between Vidya and Arnab ceases. Left with no other choice, Vidya arrives in Kolkata, in a pregnant condition, to search for her missing husband.
Sub-inspector Rana (Parambrata Chattopadhyay) helps Vidya as she struggles to find any trace of her missing husband. So, what exactly happened with Arnab? Is there something more than meets the eye?
Review: Let's face it. There has been a dearth of quality edge-of-the-seat thrillers in Bollywood. In the last five years or so, only Johnny Gaddar (2007), Race (2008), A Wednesday (2008) and Maharathi (2008) have managed to impress in that genre. But finally, there comes a new addition in the list in the form of Sujoy Ghosh's Kahaani, an applaud-worthy effort having all the necessary elements needed for a quality suspense thriller.
Script is the most vital department in any flick of this genre. Ghosh, Suresh Nair and Advaita seem to understand this well as their writing manages to grip the audience from start to end. You instantly become a part of Vidya's quest in finding her missing husband. Elements like twist, thrill, amusement, humour as well as shock are peppered very intelligently throughout. Since there's unpredictability in plenty, it becomes a kind of a roller-coaster ride for the viewer.
But that's not all; there is also a strong emotional connect which does the important task of making sure the audience feels for the central character.
(Review continued after picture.)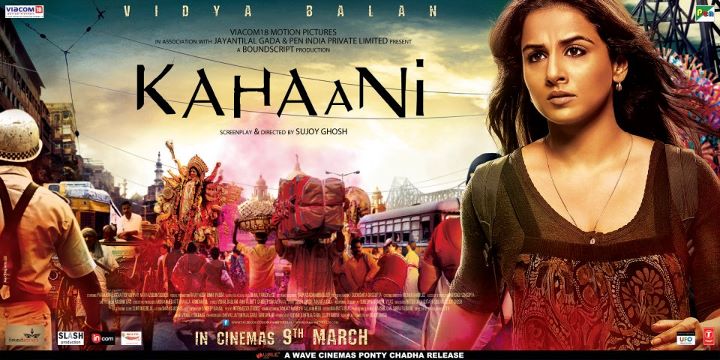 In such films, it is absolutely necessary for the climax to have a satisfying effect. No matter how good your efforts are in the first 80-90% of the film, it proves to be a waste if the end suspense becomes predictable. Thankfully in the case of Kahaani, that doesn't happen as the final twist and the truth related to Arnab Bagchi takes the audience by surprise and shock. Job well done!
Having said all this, few incidents in the later part of the second half become complicated. Therefore, a section of the audience might have trouble grasping the events in this period.
It would have been a mammoth task for any director to handle such a film as a major part of its shoot took place in real-life locations in a city like Kolkata. Sujoy Ghosh not only manages that perfectly, he also creates a large number of praiseworthy scenes. Personally, I feel Kahaani is his best effort till date.
Other critical areas like cinematography (Setu), editing (Namrata Rao), action (Sham Kaushal) and background score (Sanjay Maurya and Allwin Rego) are praiseworthy too. Only two of Vishal-Shekhar's well composed tracks (Aami Shotti Bolchi and Ekla Chalo) are used in the background. They suit perfectly to the mood of the proceedings.
Vidya Balan is on a roll. After giving an earth-shattering act in The Dirty Picture (2011), the actor packs in a powerful punch in Kahaani. Playing such a character would have been highly challenging for any seasoned actor. Vidya fulfills the challenge by displaying different emotions with perfection. This is another performance worthy of all awards!
Parambrata Chattopadhyay turns out to be a surprise package. Despite Vidya's continuous presence, the actor impresses with his fine acting skills. There is Saswata Chatterjee who is another surprise element. It is amusing to see him do about his ruthless activities. Nawazuddin Siddiqui deserves equal praise too as a hot-headed intelligence officer. Rest of the cast including Indraneil Sengupta, Darshan Jariwala, Dhritiman Chatterjee, etc provides ideal support.
Overall, Kahaani is an intelligently crafted new age suspense thriller which shouldn't be missed. The movie hasn't had a very good opening at the box-office but there is a chance for the collections to rise if the word-of-mouth spreads.
(Filed under the section BOLLYWOOD.)