It is said 'Taali Do Haathon Se Bajti Hai, Ek Haath Se Nahin.' It seems the Congress party has realized the meaning of this proverb after the results of the Uttar Pradesh (UP) and Punjab elections. Their 'Hand' hasn't found enough support to bajao a taali in the two states!
Not-so-long-ago, Congress tried everything to sabotage Anna Hazare's movement against corruption. They used power and when that didn't seem feasible; they started accusing members of Team Anna in a silly way. Now, it gives me a sense of satisfaction to see the same Congress party tasting such a sour defeat in UP and Punjab. It would be an understatement to say they deserved it!
While all this is happening, I would like to know where the ruling party's big-mouthed Digvijay Singh is! Almost every other day this chap used to insult Team Anna and also used to boast that their anti-government campaign will have no effect on their chances in the elections.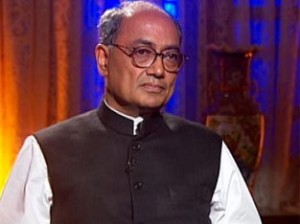 I very well remember one such interview of Diggi where he said they are not at all bothered about Anna's movement as he is sure it will have no effect in the UP election results. Well, here are the results Diggi but where are you? Hiding maybe along with the fallen yuvraaj Rahul Gandhi. But I doubt you will find a place even for that!
Congress might have succeeded in reducing the euphoria of Anna's movement. However, they will have to bear the consequences of the movement for a long time to come. Yes, I mean the 2014 elections or hopefully the mid-term elections before that! Get ready to be stripped off power!
Anna Hazare has finally broken his Maun Vrat (vow of silence) at Delhi's Raj Ghat. But sadly, what's making news is Congress Secretary Digvijay Singh's yet another dig at Team Anna. After hearing the news that Team Anna has reportedly agreed to Rahul Gandhi's proposal, Digvijay has termed them as 'tubelight' as they had earlier opposed to it.
One should make a note of the fact that the exact details of Team Anna's stand on the issue are not yet known. The TV news channels have not given any insight whatsoever over the anti-corruption crusaders' statements. But an opportunist like Diggi doesn't care about it. He will grab every opportunity to tarnish the image of Team Anna in order to hide the nakedness of Congress and dissolve the issue of the passing of Jan Lokpal Bill.
If he is calling Team Anna with such names, I would like to ask him - what would he like to say to his Congress government who is looting the hard-earned money of the common man? What nickname will he give to the government which is extorting India's wealth to fill their own pockets? I can bet my last penny that he doesn't have an answer to this.
After breaking his fast, Anna has said the movement will go on until the mission is over. Mr. Diggi and his comrades should take a note of the demand of the people else they will have to face the music… like they been doing since last few months.