Recently, an event named Adhya to empower women to be safe and vigilant against crimes like rape and sexual harassment took place in Powai, Mumbai.  Organized by Powai residents Karishma Sharma and Shivani Thakkar, sensitize and train people to deal against crimes like Rape, Sexual Harassment and even Child Molestation. (For the complete pre-event article, click HERE.)
Adhya saw a number of interactive sessions including 'Good Touch & Bad Touch' by Psychiatrist Beenal Gangar, Child Molestation by Arpan, Women's Right by Majilis, Sexual Harassment by Mr Jasaon Temasfieldt of We The People Foundation, 'Portraying Right Image and Be Secure' by Mr Harissh Iyer and Mrs Suman Agarwal (Image Consulting Business Institute), Constitutional Rights of Women by Inspector Asha Korke and Psychiatrist Taruna Khattar.
The event was wound up with the pledge to make world a better place for women.
Here are some of the pictures from the event:
By: Keyur Seta
The recently concluded first test match between India and Australia at Chennai will mostly be remembered for Indian captain Mahendra Singh Dhoni's unbelievable knock of 224. But taking nothing away from Dhoni, this feature focuses on India's batting maestro Sachin Tendulkar's 81 in the first innings that rescued India from a ghastly situation.
However, since last 24 years, Sachin's greatness has been described millions of times in so many ways that there are no words or adjectives left in the dictionary to write anything new about it. So I won't go into how wonderfully he played under pressure (like always) because that has been reported everywhere and we all have seen it. Instead, I will focus on the background of the innings which goes back to the start of January this year.
Sachin wasn't having a good run in test cricket during the latter part of 2012. Somehow he was not able to stay long at the crease and was getting bowled most of the times. Apart from the man himself, it was also heartbreaking for us, the fans. Naturally, his bad run also gave a free ticket to these silly news channel anchors to force him to retire. Such a thing can happen only in India where those who mustn't have held a bat in their lives can dictate terms to the best batsmen ever!
Any international player with such experience would have labeled this period as a bad patch without accepting that something is wrong with his game. At the most, he would have practiced in the nets for long hours or taken guidance from his coach.
But Sachin is not 'any international player'. Despite bagging the most number of batting achievements ever, he was humble enough to accept some error in his play. And instead of just resorting to basic techniques to improve his game, he went back to play domestic cricket for Mumbai in the Ranji Trophy. Despite having played at the biggest international platforms, there he was playing in the Ranji Trophy Quarterfinal against Baroda at Mumbai's Wankhede Stadium with the same determination.
Much to his and his admirers' delight and relief, the Master Blaster went on to score a hundred and drove his team out of trouble. This might appear as just a domestic level century but Sachin and his admirers, who had gathered to watch him despite India-Pakistan one dayer being played elsewhere, knew the worth of the innings. A couple of over-enthusiastic fans also ran to the field and, much to everyone's disbelief, touched their God's feet! I and my friends were hugely lucky to witness the scene in front of our eyes.
This was followed by a half century in the semifinal against services. More than the innings what was more impressive was that a player of Sachin's caliber went to play at a venue which was as poor as a school playground! He was looking great in the final against Saurashtra as well but was run out by fellow batsman Wasim Jaffer. But instead of giving an angry look to Jaffer, Sachin gave him words of encouragement! Who would have done that considering the innings was so important for him and the team? This time, we witnessed the kindest side of a champion, again in front of our eyes. The pep talk helped Jaffer who made a valuable contribution to Mumbai's 40th Ranji triumph.
This isn't all though. Sachin slammed another ton in the Irani Trophy match next week, once again witnessed by us. Sadly, other batsmen threw their wickets which left him stranded on 140. What was noteworthy here was Sachin's disappointment to see Mumbai falling short of Rest Of India's total although he scored a hundred. This proves that even a domestic match means so much to him despite tasting World Cup glory and some memorable test victories!
In this way, he had a series of good scores before the first test against Australia. This helped him and India immensely for the Master Blaster was able to dig the team out of a hole after being 11 for 2!
The reason I find this story fascinating is because Sachin could have opted to rest instead of going back to domestic cricket since there wasn't a chance of him being dropped from the Indian squad. But his actions clearly showed his love for the game and his concern towards his own form despite being at the top of the world for more than 20 years! And his concern didn't deter him to accept his bad run in front of the world and improve his form by going a level below.
What makes Sachin Ramesh Tendulkar so great is not only his supreme talent but also his humble, down to earth nature which can be seen from the example above. It is this lovable human quality that is responsible for him winning hearts not just in India but world over and being an inspiration not just for upcoming cricketers but for people from all walks of life… including me!
The fact that Swami Vivekananda's 150th Birth Anniversary is one of the most important occasions for the country can be seen from the numerous celebrations and enlightenment programs taking place not only all over India but world over. However, when every state in India celebrated the historic event, government of Maharashtra gave a cold shoulder to it citing lack of funds!
As shocking and shameful as it sounds, the incident was revealed by Swami Sarvalokananda (Adhyaksha, Ramkrishna Math Mumbai) during the 151st Janma Tithi celebrations of Swami Vivekananda at Ramkrishna Math and Mission Mumbai on Sunday. "I personally approached Maharashtra Government. They asked us to prepare a budget for it. We did the hard work of preparing it and submitted it to them. But for six months we didn't hear anything from them," he said.
He further says that he again approached them but they just received fake assurances for several months. "Then I was told that the Chief Minister and Deputy Chief Minister have rejected the proposal citing shortage of funds," he says. Naturally, the people gathered at the venue started exclaiming "Shame, shame."
According to him, along with several others, this is a matter of shame when governments from several states in India have celebrated the event and spread the message of Swami Vivekananda. This is more ironical when we take into account that the great patriot monk had visited Mumbai (then Bombay) thrice in his lifetime. "The city is blessed thrice by Swamiji. In fact, he left for the historic Parliament of Religions in Chicago from Mumbai's naval port," said Swami Sarvalokananda.
Leader of opposition Vinod Tawde, who was the chief guest at the event, revealed how he too tried in vain to persuade the government in doing something for the event. "I called the Chief Minister regarding this but he always kept delaying it," said Tawde during his electrifying and enlightening address to the people gathered in large numbers.
Earlier in the day, Tawde, Swami Sarvalokananda and other prominent personalities unveiled the opening of Swami Vivekananda Chowk, just outside the lane of the Math. The day was also celebrated in various ways at the Mumbai Math and all over India.
One day while in heaven Balgangadhar Tilak aka Lokmanya Tilak decides to go for a short trip on earth for few days. He chose Mumbai since the city is special for him. He had carried out a number of agitations against the British in this city. After biding adieu to his close companion named XYZ in heaven, Tilak leaves for Mumbai.
However, much to the bewilderment of XYZ, Tilak returns after just a few minutes. A worried XYZ asks him, "What happened Tilak saheb? Why did you return so early?"
"I returned back as I couldn't bear what was going on in Mumbai," answers Tilak.
"What was going on?"
"People of my beloved city were behaving in crazy, wild manner. It was just too shocking for me to bear."
"Please tell me exactly what happened Tilak Saheb."
"Some people were playing drums and other musical instruments in the cruelest manner. It was impossible to stand the nasty, ear-splitting noise! At another place, I could hear some vulgar songs which were even enjoyed by all. Traffic was being halted. Loud crackers were being busted carelessly!"
"Oh! That's weird."
Tilak continues, "The weirdest part is yet to come my friend. Some hooligans were openly hurling abuses after getting drunk. Worse, they were sexually harassing women and showering obscene comments on them!"
"This is ridiculous! What has happened to the people of Mumbai?"
"I am asking myself the same thing again and again," Tilak says and sits down on a chair in a helpless manner.
Noticing his grief, XYZ says, "Just calm down Tilak saheb. I can understand your feeling."
Tilak looks up and says, "No, you can't understand. You know why?"
XYZ is silent. Tilak continues, "People's antics which I mentioned just now were a part of Ganeshotsav, a festival which I had made popular!"
"What are you saying??" exclaims XYZ
"Yes my friend! I motivated the people to make this festival a public event in order to show our strength to the British. But this is what they have reduced the festival to now!"
Tilak continues, "There was a time when I used to be excited for Ganeshotsav. But from today, I have decided never to visit my beloved city again during this festival!"
Hence, the person who popularized this festival, has now nothing to do with it.
The fact that the power of people is the greatest weapon was proved once again when the Government was forced to drop the wrongful charges of sedition against cartoonist Aseem Trivedi following massive protests across India. Since he is no longer charged of sedition, Trivedi agreed to take bail today (September 12).
The scenes were unbelievable outside Arthur Road Jail. A large crowd waiting anxiously for Trivedi to come out. Finally, when he did walk out of the main gate of the jail, a little after 1pm, he received a heroic welcome.
Amit Katarnaware, who had filed the sedition charge against Trivedi, has no place to hide his face now! I am using such words against Katarnaware because he also tried to communalize the issue by giving it a religious and a castiest angle, just like our vote-hungry politicians.
Have a look at the pictures after Aseem's release: -
So the government has succeeded in compelling Twitter to bow down and block parody/fake accounts of Prime Minister Manmohan Singh and a number of Twitter IDs which they thought could trigger 'riots' in the nation! While this may sound like taking action on an important issue but we all know how smartly they have totally shifted focus from the humongous Rs 1.86 lakh core coal scam in which the PM's name is front running since he was the coal minister when the scam took place. The PM also came under pressure to resign due to the coal issue.
But ever since the Congress started making a hue and cry about the Twitter issue, the coalgate has just lost all limelight as just nobody is talking about it. And looking at the way Rajiv Shukla ordered Rajya Sabha speaker to adjourn the House (against the rules) so as to avoid questions on coal scam is further proof of Congress' shoddy tactics.
Any responsible Indian would agree that the need of the hour is to expose the truth behind the coal scam (and a series of other scams as well), punish the rioters of Mumbai (Azad Maidan) and Assam and act hundreds of other important issues that need immediate action instead of getting panicky (acting to panic) on fake and so-called dangerous social media pages.
Just less than a week ago, our authorities happily allowed supporters of Samajwadi Party to literally demolish the area near Azad Maidan (including the shameful act of smashing the memorial of a martyr) despite knowing that the troupe is carrying objects of destruction. More apathy followed when they said they would take action only after the month of Ramzan!!! Suppose a Hindu commits  a crime during Ganeshotsav. Would you wait till the final visarjan to arrest him? The Raza Group which organized the so-called protest rally has a history of violence. So why were they given permission in the first place? What followed was like a terrorist attack!
Anna Hazare's peaceful protestors have had to literally beg for permission just to hold a peaceful, silent protest. Worse, Baba Ramdev and his group of protestors were just beaten up mercilessly, including women and children, for holding a peaceful protest. On the other hand, no major action is yet taken on Raza or the Samajwadi Party members. Till is equal to giving an indirect message – we are with trouble makers and law breakers!
Due to this, I fully supported Raj Thackeray's massive rally on August 21 from Girgaum to Azad Maidan. Of course, it is not a good idea to halt traffic in a city like Mumbai but this type of an earth-shattering protest was needed to shake our government. If still nothing is done, I am afraid it will create further problem in the city.
When I was a child I used to imagine about the experience of Indians who lived under the British Raj. Well, I don't need to imagine any more. I am getting that experience since over a year. An experience which is getting uglier day by day!
A filmmaker wants the sequel or the second part of his movie to be a notch higher than the first part in terms of overall satisfaction. It seems the Indiblogger think-tank follows the same mantra. If the 2011 Mumbai meet (at R K Studios) was very good, the 2012 meet yesterday at Taj Lands End was even better! Being a filmi keeda, I couldn't find another way of describing it.
Although I was truly happy to attend my second IndiBlogger meet, I was quite sure I would be the odd man out when I got to know that the event is called Nokia Apptasting. This means there would be discussions and demonstrations of different types of mobile applications or apps as they call it.
I used the term odd man out as I have never used any app in my life since I am using the very simple Nokia 3110 since four years. I want mobile phones only for calling and SMS-ing as I don't want any more tech addictions (I already have quite a few including SMSes, Gmail, Facebook, Twitter, etc). What will be further surprising for you is the fact that I have never used internet from mobile and don't wish to do so, at least in the near future. But since it was an IndiBlogger meet, my excitement levels were high! I was also glad my friend Celin will be attending her first IndiBlogger meet (I am partnering her in our food blog - mumbaigluttons.blogspot.in).
At my arrival, I was taken aback by the luxury oozing out from every little corner of Taj Lands End. It quickly reminded me of those huge budgeted Yash Chopra or Karan Johar films, minus people with expensive and heavy wedding attires (thankfully). When I reached the ballroom in the basement, I realized the place is too luxurious for a common man like me, although I was super-impressed by the peaceful ambience. But my eagerness was focused on only one thing – IndiBlogger meet!
The event also helped me meet my two of my friends Anuradha and Rahul after a long time. This was similar to the films of the 70s and 80s where estranged friends reunite in a mela (in this case, the Indiblogger meet).
The start of the event took all of us by surprise. It was very impressive to create an atmosphere of friendship by giving high fives, shaking hands and hugging each other. The hosts Vikas Khanna and Rajiv Makhni were up to the task. Their unusual chemistry with some witty humour gave way for some refreshing entertainment. They were very much like Amar and Prem of Andaz Apna Apna. The joke on Simran (who came on behalf of Nokia) is something that will tickle my funny bone whenever I recall it, especially his pose with Rajiv as Raj-Simran!
After a lot of fun and laughter during the initial period the Apptasting started. In my words – after a very impressive first part, the post-interval portion started. Surprisingly, I didn't feel out of place during this period. I was impressed with some of the apps, especially the one which helped Rajiv make a short film on Vikas along with two girls from the audience. Their silent fashion show with Charlie Chaplin music is worth watching again and again. The contest where the audience was asked to describe their dream app was also an interesting idea. I, along with others, was spellbound by the imagination of some.
The cutting of the huge cake celebrating five years of IndiBlogger, followed by a group picture and dinner proved to be a perfect ending to a memorable evening.
Now here's the twist in the climax – The Apptasting ensured that I might use some app in the future. Of course, it has to be the one which is useful for the common man. Hence, we can say IndiBlogger and Nokia have something more to be proud of. They managed to do something which a whole lot of my friends couldn't – to convince me in using apps! Oh wow! This was similar to the happy ending of Dilwale Dulhania Le Jayenge where Amrish Puri's character finally says, "Ja Simran Ja." No, I am not hinting at the one who represented Nokia.
More pictures from the event:
Festivals are the most special days of the year as they bring a sense of joy or celebration in our routine life. But festivals like Gokulashtami (Janmashtami) and Ganesh Chaturthi have ceased to rejoice me since many years. Instead, these festivals make me feel ashamed as a Mumbaikar due to the encouragement it provides to hooligans to indulge in eve-teasing and worse, sexual harassment. What is more infuriating is that the police and government are turning a blind eye to it!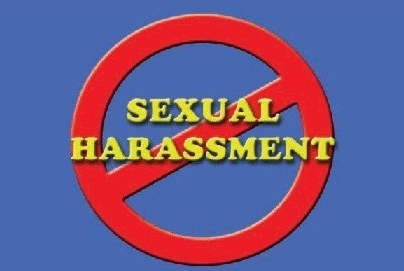 Incidents of sexual harassment with a couple of my friends will infuriate anyone who has a woman in his life, be it a mother, sister, wife, friend or a girlfriend. These incidents show that the level of hooliganism has reached insane levels in our city during these festivals. The incidents are as follows: -
-- When Miss Y went out to get some groceries today (on the day of Janmashtami) she didn't know she would experience one of the worst incidents of her life. As she was walking, a large group of Janmashtami enthusiasts tried to touch her and a number of other ladies on the road. Not just that, they passed the filthiest of comments on them.
-- Miss Z was returning home after a tiring day in the office. Like every day, she took a bus home after getting down from the train. She didn't know she would experience the shock of her life when she got the window seat. A truck with Janmashtami enthusiasts was running parallel with the bus. The mawalis started making great efforts to touch my friend from the truck. Even here, they made lots of obscene comments and gestures.
One can feel the fear, shock, humiliation and angst only after one experiences such acts. In both the cases, the victims could do nothing except to let the incident pass. These are just two cases. God knows how many more incidents must have taken place in the city today. In fact, such incidents have become a regular feature during festivals like Janmashtami, Ganesh Chaturthi, Dusshera, etc.
Such festivals are carried out to please Gods. How pleased the God would be seeing such scenes! As such incidents are continuously making a terrible joke of religious festivals, I wonder why there isn't a single protest shown by groups like VHP, BD or RSS, who consider themselves as custodians of Hindu religion. If they are 'working' for the betterment of the religion, why aren't they showing at least some concern for such grave issues?
It's high time we make efforts and say a big NO to such incidents, instead of relying on the government or anyone. I have started an online petition against this. Please sign it here and spread it - http://www.avaaz.org/en/petition/Stop_sexual_harassment_during_festivals_like_Gokulashtami_Ganesh_Chaturthi_etc/?cveddcb
I will also send a letter or an email to the police authorities demanding protection to women from such anti-social elements. Hoping to receive lots of support from fellow Mumbaikars for a cause that needs immediate action!
A good part of the media tried their level best to portray Team Anna Hazare's ongoing fast protest (which started from July 25, 2012) as a flop show (for reasons we all know). However, the people of India made sure they don't succeed in their evil mission by turning up in large numbers in Delhi's Jantar Mantar as well as in Mumbai for the massive rally from Andheri to Azad Maidan (Chhatrapati Shivaji Terminus). Due to this and enormous pressure from we the people, the fourth-pillar of democracy is reporting the truth since today.
Another massive agitation is planned on Wednesday August 1, 2012. Please spread the message across Mumbaikars. To receive updates from Indian Against Corruption - Mumbai, please give a missed call on 02261550789 (you won't be charged for this).
Here are the pictures from today's Andheri to CST march. Another laugh in the face for all those who term the movement as flop!
(Click on the pictures from an enlarged version.)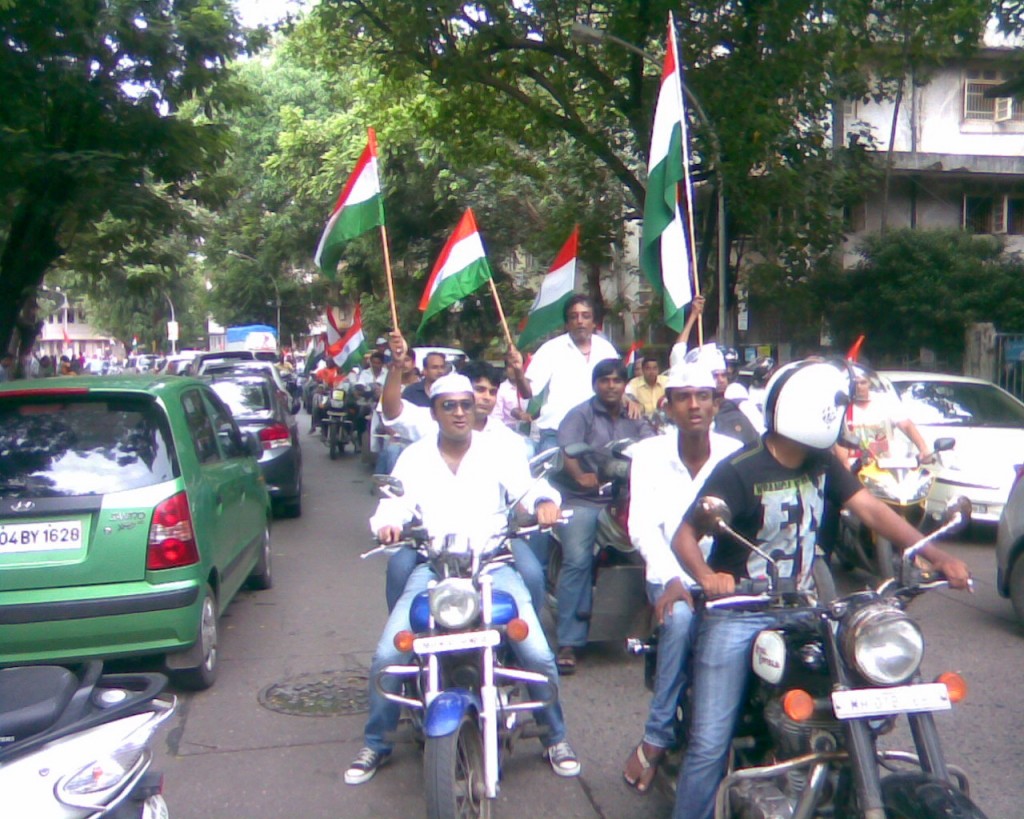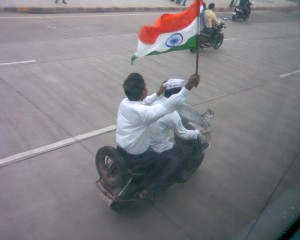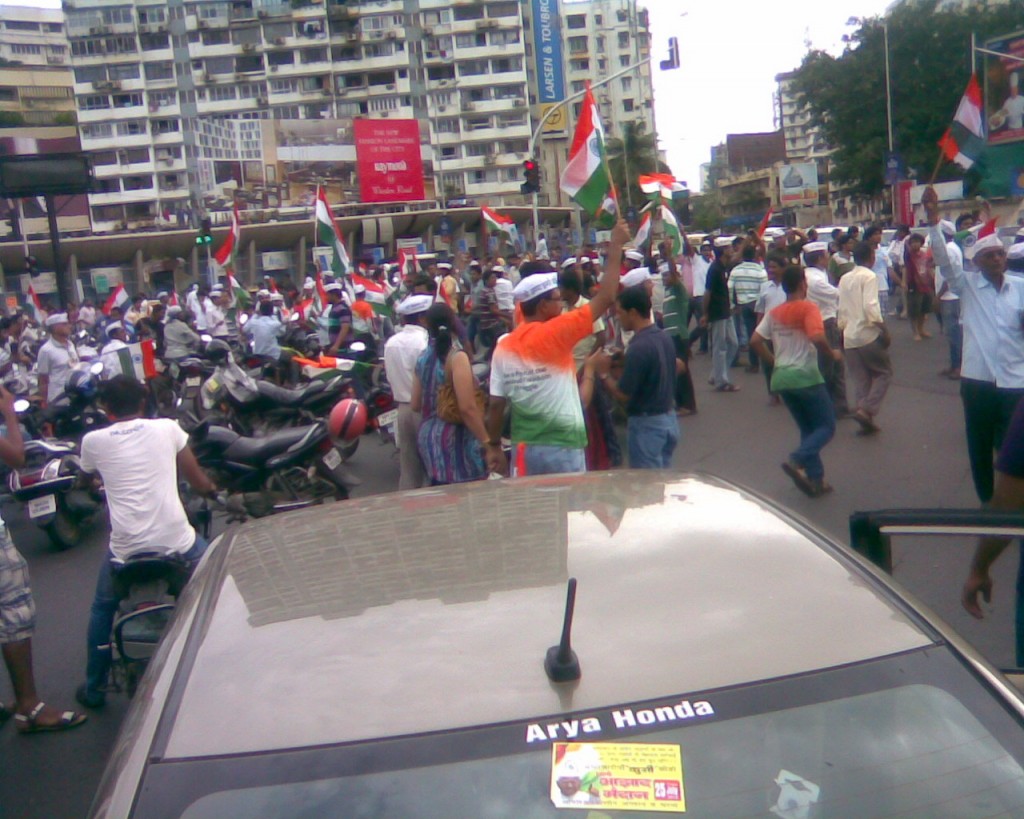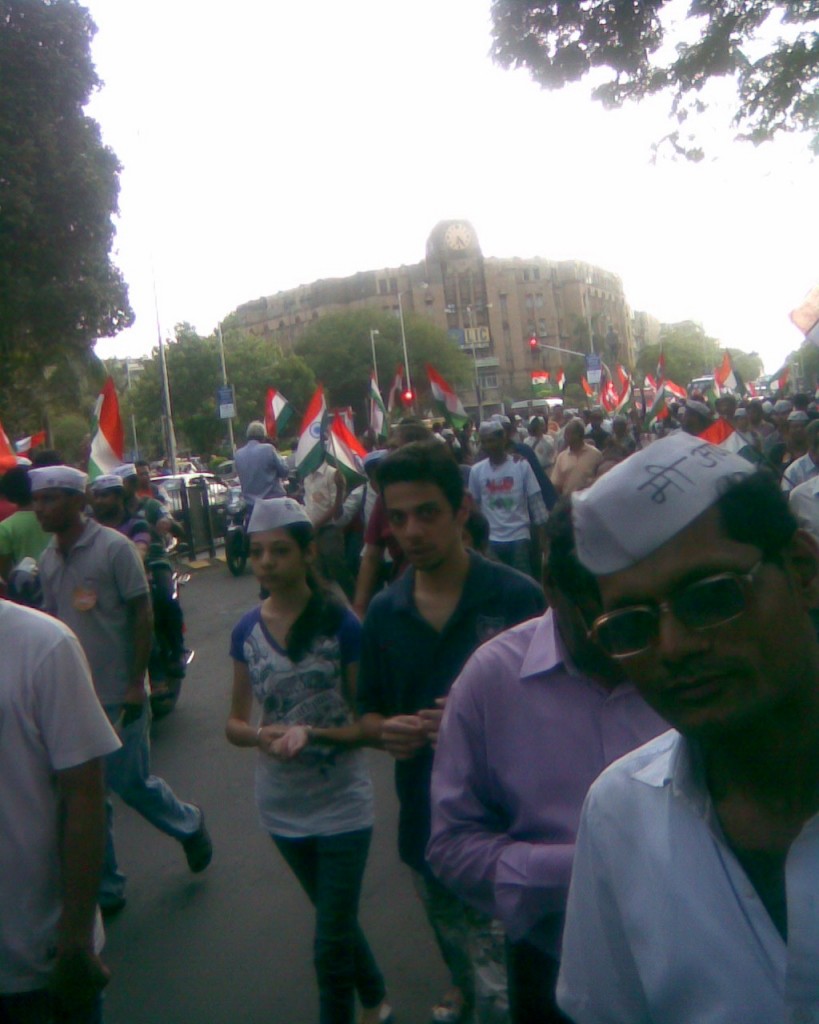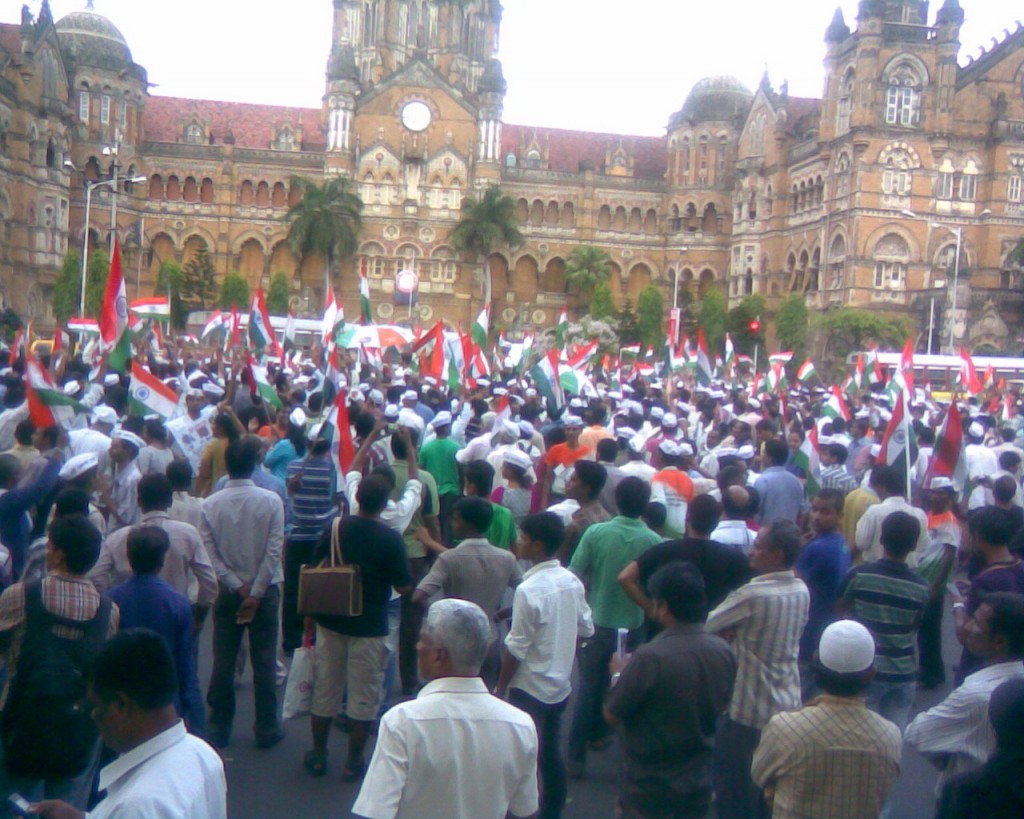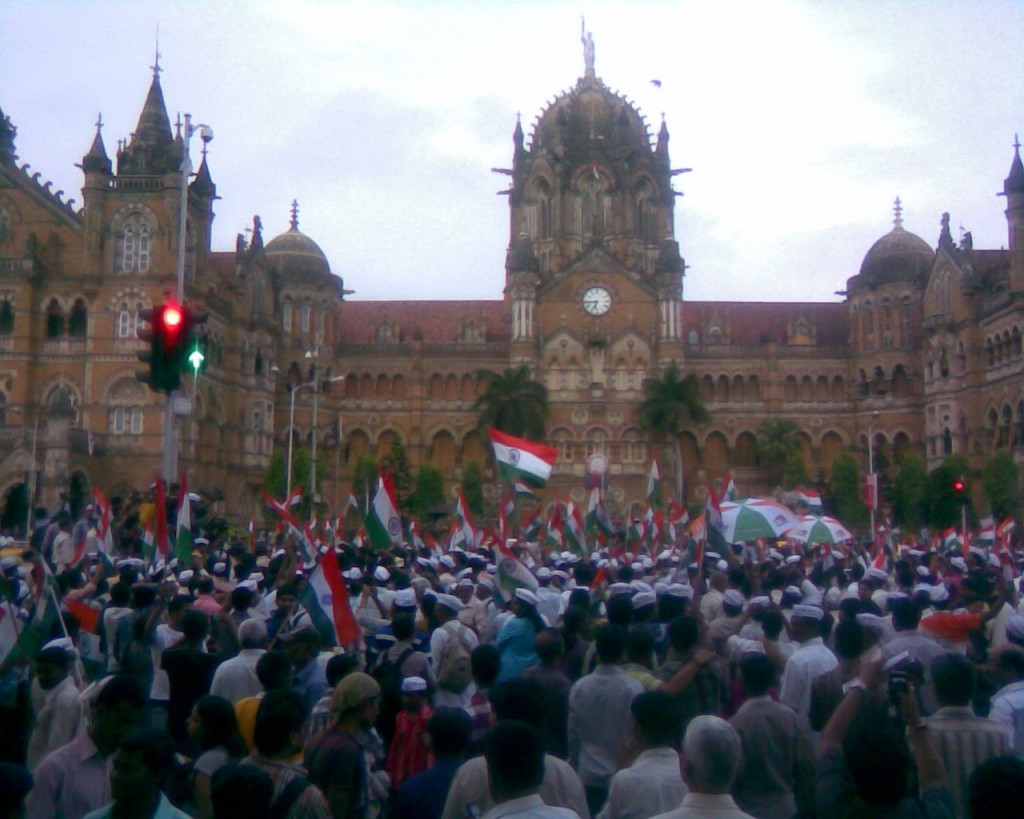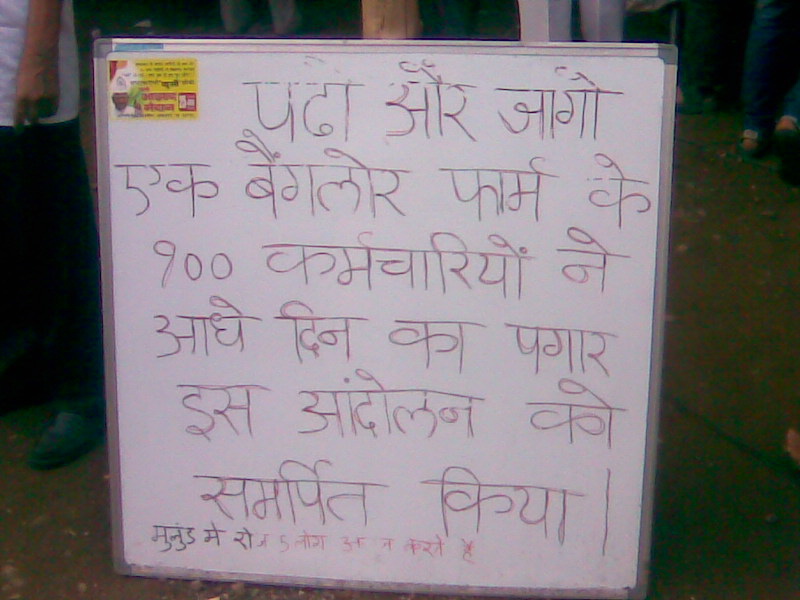 Understandably, an unsatisfactory movie makes us feel our money and time got unnecessarily wasted. However, an unsatisfactory movie at Liberty Cinema doesn't make me feel so. The beauty of the place makes even a bad movie a paisa vasool experience! The simple yet beautifully interiors, comfortable seating, artistic ceiling designs, royal staircase (especially the ones which lead on to the balcony) and a perfect sound system have been more than a treat for cinema lovers since over six decades (see pictures).
But what makes it further special is that the cost has always been pocket-friendly. This allows the middle-class and the lower middle-class to relish the memorable experience unlike those multiplexes charging Rs 300 or more for a single ticket and Rs 60 plus for a tea that doesn't taste like one! This fact generates tremendous respect for the single screen theatre from my side.
Recently, however, my respect for Liberty grew ten folds further when I read in a newspaper that the owner Mr Nazir Hossein is in no mood to convert the historical theatre into a swanky multiplex, despite the collections not being as high during its heydays.
(Article continued after picture.)
Since last decade or so, destruction of old buildings and monuments in the name of so-called development is on the rise in Mumbai. Naturally, some of the famous theatres of Mumbai have been demolished too to make way for multiplexes. In other words, owners of Mumbai's famous architectural heritages themselves didn't blink an eye before demolishing it.
Metro Cinema, a stone-throw away from Liberty, is a classic example of this fact. A theatre which was once thronged by people from all classes of society now caters only to the elite classes. There is no sign of the common middle class public courtesy some abnormal ticket rates.
It would have been very easy to give in to the temptation when almost the whole of Mumbai is marching towards redevelopment. It takes a big heart and a strong will like Hossein to keep the flame alive. In order to survive the reducing numbers, the owner is now thinking of also bringing art shows, music concerts, etc to the theatre. This is an example of how a strong business sense can be applied to keep traditions alive. Of course, this doesn't guarantee for the cash registers to keep ringing but for few people like Hossein, pride comes first.
Since the theater was built during the time of India's independence in 1947, it was named Liberty, which means freedom. The name is apt as the place is free… free from the clutches of business-like attitude! All thanks to Hossein sir for retaining the feeling of the old, simple and uncomplicated Bombay!
To be a part of this proud historical figure of Mumbai and to keep yourself informed about various events at this place, join the Facebook page of Liberty Cinema by clicking here - https://www.facebook.com/libertycinema2012
Have a look at some more of the majestic pictures of Liberty Cinema: -