By: Keyur Seta
The early sunrise succeeded in making its way in an otherwise cloudy month of August. The day marked the arrival of India's 69th Independence Day. It seemed that the energetic group of people at Shiv Shakti Society in Mumbai's Shivaji Park area was just waiting for the first rays to commence preparations for the Independence Day celebrations.
The group consisted people from all age groups and both genders. The only common factor that united them was their traditional attire neatly worn.
The folded national flag was slowly getting tied on the pole amid the playing of patriotic songs like 'Mere Desh Ki Dharti,' 'Jai Janani Jai Bharat Ma,' 'Mera Rang De Basanti Chola,' 'Aye Watan Aye Watan,' etc.
A figure emerged from the building oblivious to the events around him. He was in his early 20s wearing three-fourths and a T-shirt. This, along with long hair and unshaven face easily made him the odd man out. He looked disinterested in the proceedings around him as he listened to 'Kala Chashma' in his earphones. This didn't go down well with the crowd present, which gave him a look of contempt. Some were also offended by the absence of tricolor on his T-shirt.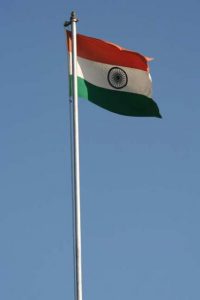 An uncle in his 50s emerged in front of him greeting him through a hand gesture. The boy removed his earphones and smiled. The man said, "Come, join us for the Independence Day celebrations. Almost everyone from the society is here." The youngster simply said, "Sorry, but I need to go somewhere."
A middle-aged woman added, "Come on beta, it's our country's independence day!" The boy, now uncomfortable, replied, "I know aunty. But I have some other plans." A couple of people also tried convincing him but in vain. Finally, he walked away out of the compound plugging his earphones.
This enraged most of the people in the group as they started criticizing him among themselves. "Well, these are today's youngsters. What else do you expect?" "No respect for the country." "He must have gone to meet his girlfriend." "Did you see how he was dressed?"
The uncle, who had stopped him, added thunderously, "Such people are anti-nationals!" Everyone present agreed with him wholeheartedly.
The atmosphere cooled down in few minutes and they got ready for flag hoisting. Everyone present passionately sung India's national anthem after the eldest member of the society unfurled the flag. Chants of 'Vande Mataram' and 'Bharat Mata Ki Jai' followed. They chit-chatted for some time after wishing 'Happy Independence Day' to each other.
Some 30 kilometers away at an orphanage in Andheri, a group of kids were eagerly awaiting Krishna bhaiya and his friends. They visited every August 15 and January 26 to serve them delicious meals and donate some amount to the trustees of the orphanage. The kids didn't need to wait long as they could see Krishna, along with few others, crossing the road outside their gate. He was still listening to 'Kala Chashma.'
Back at Shiv Shakti Society, the group of patriots retired to their respective flats after the function. They spent the rest of the day doing activities like watching TV, surfing the net, going for shopping, watching movies, eating at a nearby restaurants, meeting friends over drinks, etc.
Just before midnight, Krishna, the odd man from the society, smiled as he thought about the events of the day. As he closed his eyes satisfactorily, he remembered the words of his late father, "Never announce or publicize charity. If you do, it no longer remains charity."
Do not stand on a high pedestal and take five cents in your hand and say, "Here, my poor man"; but be grateful that the poor man is there, so that by making a gift to him you are able to help yourself. It is not the receiver that is blessed, but it is the giver. Be thankful that you are allowed to exercise your power of benevolence and mercy in the world, and thus become pure and perfect.
– Swami Vivekananda