The mid to late 1990s saw the rising of Sri Lanka. After becoming the unlikely heroes of the 1996 World Cup, they became one of the bigshots of the ODIs (one-day internationals), along with Australia. So, a match between Sri Lanka and Australia was considered a clash of the titans, especially after their clash in the 1996 WC Finals.
But this particular match between Sri Lanka and Australia is remembered for the latter's bowling strategy that, to put frankly, was weird. This was the third match of the 1996 Singer World Series played at the R Premadasa Stadium in Colombo. The other two teams in this quadrangular series were India and Zimbabwe.
In the match in question, Australia batted first and scored 228 for 9 with Michael Bevan top-scoring with 56 and Sri Lanka's Upul Chandana taking 3 for 38.
Here came the baffling part when Sanath Jayasuriya and Romesh Kaluwitharana came onto bat. Australia had a deadly pace bowling line-up of Glenn McGrath, Damien Fleming and Jason Gillespie. But the bowling was opened by Steve Waugh and, hold your breath, Stuart Law!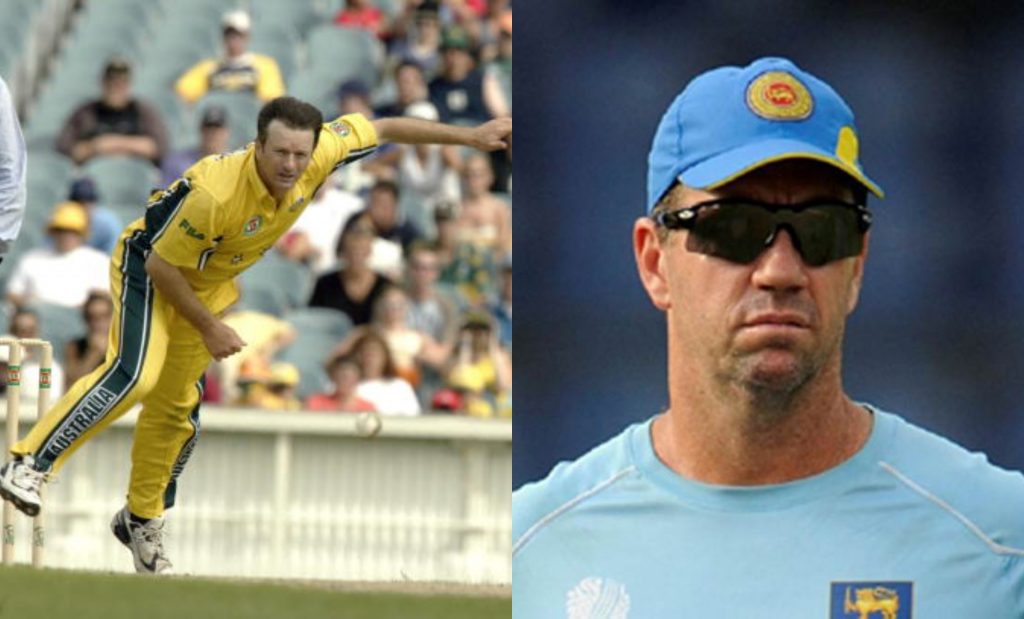 On top of that, Law, who bowls leg-spin, was asked to bowl medium pace. He had just 12 wickets when his career was over. Steve Waugh was a useful bowler but why would you give him the new ball when you have three match-winning frontline pacers? And on top of that, Waugh and Law had to bowl to the most dreaded opening pair of Jaysuriya and Kaluwitharana.
This move had baffled me when I was a kid. Recently as I saw the scorecard of that match, I got another surprise. Except McGrath, Fleming and Gillespie, Australia didn't play a single regular bowler in the match! I am yet to find any other instance of a team playing with only three regular bowlers.
Plus, they employed such a tactic in a match where they were pitted against, what was then considered, a dangerous batting order. If there were injury issues, they could have played some other bowler from the squad.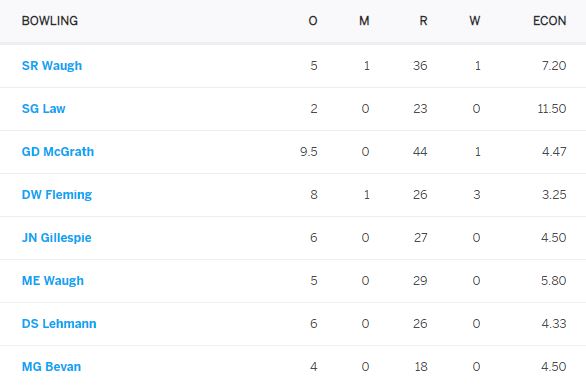 Playing only three regular bowlers meant that they needed to get 20 overs from non-regular or part-time bowlers, which is a daunting task. Maybe that's why they wanted to finish off some of those 20 overs right at the start. Or maybe they wanted to give an easy time to the opening batsmen and then make them face some deadly bowling by the three regulars. Either way, it didn't make sense.
But funnily enough, the weird tactic almost worked for Australia. Sri Lanka, at one stage, were reduced to 81 for 5, which made the target look steeper than it was. But the Lankans fought back and won comfortably with 4 wickets in hand. Aravinda de Silva top-scored with 83 not out while Roshan Mahanama made 50.
I guess not making a good fourth and fifth bowling option cost Aussies the match. Interestingly, in the other two league matches, Australia played four regular bowlers but in the final against Sri Lanka, they again played only 3 and paid the price as the Lankans won the cup.
Highlights of the final match of the series
But more surprising was the move in the league match were Waugh and Law opened the bowling. I am unable to find any other example of 2 non-regular bowlers opening the bowling in an ODI.
If you know any other such instance, please mention in the comments' section.
Additional reading: Forgotten Cricket Moments: The real Lagaan match at Brabourne Stadium
Only time Tendulkar was NOT selected in team India, neither injured nor rested
England's Mark Waugh also batted well & bowled off-spin. Here's more…