Shah Rukh Khan starrer Jawan has been creating an uproar at the box office, not just in India but also worldwide. Directed by Atlee Kumar, the film has found a lot of takers because of the non-stop entertainment it provides in terms of action, stunts, dialogue baazi, style, humour and, of course, performances.
However, it would be unfair to say that Jawan is just a massy entertainer. The film goes much beyond that and that is a major reason why it's more special than the regular masala entertainers. To put it simply – Jawan is not only SRK's most political film but also one of the most political films from mainstream Hindi cinema featuring one of the biggest superstars.
(SPOILERS begin)
Jawan unabashedly touches upon quite a few national issues in the course of its runtime. The film portrays the sorry plight of farmers in a hard-hitting manner. It shows that a farmer is literally tortured when he is unable to repay a loan of Rs. 40,000. But, at the same time, wealthy businessmen are allowed to take loans of enormous proportions without any issue.
The film also makes a daring statement on the complete lack of facilities in government-run hospitals and that it only takes a few hours for the scene to change, if there is a political will. There is also an angle about the lack of security for Electronic Voting Machines (EVM). One of the highest points in the film is Khan's monologue where he urges the people to make the right choice while casting their vote and ensure that the government in power is held accountable.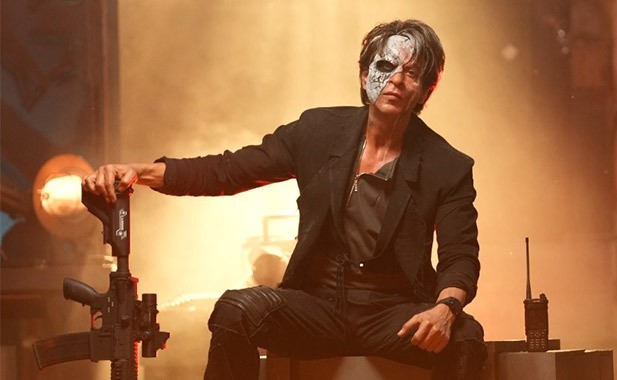 But the most daring part about Jawan is the sub-plot about a large number of kids dying in a hospital because of lack of oxygen cylinders. This is right out of the real incident that took place in Uttar Pradesh a few years back. The film doesn't stop at this though. It also shows how an innocent was made a scapegoat and the whole blame is put upon that person. Not many people (leave alone stars) are even willing to speak about this incident. But here is one of the biggest mainstream films with one of the biggest stars providing a sharp critique to that incident.
(SPOILERS end)
It would be putting it mildly to state that SRK has taken a risk by making a film with aforementioned incidents. One shouldn't forget how actors, especially stars, are targeted for portraying anything that is against the establishment since 2014 onwards. But here, Khan has not only agreed to act in such a film as the main lead but also produce the movie. Hence, if the film would have faced any sort of protest or controversy, he would have been hit financially too after investing a large chunk of money in the film.
SRK made a major comeback this year with Pathaan, which made him regain his stardom. However, Jawan was bankrolled and made when Pathaan was long way away from release. This is another example of the major risk he took at a time when his stardom was majorly hit and when it wasn't known that Pathaan would eventually become a big hit and his comeback.
Even with Pathaan, the star had taken a risk. He knew before the release of the film that he was being majorly targeted by the supporters and leaders of the ruling party. Yet he came up with a film where he is not only romancing a Pakistani but also an ISI member.
Pathaan faced the biggest boycott Bollywood campaign by the supporters of the ruling party. However, the film turned out to be the highest grossing Hindi movie. Of course, this happened because the movie-going public paid no heed to the boycotters and went for the film in large numbers.
But one must credit SRK for not showing lack of spine by meeting some prominent politicians in front of the media in a display of fake support, so that his film gets a smooth release. In fact, Shah Rukh called up a politician at 2 am after the latter had asked people to boycott the film. On the very next day, the politician said there is no need to boycott Pathaan. Khan also didn't go the Aamir Khan way by pleading the audience to not boycott his film.
Hence, one cannot deny that it was Pathaan that not only put an end but also demolished the boycott trend. After a major fiasco with Pathaan, one hardly notices any serious calls for boycott for any film on social media.
All this also reminds us how SRK had held his ground against Shiv Sena during the massive controversy surrounding My Name Is Khan in 2010. Yes, there have been times where he has met and shown support to prominent politicians of the current regime. But one can't take away the spine he has shown on various occasions when anyone else in his place would have melted.
Coming back to Jawan, hopefully, its daring content will encourage more mainstream actors to not shy away from showing a mirror to the current Indian society.
Also read: Jawan review (WITHOUT spoilers): A rare massy political entertainer