Shah Rukh Khan's comeback this year with Pathaan was full of high-octane action stunts and dialogue baazi, which paved way for various whistle-worthy moments. The same can be said about his latest release Jawan. Yet, his latest outing is way different than Pathaan. In fact, you won't even think of that film while watching Jawan. In other words, the actor has given two massy action entertainers that are as different as chalk and cheese.
Directed by Atlee Kumar, Jawan has a complex storyline taking place in two different timelines. To put it simply, it tells the story of a strange looking man (Khan) who enters a Mumbai Metro train from a station like any other passenger. A group of girls, played by Priya Mani, Sanya Malhotra, Girija Oak, Sanjeeta Bhattacharya, Lehar Khan and Aaliyah Qureishi, are already present in the train. They too appear like ordinary passengers.
But as soon as the train leaves the station, the man announces that the train is hijacked. The group of girls are from his team. The man frightens the passengers with his antics. A senior cop Narmada (Nayanthara) is given charge of the case as she has handled such hostage situations before. She realizes that the man's demands are not akin to any other hijacker. Kalee (Vijay Sethupahi), the fourth largest arms dealer in the world, is also forced to get involved in the whole affair.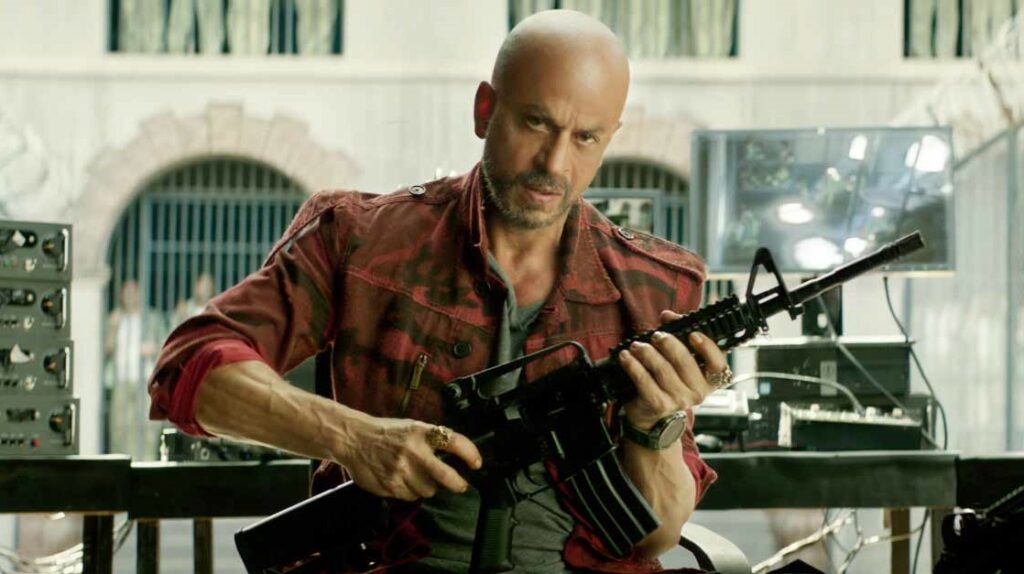 Jawan is a true blue masala entertainer in every sense. It doesn't fail to hold your attention even for a moment as it's full of events and situations that keep you glued to the screen. The narrative is a fine mixture of action sequences, confrontations, humour, emotional moments and dialogue baazi. In fact, this is a rare film of today's times where a runtime of close to three hours passes away in a jiffy. You won't even think of checking the time, even during unimpressive songs because they too are taking the story forward.
The interval point deserves a special mention as it's one of the best first-half ending you will see in a Hindi film. The same excitement is generated in the climax as well (can't reveal much to avoid spoilers).
But Jawan isn't limited to being a crowd-pleasing actioner. The film is political in nature with even subtle digs at the establishment. One situation is right out of a real political tragedy in north India, which stuns you and makes you applaud the makers for their daring. And to see a big star like SRK not only agreeing to be a part of such film, both as an actor and producer, is praiseworthy.
As far as Shah Rukh Khan's performance is concerned, he has never been presented in such a larger-than-life manner before, like Atlee has done here. The film required SRK to show a wide range of his talent while portraying different moods and emotions and he comes up with one of his finest acts.
Vijay Sethupathi, strangely, doesn't get to emote much in a majority of the period. Thankfully, he comes into his own in the second half and the ending moments. Nayanthara makes a successful Hindi film debut. Thankfully, she wasn't required to just become a filler, which is the case in most hero-centric masala entertainers. The long list of female cast as the mysterious man's aides (Priya Mani, Sanya Malhotra, Girija Oak, Sanjeeta Bhattacharya, Lehar Khan and Aaliyah Qureishi) do well in whatever was required of them.
Sunil Grover and Ridhi Dogra are likeable too, although they don't get to do much. Deepika Padukone was said to play a cameo but she has an important role, which she performs well. Sanjay Dutt's cameo is hilarious.
Jawan also impresses you in terms of the technical aspects like action stunts (a major strong point), camerawork, background score and editing.
Also read: Kennedy review: Anurag Kashyap's political cum crime drama is impressive
The movie, however, isn't a smooth ride. It is common knowledge that such films require you to keep logic at bay. But even after doing that, some situations, action sequences and character behavior are too far-fetched. More importantly, after a point in the second half, the proceedings also become complicated and, at times, questionable as well. If not the logic part, they could have taken care of this aspect during the scripting stage itself.
Overall: Jawan is an exciting masala entertainer with a daring political touch.
Rating: 3.5 out of 5