To say that a film was ahead of its times has become a cliché. But there is no better way to describe Rajkumar Santoshi's Ajay Devgn-starrer Halla Bol (2008). The film would have surely made more heads turn had it released in the current era.
Halla Bol traces the journey of Ashfaque Khan (Devgn). Hailing from a small town in India, he was named after the revolutionary Ashfaqulla Khan. Ashfaque dreams of becoming a film star. He joins a theatre group run by a reformed dacoit Sidhu (Pankaj Kapur) as a first step towards fulfilling his dream.
Sidhu specializes in using the medium of theatre to expose social evils and raise issues that are plaguing the society. Ashfaque wholeheartedly takes part in all such plays that aim to make a difference in the society, staying true to his name.
Meanwhile, Ashfaque's efforts to get a break in movies pay off and he soon acquires the status of a star. He changes his name from Ashfaque Khan to Sameer Khan. But along with his name, he also changes as a person. Unlike Ashfaque, Sameer plainly refuses to take part in a play organized by Sidhu once for a social cause because this could hamper his star status, much to the shock and disappointment of the latter.
Not just that, the simple and innocent Ashfaque now becomes a womanizer and cheats his childhood love and wife (Vidya Balan) on numerous occasions.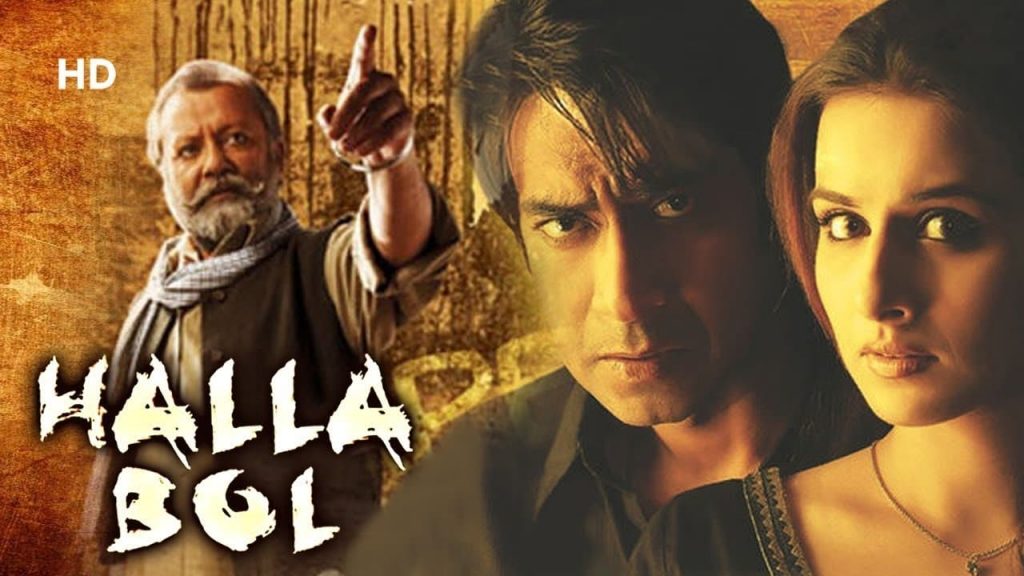 Sameer's biggest turning point arrives when he witnesses a murder at a party. He doesn't testify against the culprits out of fear. But when his conscience doesn't allow him to be at peace, he decides to carry out his duty as a responsible citizen by naming the killers to the police.
However, he receives serious threats since the perpetrators belong to the camp of the powerful and corrupt politician Ganpatrao Gaekwad (Darshan Jariwala). Raising voice against him would mean an end not only for his career but also his life.
Hence, the man known for raising his voice when he was a nobody becomes silent to all wrongdoings after becoming a superstar.
I was quite impressed with Hall Bol when it had released more than a decade ago. But when I look at it today, it excites me even more. It seems the film was tailor-made for the era we are currently living in.
The idea of a superstar not willing to raise his voice against an offence provided an interesting conflict back then. But today, it seems like straight out of reality. A lot has changed since last 6-7 years. Big stars are now super scared to share their opinion on any serious issue, leave alone raising their voice against a wrongdoing, like they used to before.
In fact, some stars are not even willing to speak up on the enormous rising prices of petrol. Interestingly, the same people were happy to share jokes on the same issue when the previous government was in power and when the price of fuel was much lower than what it is today.
Funnily, one star even deleted his tweets from 2012 when he had shared jokes on rising petrol prices. So that people stop questioning him as to why he is silent now.
Hall Bola shows Sameer go through a change of heart later on. He fights the evil forces all by himself [with timely help from Sidhu] to bring justice to the deceased. Of course, it would be laughable to even think of expecting this in reality. Halla Bol, after all, was a mainstream Hindi movie, so it had to end this way.
The extent of the fear of the authorities in today's times was seen the most last month when famous celebrities shared scripted tweets in favour of the government after Rihanna spoke up on the issue of farmers' protest.
Funnily, among the famous names who tweeted included the main lead of Halla Bol.
P.S: Halla Bol is available on Amazon Prime Video, Shemaroo Me and Voot.
Also read:
SRK & Ashok SARAF's pair in Yes Boss deserves more appreciation
JusticeForSSR now has NO place on news channels. Who gained, who lost?