Director: Ritesh Batra
Producers: UTV Motion Pictures, Dharma Productions, Dar Motion Pictures, Sikhya Entertainment and Roh Films – Germany
Writer: Ritesh Batra
Cast: Irrfan Khan, Nimrat Kaur, Nawazuddin Siddiqui
Genre: Drama
Rating: * * * ½
By: Keyur Seta
Story Outline: Leading a lonely life, middle-aged widower Saajan Fernandez (Irrfan Khan) works in the claims department of a government office in Mumbai. He has just a month to go before he retires from his services. Ila (Nimrat Kaur), a housewife, is also battling loneliness due to her husband's avoidance.
Once Ila prepares tiffin for her husband like every other day. However, due to dabba wala's mistake, the tiffin lands on Saajan's table. This ensures a series of conversations between the two through letters. Slowly, their strange relationship blossoms into love. But how far can such a love story go?
Review: It is a norm in Indian movies to include dramatic, powerful dialogues or blaring background music to generate emotions. But debutant Ritesh Batra's The Lunchbox breaks all these norms and how! By using just a subtle, simple narration, he narrates a difficult love story that is sure to move you.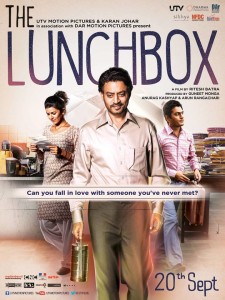 Such a romantic tale is very difficult and tricky to narrate on celluloid. Batra not only conceives the romance intelligently but also maintains it. The latter part can be too tough as the letter reading scenes can become repetitive. But that is nicely taken care with some real yet witty conversations, mostly between Irrfan and Nawazuddin, and various rib-tickling moments from the simplest of everyday scenes. The success of this part alone is the backbone of the film.
The Lunchbox is also one of the rare films where the city of Mumbai can be called as a different character altogether. This doesn't mean merely showing the city few times or placing your story in it. It is about various aspects of the city visible throughout the film. Examples – bus and train journeys, dabba walas, loneliness despite over population, Ila's neighborhood aunty, group of people playing abhangas in train, inflation issues faced by the common man, especially when it comes to medical bills, painters outside Azad Maidan, kids playing cricket on streets, etc.
After such impressive plus points, you personally feel bad for the film towards the last 15 minutes or so. The events in the pre-climax and climax act as a dampener. If this hadn't been the case, the movie could have been hailed as a classic.
The technical department (camerawork, background score and editing) goes with the simple nature of the film.
Performances play a large role in creating the desired effect. Irrfan Khan has proved time and again that he is one of the finest actors to emerge from India. He proves that again by generating a lot of appeal from his character despite underplaying himself. But despite Irrfan's presence, Nimrat Kaur shines with a real and mature portrayal of a lonely housewife. She surely deserves more films!
In the midst of the two performances, Nawazuddin Siddiqui delivers a lovable act! He too is no doubt one of the most talented actors around currently. Although Bharti Acharekar doesn't appear, her delightful way of speaking makes her presence felt.
Overall: Although The Lunchbox isn't a classic, it's still a must watch. It should slowly climb the box office ladder.