Direction: Vishal-Vihar
Production: Raees Lashkariya
Cast: Rajesh Shrungarpure, Darshan Jariwala, Arun Nalawade, Ila Bhate, Hemangi Kavi, Sushrut Mankani, Anshuman Vichare, Namrata Gaikwad
Music: Nitin Hivarkar
Rating: * * *
Plot: Ram Pathare (Rajesh Shrungarpure) struggles to get capital to start business due of the general belief that Marathis aren't good at it. Apart from this, his heart bleeds due to the hardships and problems faced by Marathis. Not ready to accept defeat, Rajesh fights all odds and excels in the field of business.
But he doesn't stop at this. With his Guruji's advice, he starts Yuva Sanghatana Sena, an organization for the welfare of Marathis and later a political party called Swarajya Sena. But Ram has an obstacle in his path in the form of MLA Kapadia (Darshan Jariwala).
Recently, F M Ilyas' Arjun tried to rejuvenate the image of the Marathi manoos by keeping business as the core issue. Vishal-Vihar's Swarajya – Marathi Paul Padte Pudhe also has the same aim. However, the latter proves the point in a much better way than Arjun and is also much smarter in execution. The end product might not appear superlative but it certainly deserves a watch.
Vihar Ghag has intelligently woven the numerous incidents into the script in order the highlight the issue Marathis are facing. Thankfully, he doesn't go overboard to prove the point as there is always a danger of getting carried away while handling such social issues.
The film goes into top gear once Ram starts his Yuva Sanghatana Sena. The formation of the group and the way Ram builds his team is appealing. As expected, there are a good number of seeti bajao sequences and dialogues. A scene which deserves special mention is the one where Ram gives a formidable reply to South Indian and Gujarati businessmen. The second half too starts on a promising note with the incident of Ram entering politics being the highlight.
How we wish the goodness continued till the end! Unfortunately, the penultimate moments and the climax are too stretched. Ram's encounter with Kapadia's relative Shah is harsh and uncalled for. This also makes sure the second half becomes 1 hour 30 minutes long whereas the first half was just about an hour. Plus, typical filmi sequences in the finale prove disappointing.
(Review continued after photo.)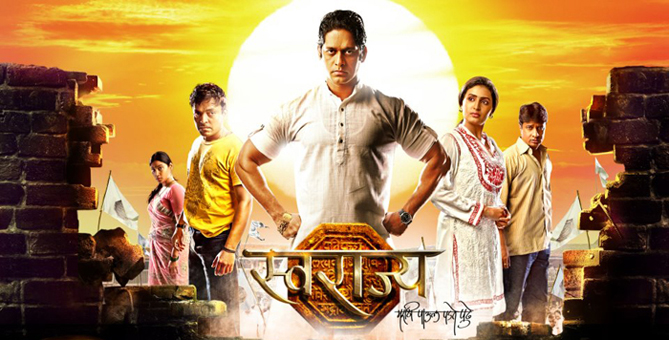 Debutant director duo of Vishal-Vihar does a decent job. The film can also boast of its high production value. Umesh Pophale's artistic and intelligent cinematography is visible in almost every scene.
Musical score by Nitin Hivarkar is a plus point with songs 'Mard Maratha' and 'Rama Rama' deserving mention. However, the music played in the song 'Na Nazar Konachi Lage' is very similar to the tune of the Hindi song 'Tera Saath Hai Kitna Pyara' (Janbaaz, 1986).
Fiery dialogues, by Vishal Ghag and Mandar Gaydhani, play an important role in having an effect on the audience although they tend to go overboard in few places.
Rajesh Shringarpure rises to the occasion and gives a power-packed performance. He manages to appeal both as a struggling Marathi youth and a leader of masses with ease. His character is surely inspired from Maharashtra Navnirman Sena chief Raj Thackeray. Although Rajesh played a similar character in Avdhoot Gupte's Zenda, he presents an altogether different act in Swarajya.
Darshan Jariwala gives a mature act as the antagonist. He proves why he is a respected name when it comes to playing character roles. Anshuman Vichare, Sushrut Mankani, Arun Nalawade, Ila Bhate, Hemangi Kavi, Namrate Gaikwad and the rest of the cast offer perfect support. But what's difficult to forget is a side character who is an exact lookalike of superstar Rajnikanth. (Wonder from where they found him!)
Overall, Swarajya – Marathi Paul Padte Pudhe falls in the could-have-been-great category due to the above mentioned negative points. What works against it is that the audience has quite recently seen a brilliant effort on the same issue in the form of Mahesh Manjrekar's Mee Shivajiraje Bhosle Boltoy.
Nevertheless, some praiseworthy incidents and Shrungarpure's performance make it a one-time watch affair. It has a good chance at the box-office since it plays the Marathi Manoos card which has proved successful in the past.
P.S : – I heartily appreciate the fact that the makers honoured Dadasaheb Phalke, the Father of Indian Cinema, before the opening credits. I am surprised why this isn't done often since without Phalke's efforts, we wouldn't have been enjoying movies in India.