(For more news and information on Marathi cinema, click here. To join us on Facebook, click here.)
Whenever a film is made from a popular novel, the first question that arises in everybody's minds is whether the celluloid version is as good as the book, if not better. But should there be any comparison between both the versions? If yes, to what extent? Such questions were explored at a discussion in Mumbai named 'Pratisanvad – Sahityache Cinematle Roopantar'. The conversation took place after Ganesh Matkari's book 'Chaukati Bahercha Cinema' was launched.
The focus of the interaction was director Sameer Surve's movie Shree Partner, which is based on the classic novel Partner by Vasant Purushottam Kale. Secretary of Prabhat Chitra Mandal Santosh Pathare, author Anant Samant, filmmaker Sameer Surve, filmmaker and writer Abhiram Bhadkamkar and film writer Ganesh Matkari were the speakers at the event.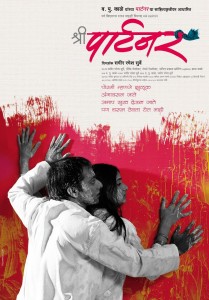 During the discussion, Pathare raised a question on Surve's decision to make a film on Partner since the book has been read by a large number of people over the decades. To this, Surve replied, "We have to accept that in today's times, there is a dearth of good stories. But the base of every film is a story. Many of the classic foreign films are based on some great literature. I chose Partner since it has a great story. Although the book was written in 1977, I think it is relevant even in today's era."
Narrating his experience, Surve adds, "In fact, I was surprised why not a single movie was made on Partner all these years. But when I was thinking of making a movie on the book, I came to know someone else has already decided to make it. Obviously I was disappointed. But later on, that person shelved the project. Hence, I grabbed the opportunity with both hands." He also says he found a cinema angle in the book as he was stunned and touched by it, just like one does in a movie.
When Pathare pointed out that Shree Partner will be compared with the book, Bhadkamkar opined that there shouldn't be comparison. But on the contrary, Surve said there should be comparison. "If you have passion, you don't worry about post mortem. I have worked hard for three years to make this film. The script was finalized after 17 drafts and I also had to re-shoot some of the scenes. When a friend of mine got to know this, he laughed at me saying this is just a Marathi film. But I said I wanted to do full justice with the book."
To know whether Shree Partner has done justice to the book, one has to wait till October 26 when the film releases.
(The remaining part of this interesting discussion will be published soon.)