Director: Prasad Namjoshi
Producers: Flying God films
Writers: Prasad Namjoshi
Cast: Makasand Anaspure, Sandeep Pathak, Nandita Dhuri, Gauri Konge
Music: Kaushal Inamdar
Genre: Drama
Rating: * * *
Review By: Keyur Seta
Last 6-7 years have seen the emergence of a number of Marathi films that take place in the interiors of Maharashtra. What is good to see is that almost all such moves have turned out to be impressive. Although Prasad Namjoshi's Ranga Patanga too falls in the good category, it doesn't rise up to its potential.
The story takes place in a small drought-ridden village where Jhumman (Makarand Anaspure), a farmer, lives with his wife, Noor (Nandita Dhuri). Tragedy strikes him when his two beloved bullocks, Ranga and Patanga, go missing. Now, Jhumman must find them else his future is endangered. He receives utmost help from his best friend, Popat (Sandeep Pathak).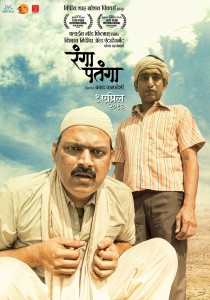 Ranga Patanga succeeds in its most important task of getting the audience involved in Jhumman's journey and struggle from the very first scene. But the film also smartly underlines few other aspects – struggle for minority communities and minority appeasement, opportunism of the political class and the media and, most importantly, the meaning of true friendship, which transcends all man-made borders.
Ranga Patanga can also boast its technical brilliance. Amol Gole's camerawork is top-notch, especially during wide angle shots. The subject demanded to show visuals of barren landscapes, which appear beautiful. The sequence where Jhumman and Popat's long scooty ride is portrayed deserves special mention. The editing and background score aren't far behind either. A couple of songs that play in the background suit the situations and are melodious.
But, as mentioned before, the film could have achieved much more. After an impressive first half, the proceedings become a drag during few occasions in the second half. In this period, the film also instantly brings back memories of the Hindi movie, Peepli Live. But what affects the film the most is the convenient climax, straight out of a typical Hindi film.
Also, the writers have felt no need to establish Jhumman's emotional bond with his bullocks, which could have further helped gain audience's sympathy for him. Although he and his wife keep asserting that they deeply love their cattle, one mustn't forget that cinema is a visual storytelling medium.
Coming to the performances, Makarand Anaspure shows his talent and literally lives the character of Jhumman. However, on few occasions, his peculiar way of speaking doesn't go well with a rural Muslim character. Nandita Dhuri (of Elizabeth Ekadashi fame) gives another impressive act. Sandeep Pathak is likable as Jhumman's brother-like friend.
The actors playing journalist and police inspector Pathak do well too. The rest of the actors offer decent support.
Overall: Ranga Patanga is a well-shot saga that can be seen once. The film relies heavily on word-of-mouth to make a positive impact at the box-office.