All Good Things Come To An End – I have been hearing this proverb ever since my childhood. However, it is just since yesterday that I am truly able to feel the bitter feeling behind it. It's the retirement of Rahul Dravid, one of the best cricketers ever produced by India that has enabled me to understand the true meaning of the above proverb.
Dravid's greatness is such that by merely saying, "He was a great cricketer," isn't an enough tribute to him. Frankly speaking, it is not possible to explain in a few pages the career of a cricketer who took the very heavy load of expectations and responsibilities on his shoulders. Those like me who have followed his career throughout would understand this and agree with me.
Personally, I feel Dravid was the unsung hero of Indian cricket. I say this because a number of his achievements went unnoticed or didn't receive the importance it deserved as it got overshadowed by an achievement by a fellow cricketer or due to some other reason.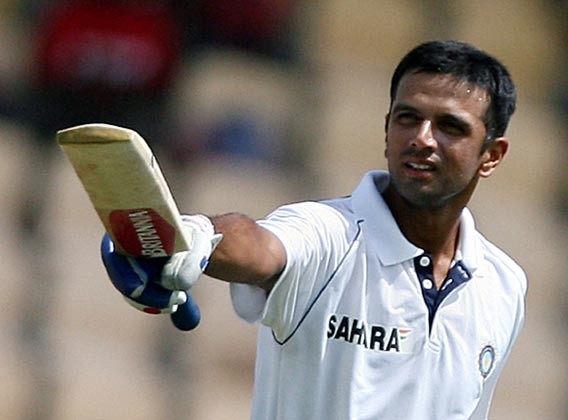 For instance, in the famous Kolkata test against Australia in 2001, the Karnataka batsman played one of his finest knocks by scoring 180. However, VVS Laxman's 281 is what people remember more from that test although Dravid's innings deserved equal praise since it also played a vital role for India to turn the tables and beat the Aussies in one of the greatest fight-backs ever!
Another example is during the 1999 World Cup match against Sri Lanka at Taunton, England where Saurav Ganguly registered his highest one-day score of 183. He had a 300+ run stand with Dravid who scored a fabulous 145. But here too, it is Dada's innings which is remembered more while one should also remember that Dravid's score was at that time the highest by any wicket-keeper in ODIs.
I would also like to state Dravid's most under-rated innings in ODIs. It was in the 1997 Independence Cup match against Pakistan, where the Wall scored his maiden ODI century (127) which didn't prove enough. Since Saeed Anwar registered the highest ODI score ever earlier in the day with 194 and also because of the fact that Dravid's knock was in a losing cause, it was forgotten soon.
Likewise, throughout his career, a number of innings by Dravid didn't receive the due credit it so much deserved!
Moving ahead, I have no qualms in saying that Dravid was victim of the idiocy of Indian selectors! Dravid resigned from the captaincy (both in tests and ODIs) in 2007 in the interest of the team as he wanted to concentrate on his batting. However, he was unable to concentrate on it in half or more than of the matches as the selectors dropped him from the ODIs!
The move of dropping him from the ODI team is the biggest blunder ever by Indian selectors! Time and again Jammy had proved his mettle in ODIs as a quick scorer but the selection committee dropped him saying he is unable to score quick runs. Just some time before he was dropped, he had scored an earth-shattering 90 odd in just 63 balls in an ODI in England.
In fact, he has been handy even in Twenty20 matches. On numerous occasions in the Indian Premier League (IPL), Dravid has proved how wrong the selectors were. Then in the 2011 ODI series against England, they picked Dravid as there was a dearth of quality batsmen in the team. Although the Wall played in the series, he announced his retirement from ODI cricket just after he was picked. A good indirect way of giving thumbs down!
Today, looking at the huge number of messages of praise that are pouring in for Dravid on social media and the internet, I get a feeling the world has understood his worth and importance. It is been proved that someone who is one-of-its-kind will never get overshadowed!
Although this is been said again and again today, I would still like to repeat that Dravid is irreplaceable!
I would like to wind up with a small shayari on the great man: –
Bahav Ke Sath To Har Koi Beh Sakta Hai,
Jo Bahav Ke Khilaf Bahe Wohi Farishta Kehlata Hai
Video of Rahul Dravid's retirement speech: –