The title Happy Birthday appears pleasant. But filmmaker Prasad Kadam's short film, which is named the same, is anything but pleasant and I am saying this in a good way.
Happy Birthday tells the story of Rattoo Oshidaar (Anupam Kher), a religious aged Parsi gentleman who stays alone in Mumbai. He is a medium who helps people interact with their loved ones who are no more. A lady Beth Rose (Aahana Kumra) once visits him as she wants to ask some questions to his late son.
Beth carries the guilt of her son's death and that has made life miserable for her. What happens after Rattoo Oshidaar takes up the task of contacting her dead son forms the rest of the story.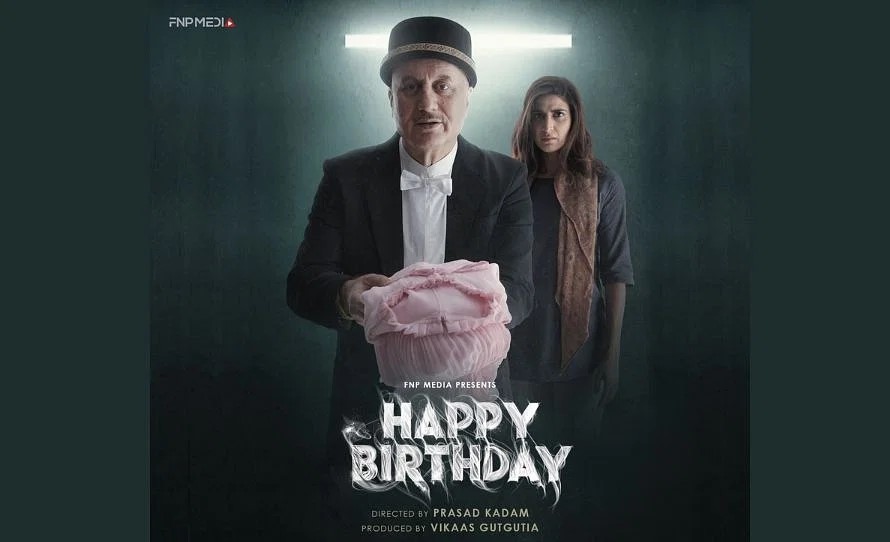 The biggest plus about Happy Birthday, which is written by Mehak Mirza Prabhu, is that the film keeps changing its mood every now and then and that too in a span of just 18 minutes. And it does that effortlessly and convincingly through the contribution of various departments. For example, at the start you get a feeling that the film is about a helpless old man but the inclusion of the supernatural element brings about a gradual change in your feeling.
But what really takes the cake is the climax for which you are not prepared. Without giving away any spoilers or hinting about them, the finale not only shakes you up but also ensures that you keep thinking about that moment and keep asking various questions. The film doesn't provide its own interpretation and lets you interpret the back story and the intention of one character.
While the film scores high in the final moments, one also feels that there was a bit more to it or there should have been an announcement about a sequel. Surely, this story has the potential of giving you much more.
Also read: When SRK did a panchayat 33 years ago
The effect of the entire film depended on the performance of Anupam Kher. If he would have faltered even a little, the impact would have been reduced. But he doesn't as he brings his vast experience at play while playing a difficult character. Aahana Kumra too is reliable in a challenging role. She too contributes in generating the final effect.
Overall: Happy Birthday is an enjoyable short film with a shocking climax.
Rating: 4 out of 5
Director: Prasad Kadam
Writer: Mehak Mirza Prabhu
Cast: Anupam Kher and Aahana Kumra
Watch the film: