Over the years, Sanjay Leela Bhansali has evolved into another genre in itself. Big stars, grand costumes and sets, heavy use of colours, drama, songs and dances are some characteristics of his brand of cinema.
But despite such pleasing factors, there have been times when his films haven't reached the pinnacle of cinematic satisfaction that it aims. Padmaavat (earlier titled Padmavati and later Padmavat) also falls in this list, unfortunately.
Padmaavat is based on the legendary poem by Sufi poet Malik Muhammad Jayasi. It tells the story of Rawal Ratan Singh (Shahid Kapoor), the ruler of Chittorgarh, who, while on an expedition down south, meets the stunning Padmavati (Deepika Padukone). He falls for her and makes her his second wife.
Meanwhile, Aluddin Khilji, ruler of the Khilji dynasty, has acquired the throne of Delhi after murdering his uncle Jalauddin Khilji (Raza Murad). He gets to know about the splendid beauty of Padmavati and heads towards Chittorgarh to set his eyes on her.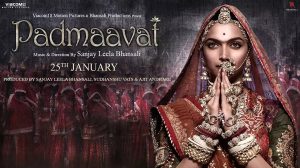 Padmaavat is one of the most visually stunning films to have come from Hindi cinema. Bhansali's obsession with minute details is visible throughout. His peculiar use of fire, which is seen in his earlier films, is at the optimum here.
Nitin Chandrakant Desai's opulent production design too deserves huge amount of credit in recreating different areas of the subcontinent. Like Bhansali's previous films, he has created a different world for every region. But at the same time, every region is believable.
Bhansali has also displayed his speciality in creating drama, which is ably supported by the background score. But it is Sudeep Chatterjee's fine camerawork that stands out as far as the technical department is concerned. It adds to the visual quality. The veteran stunt director Sham Kaushal too makes his presence felt. The fight sequence between Rawal Ratan Singh and Khilji deserves mention.
But unlike the filmmaker's most of the films, the music isn't as impressive. Songs like 'Ghoomar' and 'Ek Dil Ek Jaan' fall in the average category. The second one becomes an obstacle in the narrative. 'Khali Bali' is an energetic number and the best of the lot. But the weird dance steps don't let you look beyond. It makes Bajirao's 'Malhari' appear simple and subtle.
Spoilers ahead!
The negative points in Padmaavat are such that they cannot be highlighted without giving away spoilers. Some of Bhansali's previous films have been guilty of being self-indulgent. The treatment overtakes the main plot, which ensures you don't feel much for the characters.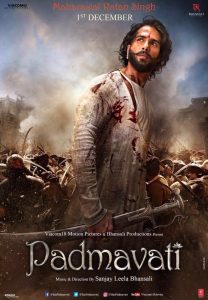 But in Padmaavat, character sketches of Khilji and Padmavati and Bhansali's idea of staying true neither to history nor the epic poem hampers the film the most. There's nothing wrong with this if the end result is satisfying. It is not in this case.
Going by the historical texts available, Khilji, although villainous, was a ruler with a sharp mind. But Bhansali's Khilji is an animalistic and impulsive moron who is absolutely incapable of thinking logically. He leaves his kingdom in Delhi and waits outside the vicinity of the Chittorgarh palace just to catch a glimpse of a woman he hasn't seen ever and that too for months in the heat of Rajasthan!
This certainly doesn't make him look like a ruler of a kingdom as important as Delhi whatsoever. In other words, Khilji's portrayal in the film is exactly what Right Wing supporters would love, especially the fringe Rajput groups.
More so, because we are regularly given doses of Rajput valour through dialogues that become redundant an ineffective after a point. Ironically, people claiming to represent them are the ones who have turned violent against the film without even watching it.
The bigger flaw here is the glorification of suicide (even though it is sugarcoated as 'jauhar') and the regressive idea of a woman losing her 'honour' if held captive or touched by the enemy. It is questionable to see such ideas being dished out at a time when there is constant struggle to free the nation from such dangerous beliefs.
Moreover, the jauhar over here doesn't go with the character of Padmavati. She is shown to be a warrior who even rescues her husband from the clutches of the enemy. So, to see such a bravehearted person commit suicide without even trying to fight is disheartening and disappointing.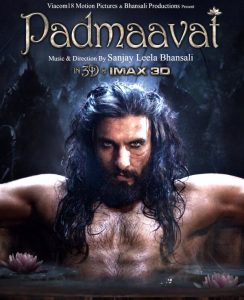 Performances:
Bhansali is known for extracting quality performances from his actors and this holds true for this film too. Ranveer Singh is simply outstanding! He stuns with his dedication to bring alive an animalistic creature every time he appears. Needless to say, his acting graph goes higher with this film.
Deepika Padukone has given one of her best performances, if not the best. It was necessary for her to be the soul of the film and she manages that. She also ensures that the aforementioned flaw in the character remains hidden to some extent. Shahid Kapoor too rises to the occasion and gives a strong picture of a brave ruler. He is clearly the underdog here.
Jim Sarbh also makes an announcement of his supreme talent. His homosexual behavior is so subtle, yet effective. Aditi Rao Hydari and Anupriya Goenka also chip in with decent support. The latter, who plays Ratan's first wife, should have got more opportunity.
Rating: 2.5/5
Review by: Keyur Seta
Director: Sanjay Leela Bhansali
Producers: Sanjay Leela Bhansali and Viacom 18 Motion Pictures
Writers: Sanjay Leela Bhansali and Prakash Kapadia
Cast: Deepika Padukone, Ranveer Singh, Shahid Kapoor, Jim Sarbh
Music: Sanjay Leela Bhansali