There are films that don't live up to the goodness of its trailer. There are very few that go beyond the promo. But there are also films that perfectly match the trailer. Farhad Samji's Kisi Ka Bhai Kisi Ki Jaan is that film. However, this isn't a plus point because we all saw how the trailer was.
Kisi Ka Bhai Kisi Ki Jaan is almost like a real-life story of its leading man Salman Khan. He is called Bhaijaan. He has younger brothers who love and respect him a lot and vice versa. His age is advanced but he isn't married yet. He is known as a messiah for those who need any kind of help but he doesn't show off his good and noble deeds. The film also has a reference of Maine Pyar Kiya and its year 1989.
If you think this isn't interesting, let me tell you that this is the best part of the film. The fictional tale about Bhaijaan's girlfriend Bhagyalaxmi aka Bhagya (Pooja Hegde), her family (led by her big brother played by Venkatesh Daggubati) and the two villains pull the film further down.
The background and characterization of those two baddies is lame to say the least. They are just shown as evil characters who want to finish off Bhagya's family and later Bhaijaan too since the latter becomes their savior. Well, it's a different matter that they get plenty of opportunities to succeed in their mission but they don't because, come on, this is a Bhai film where Bhai has to win in the end.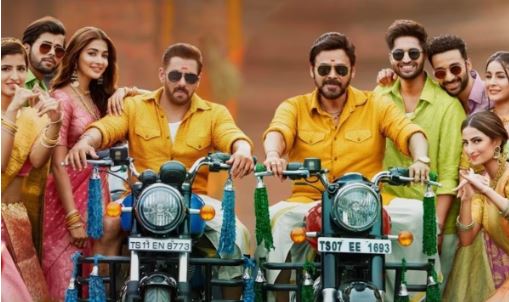 The whole narrative of Kisi Ka Bhai Kisi Ki Jaan has one dry pattern that plays on throughout the film – The good guys are shown having a good time but they are attacked by the baddies but Bhaijaan saves them. This sequence is played throughout the film's runtime of 144 minutes. This is what is served as a screenplay in a film of such high budget and one of the biggest stars of the country.
Just like some part of the basic tale, Salman's performance is also right out of real life. He speaks in the same way as he does in his interviews. And as we noticed in his previous films like Race 3 and Radhe: Your Most Wanted Bhai, there is lack of energy and enthusiasm, especially during the dance and fight sequences. But to be fair to him, the execution of the fight scenes too is ordinary.
Also read: Bheed highlights a pandemic MORE dangerous than COVID-19
Pooja Hegde and Venkatesh Dagubatti aren't great but much better than him. As explained above, the two villains, played by Vijender Singh and Jagapati Babu, fall flat. One really wonders why Vijender Singh, the country's sports champion, agreed to be a part of this and play a character that's more like a caricature.
The best performer of the film is easily Rohini Hattangadi. The rest of the many supporting actors are just present.
Overall: Kisi Ka Bhai Kisi Ki Jaan turns out to be exactly what one expected after watching its trailer.
Rating: 1.5 out of 5
Director: Farhad Samji
Producer: Salman Khan Films
Writers: Farhad Samji, Sparsh Khetarpal and Tasha Bhambra
Cast: Salman Khan, Pooja Hegde, Venkatesh Daggubati, Rohini Hattangadi, Raghav Juyal, Jassie Gill, Siddharth Nigam, Shehnaaz Gill, Palak Tiwari, Vinali Bhatnagar, Bhumika Chawla