The last six months, ever since theatres re-opened all across India at the end of last year, have seen some major box office hits in India. The top three of them have been from the south Indian film industry. These include the likes of Pushpa: The Rise, RRR and KGF Chapter 2.
Interestingly, apart from their original languages, these films they have also done phenomenally well in its Hindi dubbed versions in the Hindi belts of India – regions where predominantly Hindi films work.
They have also outperformed quite a few big-ticket Hindi films that were expected to do well. This is forcing a lot of people to ask the question as to why south films are working big time in the Hindi markets these days, especially on social media.
Going by the films that have succeeded, the answer to the question is simple. These films are finding massive audience base because these are entertaining films. Over here, entertaining means absolute mass entertainers.
These are films where a popular hero (or heroes) with a good amount of fan following plays a rough and tough character who can beat the hell out of the bad guys, gets to mouth some heroic dialogues and shake a leg on fast dance numbers. Pushpa, RRR and KGF fall in these categories of films and were decent content-wise too. Hence they have achieved massive success all over the country.
This is also giving rise to the question whether Bollywood or Hindi film industry is on the decline. It is being said on numerous occasions that south industry is all set to dominate and put behind the Hindi industry. I read a lot enthusiastic comments on social media daily where someone or the other states that Bollywood is slowly getting finished or is sinking.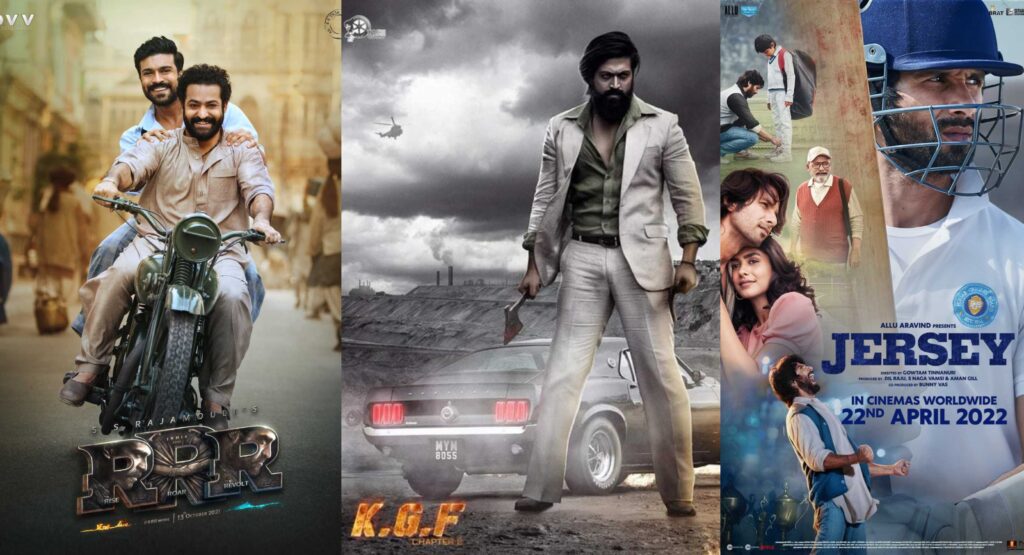 I personally feel these are baseless statements. One needs to understand that there has been a change in the way audience consumes films in the post-pandemic era. People are visiting theatres in large numbers only for massy commercial films that provide larger-than-life entertainment.
That's the reason why the aforementioned south films have done so well. And that is also the reason why Rohit Shetty's Sooryavanshi became a runaway hit and that too at a time when there was uncertainty at the box office. After all, it was the first big Hindi film to release post-pandemic and the producers themselves weren't sure how it would perform. But it had non-stop entertainment and this was enough for the cash registers to start ringing.
The same can be said about the success of Gangubai Kathiawadi. It might be a film about the life of a sex worker but it was narrated by Sanjay Leela Bhansali in a larger-than-life and entertaining manner. It was also helped by the presence of superstar Alia Bhatt who showed as much confidence and swag as any hero in a hero-centric massy film.
The Kashmir Files is an exception as it's not a typical Bollywood movie. It created massive interest for people of a particular political ideology who felt it's their duty to watch this film in theatres. This doesn't mean that those with a different political view didn't see the film.
On the other hand, films like Chandigarh Kare Aashiqui, Badhaai Do and Jersey have failed despite getting positive reviews and word-of-mouth. This is because they were sensible, content-oriented films and not the larger-than-life masala entertainers.
Hence, as per the change in audience consumption, they didn't do well in theatres. People are preferring to watch such type of films on OTT [over-the-top] platforms. Now, a film worth watching in theatre has to be a big-screen experience. A major proof of this change is that even someone like Ayushmann Khurrana, who was considered a bankable star before the pandemic, couldn't help the cause of Chandigarh Kare Aashiqui.
Of course, Satyameva Jayate 2 was also aimed as a massy entertainer but the film got rejected because of its terrible content. The film at least needs to be decent to be successful. Because of the same reason, the Hindi version of Radhe Shyam sank despite the presence of the Baahubali actor Prabhas. The same was the cast with Vijay's Beast. So it's not at all big south films are doing well in Hindi.
There's no denying that the quality of Hindi films in recent times hasn't been up-to-the-mark or at high standards. The industry has been criticized for its obsession with remaking successful south Indian movies over and over again.
But this certainly doesn't mean that Bollywood is sinking or is on the decline. It's just that only commercial films with big stars and decent content are doing well right now because of the change in audience's manner of consumption.
The big commercial films lined up for release from here onwards are expected to do well if the content is decent enough. Can't say the same about films that are thought-provoking and not aimed at the masses as these films are now considered worthy only for OTT.
This will go on at least till the near future. After that, things may or may not change.
Also read:
Can we stop giving unreal reasons for 83's box office failure?