Cinema, like other art forms, is celebrated in India. In fact, this has been the most popular medium of art since time immemorial in various languages. It is considered to be a medium that is enjoyed by people in groups of large numbers. In other words, it has united people of India over the decades; be it of different languages or regions.
But in the recent past, there has been an increasing division among the film audiences in terms of political ideologies and caste.
This has been seen the most with Vivek Ranjan Agnihotri's The Kashmir Files. No, this article isn't about whether the film is good or bad. What's noteworthy here is that people are divided in two sides of the fence when it comes to this film.  
Agreeing to disagree is something that doesn't happen much on social media. Those who haven't liked the film or are critical of it, be it film reviewers or general public, are hated and abhorred by those who have loved it. I agree there have been reviews and views that appear biased against the movie.
However, even if someone genuinely doesn't like that film, he or she is considered to be insensitive towards the plight of Kashmiri Pandits. They just don't take into account that a person can dislike a film for its craft and other filmmaking aspects like screenplay, dialogues and direction. Not liking The Kashmir Files doesn't mean one doesn't care or sympathize with the Kashmiri Pandits.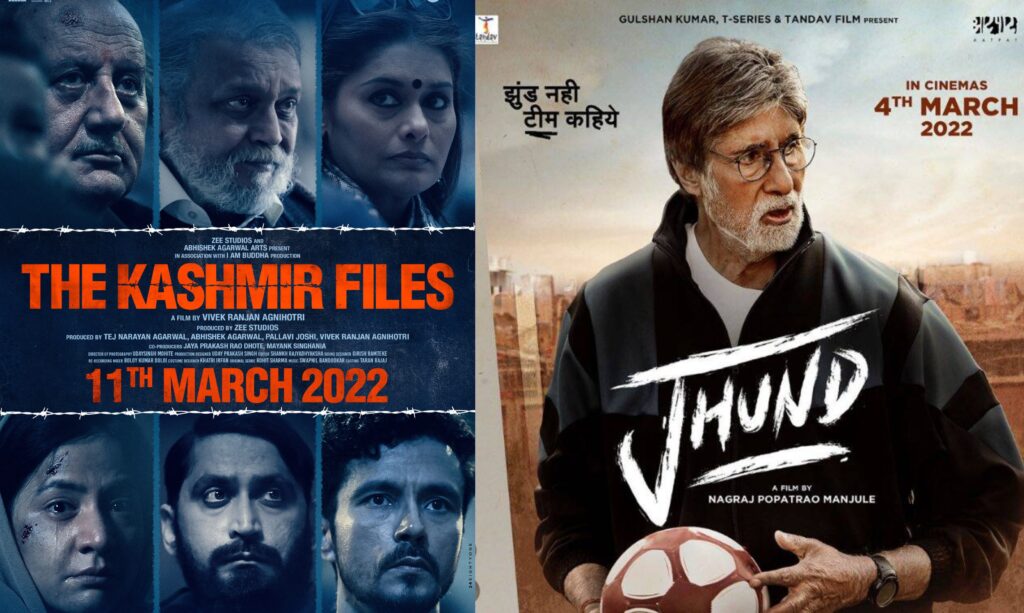 Similarly, if a person genuinely likes that film, he is considered to be from the Right Wing.
Hence, now Hindi films are looked upon as 'ours' and 'theirs.' Films that are critical of the rivals of the ruling party or the ones that have references to Ramayana or Mahabharata are considered Right Wing movies. On the other hand, those critical of the ruling party and the ones that feature the Khans or the 'nepo gang' (as they are called) are considered belonging to the 'other' side.
Unfortunately, the curse of division has entered among the Marathi cinema audience too. Here it's not based upon political ideology but caste. Yes, we are seeing caste-based divisions even in 2022. In fact, it is seen the most this year.
For people like us, films like Jhund (it is a Hindi film but it's aimed mostly at Maharashtra) and Me Vasantrao are great films. However, because of the caste identity of the protagonists in both the films and its makers, they are labeled as films for the 'lower castes' and 'higher castes' respectively.
Hence, if a person from the 'higher caste' doesn't like Jhund, he is considered to be anti-'lower caste.' On the other hand, if a person from the 'lower caste' doesn't like Me Vasantrao, he is accused of being anti-'higher caste.' In both scenarios, if that person happens to be a film critic, he or she is trolled and bashed online. We have now reached a stage where the caste of the critic is taken into consideration before taking his or her views seriously.
Over the last 1-2 months, I have come across plenty of comments and long opinions on social media on the division between Marathi films on the basis of 'ours' and 'theirs'. This segregation had started mildly few years ago but it has reached dangerous levels this year.
This division among Hindi and Marathi audience couldn't have come at a worse time. This is the era of pan-India films. South is leading the way with movies like Baahubali (1 and 2), KGF Chapter 1, Pushpa, RRR and KGF Chapter 2. These films are dubbed in Hindi and they do tremendously well all over India.
Being an admirer of both Hindi and Marathi cinema, I would want films in these two languages to do well pan-India too by getting them dubbed in various south languages or through any other way.
But looking at such a staunch division among the primary audiences of films of both the industries itself, this appears like a dream right now.
Also read:
Can we stop giving unreal reasons for 83 box office failure?